Where to go on a multi activity holiday
---
MAKE THE MOST OF YOUR TIME
You could be white water rafting and rainforest trekking in Costa Rica; kayaking, canyoning and rock scrambling in Turkey; or exploring the canyons and caves of Madagascar – one thing is for sure, no matter where you head to, you'll never get bored on a multi activity holiday. Making the most of your time should always include a bit of space to soak up the scenery and get chatting to the locals, and if you're willing to combine a touch of cultural insight into an action-packed itinerary then you're bound to come away feeling just as healthy inside as out. Do yourself a favour and pick a place and range of activities that you feel best suits your energy levels and the wishes of every member of your group.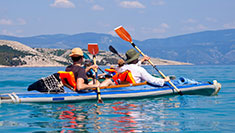 Croatia
Croatia has watersports nailed on and not just on the Dalmatian Coast. Krka River National Park holds plenty for multi activity holidaymakers with the Zrmanja and Krupa Rivers showcasing wild swimming and white water kayaking. There's a fair bit of land too and heading north to Paklenica NP will take you to hiking heaven with 200km of trails leading through karst canyons and Croatia's largest mountain range, Velebit.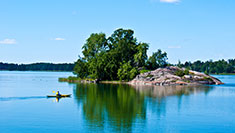 Finland
The Oulujoki River gives active travellers in Finland one of the best locations to canoe in the country with numerous lakes and short river rapids creating exciting waterways surrounded by untouched Wild Taiga forests. Finland also offers cyclists and hikers hundreds of marked trails, as well as well-maintained cross-country ski and snowshoe tracks, in areas such as Hossa, Martinselkonen and Kovavaara.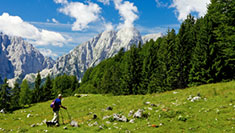 France
You can't say activity holiday in France without the French Alps and although the Dordogne, Pyrenees and Ardèche are brimming over with high-ropes, canoeing and rock climbing potential, the Alps is always the big hitter. Hiking in the Haute-Savoie, zip-wiring at 140mph, scaling frozen waterfalls, snow shoeing in Chamonix; nothing beats France, particularly the Alps, for action-packed activity holidays.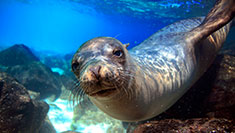 Galápagos
Combine the wildlife and natural attractions of the Gálapagos whilst on a multi activity holiday by swimming with sea lions, hiking over lava with penguins or cycling to see giant tortoises. No matter whether you're kayaking off Manglecito beach with sea turtles, snorkelling around the base of Pinnacle Rock or undertaking crater treks around Sierra Negra, Charles Darwin never had it this good.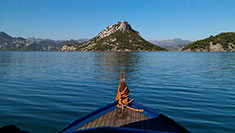 Montenegro
The cliff tops of Montenegro provide the perfect place to cycle although the closer you get to the water's edge the more inclined you'll be to swap pedals for paddles. Not only do the coves and islands along the coast provide ideal sea kayaking and swimming spots but inland national parks, such as Lake Skadar, offer some superb locations with ancient hillside paths leading to the wonderful waterfalls of Walnut Valley.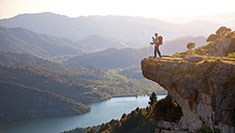 Spain
There's much to be said for multi activity holidays in Spain with El Altiplano de Granada promising a whole lot more than lazy days by the pool. The foothills of the Sierra de Castril mountains boast infinite chances to go kayaking, canyoning and biking with walks along the Guazalamanco River or horse riding across Hinojares adding to a laid back approach to getting outdoors and active in southern Spain.
Activity holidays travel advice
---
TIPS FROM OUR MULTI-ACTIVITY HOLIDAYS EXPERTS
Know your level
---
Emma Heywood, owner and director at our supplier Undiscovered Montenegro, shares her expert knowledge of multi activity holidays:

"When undertaking a multi activity holiday, travellers need to think about themselves and be honest about their abilities. Best advice is to look at an itinerary and make sure you can participate but don't be afraid to give new things a go and read the reviews to find out what experiences people rave about."
Tips on when to go
---

Ilaria Grieco, from eco hotel El Geco Verde shares her tips and advice on when to book a multi activity holiday in Granada, Spain:
"If you could come on an activity holiday in Granada at any time of year I´d recommend May or June as the weather is lovely, all activities are available and the countryside is a riot of wild flowers. It´s also a great time to see wildlife: wild boar, mountain goats, foxes, even otters. We regularly see griffon vultures gliding majestically down the valley. My best advice for anyone thinking of going on a multi activity holiday is to come with a sense of adventure, try one or two things you've never done before and remember to set aside some time for relaxation!"
Tips for families
---
Emma Heywood, owner and director at our supplier Undiscovered Montenegro: "One of the reasons activity holidays appeal to families is that someone else is taking the lead for both the children and the parents. You can learn a lot from kids as they're so adventurous and so much fun, and they tend to bring out the child in everyone."

Ilaria Grieco from our supplier, eco hotel El Geco Verde: "Most of our multi activity holiday guests are families and it's great to see them all getting on with each other, dining al fresco and letting the kids run wild for a bit. People often arrive wanting to cram in as much as possible but they usually end up cutting down on activities in favour of just relaxing and spending time with each other."
Guides & group sizes
---

Emma Heywood, owner and director at our supplier Undiscovered Montenegro:
"Trust the guides. They are the ones who will ensure you make the most of your time and have a really great experience. Smaller group sizes, anything less than 14 people, work well because guides can focus on individuals and tailor specific experiences to suit the group as a whole."

Hello.
If you'd like to chat about multi-activity holidays or need help finding a holiday to suit you we're very happy to help.
Rosy & team.
01273 823 700
Multi activity holidays travel advice
---
TIPS FROM OUR TRAVELLERS
At Responsible Travel, we think the best people to advise our travellers are often... other travellers. They always return from our tours with packing tips, weather reports, ideas about what to do - and opinions about what not to.

We have selected some of the most useful multi activity holiday travel tips that our guests have provided over the years to help you make the very most of your holiday - and the space inside your suitcase.
"Take wet weather gear if you are planning to visit the glacier in Chamonix which is well worth it. Even though it is scorching heat below, on the glacier and in the ice cave it is freezing and wet." – Urvashi Roe on a multi activity holiday in the French Alps

"This was a fantastic trip and kept our six teenage children thoroughly engaged throughout. My advice to other travellers would be: it helps if you are reasonably fit (the heat can be quite debilitating, especially when hiking), pack loads of sun-cream (it's expensive to buy out there)." – Ian Pollard, on an activity holiday in Turkey

"Don't worry if you are not super-fit, it's an ideal mix of exercise and relaxation. If you can do 4 hours of activity each day, that'll see you through, but you will need to be able to swim!" – Nigel Kenward on a multi activity holiday in Croatia

"We would recommend bringing your own gloves. You have no idea how cold -30 degrees is, especially when you are sitting still in the sledge or on the back of the skidoo!" – Leontine Mastenbroek on a multi activity holiday in Finland

"Don't worry about fitness levels or ability. They will tailor each activity to suit everyone's needs and help those who need it. Take several waterproof disposable cameras. Be prepared to have lots of fun and laughs and make good friends." – Richard Hallon on a multi activity holiday in Croatia

"Sturdy trainers wit good grips for hiking, canyoning and white water rafting are really important and will make it more enjoyable." – Karren Probyn, on an activity holiday in Turkey