Small ship cruising in Myanmar travel guide
---
2 MINUTE SUMMARY
Myanmar – also known as Burma – is opening up to visitors, but it's little known as a destination for small ship cruising and sailing. But in some areas, taking to the water is not just the best way to explore, it's the only way! The Mergui – or Myeik – Archipelago in the remote south, for instance, consists of 800 mostly uninhabited islands, scattered across 250 miles of the Andaman Sea. Boarding a boat is the only means of getting here, before swimming to shore to find pristine beaches backed by dense rainforest where the tracks of monkeys, crabs and lizards are the only footprints on the sand. This is a unique landscape, home to the seafaring nomadic Moken people, currently unspoiled but definitely vulnerable. Now is a good time to go, and sailing on a small yacht with just a few other travelers is the most responsible way to access this mysterious and extremely beautiful part of the world.
Our small ship cruising in Myanmar travel guide has all the details.
Is a small ship cruise in Myanmar for you?
---
Responsible Travel recommends
Go on a small ship cruise in Myanmar if…
---
… you love the water. Swimming, snorkelling around reefs and kayaking up rivers is a daily highlight, while the Zodiac which transports you from boat to island often makes wet landings on beaches and is notoriously awkward to climb out of! If lucky, you may see the ocean alight with phosphorescence at night.
… you want remote but not deserted. In the Mergui, you'll see hardly any other tourist vessels, but you will meet local fisherman and the nomadic seafaring community of the Moken 'sea gypsies' along the way.
… you love the sun. There's plenty of it in Burma, and it will be magnified by the water, too. Bring strong sun screen and drink lots of water to stay hydrated.
… you're happy to cover up – a bit! Dress is conservative in this remote region. To respect this and keep comfy in the heat, choose loose, lightweight clothing that covers shoulders and knees.
Don't go on a small ship cruise in Myanmar if…
---
… you hate being offline. You're taking a holiday not just from the Western world, but from WiFi too. Emails will remain unchecked…
… you love a three-piece luggage set. This kind of trip is about travelling light and keeping things simple. There's little space for storing possessions on board and rigid suitcases that won't squash down are a no-no. Bedding and towels are usually provided.
… you're a stickler for a schedule. Smooth sailing is dependent on the weather, so itinerary changes may occur at the last minute if conditions alter for the worse. Your skipper will be able to choose another direction, destination or activity, though.
… you're a light sleeper. Due to the size of the yachts, sound carries easily from one side to the other. Will a snorer in the next cabin ruin your holiday? Don't wait to find out – pack earplugs.

Hello.
If you'd like to chat about Myanmar cruising or need help finding a holiday to suit you we're very happy to help.
Rosy & team.
01273 823 700
Small ship cruising in Myanmar
---
What do these trips entail?
How big is a "small" cruise ship?
---
In Myanmar, cruising is on a very small scale. Luxury ships with around 40 cabins cruise the Irrawaddy River, but the Mergui Archipelago is typically explored on a catamaran. These are around 16m long, with space for a maximum of eight travellers, plus the skipper, chef, a deckhand and local guide. This style of yacht is designed to keep sleeping areas to the absolute minimum, while maximising common areas. Which brings us to the next question…
What are the cabins like?
---
On a catamaran, cosy is probably the best description – but that's kind of the point! This isn't a classic cruise, it's an authentic adventure on board a real yacht, with twin/double cabins and a bathroom for every four guests. Don't get hung up on square footage, though – you'll be living outside mostly, lounging in a hammock on deck, swimming or exploring the islands. Cabins are just for crashing out in at the end of the day. Or just sleep on deck!
Can I travel solo?
---
Absolutely. Small ship sailing in Myanmar brings together people of all ages from around the world and relies on friendly, on-board camaraderie. You'll have a ready-made friendship circle for the whole trip, just be prepared to share a cabin. Usually, the skipper will allocate rooms and single travellers will be paired up with another passenger of the same sex. Surcharges for private cabins are usually available, however.
What's the deal with meals?
---
Food is a high point on this kind of holiday, with an onboard chef preparing three meals a day for you. Typically, they are Asian dishes, including curries, but fresh fish is on the menu every day, too. The Mergui Archipelago is very undeveloped, so popping out to restaurants isn't an option; a barbecue of freshly caught fish on a white sand beach is though.
Will I get seasick?
---
Unlikely. The simple reason is that you sail with the coast on your right, to the east, and the winds come from the northeast across the land, so the sea doesn't get whipped up or choppy.
Can I travel with my children?
---
Most sailing holidays have a minimum age, typically 15, which would prevent all but senior teens from joining.
How is this kind of holiday responsible?
---
Travelling on a yacht or catamaran is, by definition, a small group trip, with typically room for just 12 people per vessel, thus reducing the environmental impact stopping off at islands can have and the waste produced. In addition, when conditions allow, you'll be harnessing the power of the wind to travel from A to B (although the motor may be used for around 50 percent of the time). Food prepared during the trip is generally sourced locally before setting off, with fish caught fresh every day using a line or spear gun. The boat is equipped with solar panels, which is where most of the power on board comes from, and water makers, which turn sea water into fresh water, keeping the use of plastic bottles to pretty much zero.
Best time to go on a small ship cruising in Myanmar holiday
---
TEMPERATURE & RAINFALL
Photo credits:
[Top box: Michael Forbes] [Helpdesk:
Kathy
] [How big is a small cruise ship & What are the cabins like?: Barbara Kersten] [Can I travel solo: Michael Forbes] [Meals:
Cristina Bejarano
] [How is it responsible:
Jean-Marie Hullot
] [Temp chart: Michael Forbes]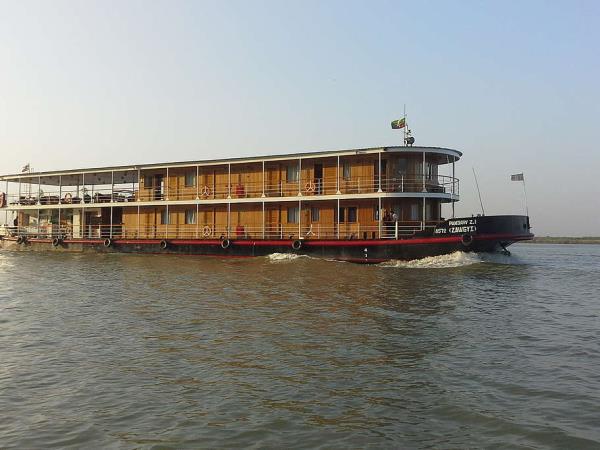 Sail the mighty Ayarwaddy in a unique experience of Myanmar!
From
£3500
11 Days
ex flights