Where to go on small ship cruising in Myanmar holiday
---
Make the most of your time
Most sailing holidays around the Mergui – also known as Myeik – Archipelago begin in Kawthoung, Myanmar's southernmost town. Fly from Yangon or arrive via Thailand. From Phuket, it's a 4.5-hour transfer to the Thai border town of Ranong, then 30 minutes by boat to Kawthoung, stopping at an island for Thai and Burmese immigration. You'll need to pay a Mergui Archipelago park fee, plus purchase a tourist visa. Once on board, you'll sail for no more than six hours a day, with flexibility built in. Cruising on the Irrawaddy River, at the heart of the country, is another option, with trips typically taking in Mandalay, Bagan, Mount Popa and the hill station of Pyin U Lwin.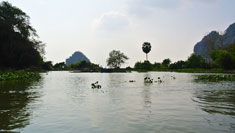 115
This island is so called because its peak is 115m tall – simple really! Here, you can take a jungle walk across the island (around 10-15 minutes) to a beach with bright white sand, oysters on the shore and turquoise waters, perhaps bumping into some local fisherman at their camp. Catamarans usually anchor quite close to this island, giving you the chance to swim back to the boat once you've explored.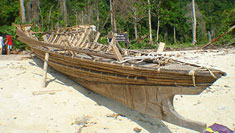 Bo Cho Island
Here, the village of Ma Kyone Galet is home to the Moken. Traditionally, these nomadic people spent months at sea, diving for shellfish and only coming ashore during the monsoon. The government has encouraged them to settle in villages, but most still practice the same ancient fishing techniques. The Moken are shy, but their children less so, following you as you visit the school, Buddhist temple and cafe.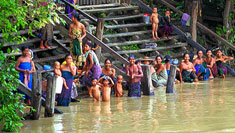 Irrawaddy River
Most of Burma's population lives in the valley of its longest river. Flowing through much of the country, a cruise along the Irrawaddy reveals local village life, picturesque hill landscapes, the Sagaing temples and gold-plated stupas. You can do anything from a simple daytrip, to a luxury weeklong cruise on a boat with en suite cabins, air-con and an on-deck pool.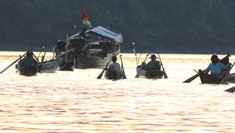 Lampi Island
A large crescent-shaped island with a long white sand beach, Lampi also boasts a small river that you can paddleboard and kayak up. It's the chance to enjoy this perfectly peaceful place, paddling through the mangroves whose roots protect the coast from erosion, spotting the local bird life as you go, including Oriental pied hornbills and collared kingfishers.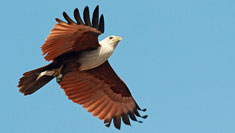 Nga Manu
Also known as Shark Island, for its resemblance to a shark. The beach here is wide and strikingly white. This is one of the best spots for snorkelling in the archipelago, but take time to also sit on a beach that few people have set foot on, backed by a dense jungle humming with wildlife, including fruit bats and Brahminy kites. Eating here is typically spear-caught fish over an open fire.
Palau Bada
This group of remote islands in the Mergui has some great snorkelling spots and is blessed with abundant wildlife. Cruising around the coral you'll find eels, octopus and stingrays. Keep an eye out for otters, turtles and the odd dolphin, too. Look skywards for glimpses of white-bellied sea eagles, plain-pouched hornbills and brown-winged kingfishers.



Hello.
If you'd like to chat about Myanmar cruising or need help finding a holiday to suit you we're very happy to help.
Rosy & team.
01273 823 700
Small ship cruising in Myanmar travel advice
---
Tips from our friends on deck
Robin Kersten skippers a 53ft or a 46ft catamaran around the Mergui for our supplier Intrepid Travel. He shares his insights into the region:
What makes the Mergui unique?
---
"I've spent 20 years sailing around the world but I've never seen a place like this before. You have 800 islands, most with nobody living on them, where lush green rainforest comes down to the ocean and pristine sandy beaches. It's extremely untouched, mysterious and old."
Best time to go
---
"November is my favourite time, right after the monsoon. It can be overcast but it's not as hot as in March and April. There's also more marine life to see because people haven't been fishing for a while because the sea's been too rough. The place comes alive after the rough weather."
Life on board ship
---
"We have been running these sailing trips for four years and everyone is positive about the yacht and the accommodation. When they get here they realise there's no internet, no phone – it's a once in a lifetime experience. It's about getting down to natural values. So sharing space is no problem and you can always sleep out on deck, on the huge beanbags or trampoline."
Enjoying the sea
---
"You don't have to be a strong swimmer to enjoy the Mergui. There are no strong currents so it's safe for snorkelling. Also, each boat has four crew so usually there will be one or two of them in a dinghy guiding anyone in the water, taking them to new locations and keeping an eye on them."
Keeping tourism responsible here
---
"There's a chance these islands could go the same way as Phuket. The first speedboats are beginning to go to the Mergui on day trips from Thailand, but small cruise ships would be bad news. Unlike the catamarans we sail, which never have more than eight paying passengers, big ships may have 30-40 passengers and run their generators all the time, causing pollution. They create so much waste which they can't store on board so that goes into the water, too. The local Moken community aren't prepared for this many people turning up at the same time; they are extremely shy. Pollution and dynamite fishing have already impacted on their traditional lifestyle and they have been forced onto the land to live in island communities, with few rights. Large-scale tourism would not benefit them."
Interactions with the Moken
---
"The Moken are shy, but they know us and approach the boat. They have nothing to trade with us, but visitors can bring gifts such as some pencils, pens or colouring books (but not plastic toys). Clothes are good, too. We give them rice and cooking oil, that's really valuable to them. Also fish, which sounds a bit odd! But we go a bit further offshore and catch bigger fish which we like to share with them."
Small ship cruising in Myanmar travel advice
---
Tips from our travellers
At Responsible Travel, we think the best people to advise our travellers are often... other travellers. They always return from our tours with packing tips, weather reports, ideas about what to do - and opinions about what not to.

We have selected some of the most useful small ship cruising in Myanmar travel tips that our guests have provided over the years to help you make the very most of your holiday – and the space inside your suitcase.
"Keep an open mind, and just enjoy the sailing, seeing new things and meeting great people. Enjoying this untouched part of Myanmar, which otherwise I would not be able to see had I not been on a sailboat, was memorable, as were the hornbills, fresh oysters and the bonfire on the beach. Don't let things like there being no air-con in the rooms turn you off. It's a trip that is really worth joining." – Jade Lam
"Take lots of sun cream and also any old shirts, shorts etc to give to Moken villagers and sea gypsies." – Fiona Bardsley
"Just relax and enjoy!" - Katharina Wieland
"Take less clothes. A longi/sarong and a T-shirt will dry overnight if you wash them. Take a long- sleeved shirt for sun protection. Visit Myanmar soon, too. The tourist industry has expanded 100 times since 2012. In the last two years, power, SIM cards and cars have become affordable, so visit before it is all spoilt." – Jane Dunbar
Photo credits:
[Map intro:
Kathy
] [115:
James Antrobus
] [Bo Cho Island:
Manop
] [Irrawaddy River:
Roderick Eime
] [Lampi Island: Michael Forbes] [Nga Manu:
Rakeshkdogra
] [Palau Bada: Michael Forbes] [Helpdesk:
Kathy
] [What makes the Mergui unique?: Michael Forbes] [Life on board: Barbara Kersten] [Enjoying the sea: Michael Forbes] [Interactions with the Moken: Michael Forbes] [Review - Fiona Bardsley:
Harold Kuiper
]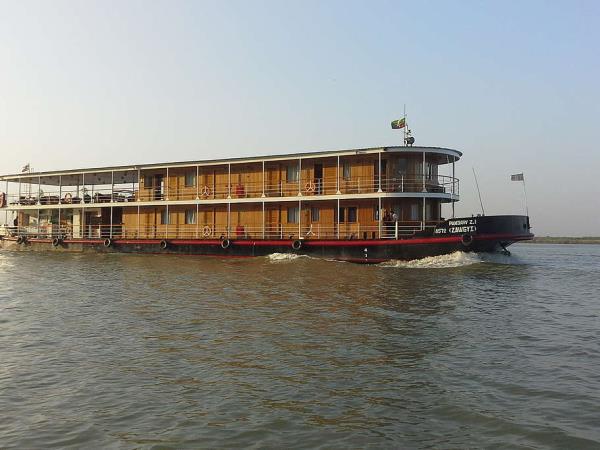 Sail the mighty Ayarwaddy in a unique experience of Myanmar!
From
£3500
11 Days
ex flights