Best time to visit Namibia & Botswana
You can take a combined trip to Namibia and Botswana at any time. Namibia enjoys over 300 days of sunshine a year, so there's almost no best time to visit, although wildlife is easier to view in both countries during the drier months (May-Oct), when animals cluster around the few remaining waterholes. July-Aug is the best time to see game, as water sources dry up, but temperatures are still comfortable – mid to high 20°Cs throughout the region. The heat peaks in Oct and from Nov-Apr it's the summer wet season. Jan-Feb are particularly wet in Namibia, but arid landscapes are refreshed.
Namibia & Botswana, month by month
January and February are midsummer in Namibia and Botswana. That means heat, from 30-35°C, climbing to 40°C in the deserts of Namibia and the Kalahari. Rainfall tends to be short and sharp, often in the afternoon but not every day, dulling the heat before clearing to reveal the sun again. During March the rainfall eases off and stops in April. Temperatures fall to an average of 25-30°C and nights feel cold again. May signals the start of the dry, winter season in Namibia and Botswana. The landscape will still look green from the rains. In Namibia, the nights don't feel too cold yet, and daytime temperatures hover around 24-28°C. In Botswana, expect clear skies and moderate temperatures. By June in Namibia it's starting to cool down, especially at night, when it can drop below 10°C and hit freezing in desert areas. Daytime temperatures are still pleasant around 20-24°C. In Botswana it can hover above freezing at night and reach the low to mid 20°Cs during the day. Bring a thick sleeping bag if you're camping. July and August are great times to see wildlife, as waterholes dry up forcing animals together, and vegetation dies back improving visibility. In Botswana, it hits the high 20°Cs and low 30°Cs during the day, especially towards the end of August, but nights are cool and early morning game drives in an open vehicle will feel chilly. You'll need warm layers, a coat and even gloves. September is a great month in Namibia, with temperatures still comfortable but less of a chill in the early morning. There is no rain and skies are clear. In Botswana, on the other hand, September and October are dry, hot and dusty. Game viewing is good now, if you can stand the high temperatures and arid conditions. The heat peaks in late October, and the landscape looks parched. November signals the start of the wet season in Namibia and Botswana, although rains might not get going until December. It remains hot, with daytime temperatures reaching 30°C and a lot higher in the Namibian deserts. On the coast in Namibia, mist and breezes make it feel cooler. The first rains usually arrive in December, which pulls down temperatures and makes the landscape bursts into life.
Namib Desert Weather Chart
Our Namibia & Botswana Holidays
Things to do in Namibia & Botswana
Things to do in Namibia and Botswana…


Watch the wildlife. Most trips to Namibia and Botswana take in their wildlife rich areas – Etosha and Chobe National Parks and the Okavango Delta tend to feature on itineraries – and there are a host of ways to see the Big Five and more. As well as game drives, you can take a walking safari and mokoro ride in the Delta; in Etosha simply sit next to a waterhole and let the game come to you.
Although it's possible to self drive in Namibia, it's less easy to do so in Botswana, so your best bet for seeing both countries on a single holiday is to join an organised tour. These are usually small group departures, with around 12 people accompanied by a local guide and a driver experienced in tackling the rough, often sandy roads. A well planned itinerary will make the best use of your time, accommodation and park permits are arranged, and you'll benefit from the knowledge and enthusiasm of your guide.
While lodges and guesthouses exist all over Namibia and Botswana's must-see locations, you can't beat camping for an authentic experience. Camping tours use a mixture of campsites in towns, national parks and reserves, and in Botswana in particular there's the opportunity to camp in the wild, with no facilities and only a tent between you and the lions, elephants and hyenas.
Things not to do in Namibia & Botswana…


Miss Victoria Falls. If you're in the Caprivi Strip in Namibia, or Botswana's Chobe National Park or Kasane, you're only a short drive from the Victoria Falls, or Mosi Oa Tunya, 'the smoke that thunders' as it's locally known. Livingstone in Zambia and Victoria Falls in Zimbabwe are the closest towns (you'll need to cross the Zambezi by the Kazangula ferry to reach the former) and if you obtain a KAZA Univisa you can cross between both countries for full views of the Falls from both sides. Happily, many organised tours to Namibia and Botswana start or finish here. Ignore the human heritage of these countries. Meeting the Himba people of Namibia and the San of the Kalahari is a cultural highlight of any trip. You can take a guided walk with a local San Bushman to learn about life in the desert and meet the semi-nomadic Himba, who will share aspects of their lifestyle with you, from painting skin with ochre to communal pastoralism. Expect to see it all in a week. You'll need at least two to see a good smattering of sights and accommodate the long drives, while three-week circular routes, starting and ending at Victoria Falls, take in a huge number of Namibia's highlights and explore the wildlife rich areas of central and northern Botswana.
Our top Namibia & Botswana Holiday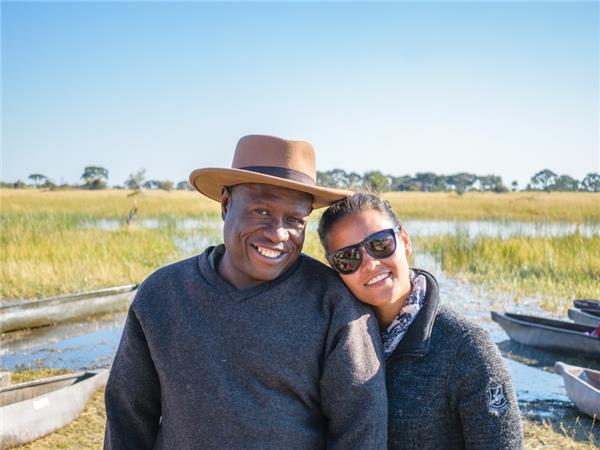 Brave the wilds of Botswana on an exhilarating adventure
From £3705 to £4605 10 days ex flights
Small group travel:
2023: 29 Jun, 13 Jul, 20 Jul, 17 Aug, 24 Aug, 7 Sep, 14 Sep, 21 Sep, 5 Oct, 19 Oct, 9 Nov, 16 Nov
2024: 8 Feb, 28 Mar, 25 Apr, 16 May, 23 May, 30 May, 13 Jun, 20 Jun, 27 Jun, 4 Jul, 11 Jul, 18 Jul, 25 Jul, 1 Aug, 8 Aug, 15 Aug, 22 Aug, 29 Aug, 5 Sep, 12 Sep, 19 Sep, 26 Sep, 3 Oct, 17 Oct, 31 Oct, 7 Nov, 14 Nov, 26 Dec
If you'd like to chat about Namibia & Botswana or need help finding a holiday to suit you we're very happy to help.

Namibia and Botswana Travel Advice
Dirk Reiche is from our supplier Sunway Safaris, which specialises in safaris in Southern Africa and runs several trips that take in both Namibia and Botswana.
Why see Namibia and Botswana together
"Namibia and Botswana are very special countries offering totally different landscapes, from the oldest desert in the world, the largest natural salt pans to the largest fresh water delta that does not enter the ocean. Travelling through countries on a land combi tour gives you an experience next to none. The local inhabitants have a wide variety of languages and cultures from the Himba and Herero to the Bushman. Namibia is a land of wide open spaces, known for its contrasting landscapes and the Namib Desert is the oldest in the world, with an awe-inspiring sense of space. Botswana is the premier wildlife destination in Southern Africa and the rustic, remote atmosphere of its wildlife areas offer real adventure. At the northern edge of the Kalahari lies the Okavango Delta known as the 'Jewel of the Kalahari', a secret oasis in an otherwise water-starved land. Some of the largest herds in Southern Africa roam free in this unspoiled wilderness, the wildlife is spectacular and varied."
Best time to go
"Both of these countries can be visited throughout the year but highly recommended is to travel between May and October. The days and nights are cooler with very little rain if any. The game viewing in the national parks is at its best as there is little water so most congregate around waterholes giving you an exceptional experience."
What to expect
"Be prepared to be wowed by the nature, culture and experience whilst travelling through these remarkable countries. There are certain days with some long drives but the scenery you will pass through is out of this world. It is the dry season in Southern Africa and in the winter months temperatures can drop to below zero with comfortable days around 16-24°C. Food on our trips is always fresh and there is a wide variety of fruit and vegetable products available in Southern Africa."
At Responsible Travel, we think the best people to advise our travellers are often... other travellers. They always return from our tours with packing tips, weather reports, ideas about what to do – and opinions about what not to.

We have selected some of the most useful Namibia and Botswana travel tips that our guests have provided over the years to help you make the very most of your holiday – and the space inside your suitcase.

Be aware that some of the distances are long, doubly so when the condition of the roads is taken into consideration. They become very long in time terms.

"Pack less than you think, you really don't need it! Don't forget the right kind of travel adaptors, so you can charge your camera battery. If you're thinking about booking, don't think too long, just do it!" – Danila Mansfield

"Be aware that some of the distances are long, doubly so when the condition of the roads is taken into consideration. They become very long in time terms. Two of the activities need a good level of fitness, one being climbing the sand dunes and the other the walk up the dry river bed. Take 'instant camera', what you want to photograph may not hang around long enough for you to make any adjustments. If your major objective is to see the Big 5, you need to be lucky and have the right weather conditions. There had been a lot of rain before we arrived creating too many water holes so the predators didn't know which ones to go to." – William Green

"If you travel at the same time of year that we did (July), remember that it is not only the dry season, but also winter in that part of the world. So although the days are warm, dry and sunny, the nights and early mornings can be very cold. At those times it is important to wear several layers of clothing, including a fleece (or two). A woolly hat and gloves are also useful." – Richard Humphrys



believe the brochure when it says take warm clothes: it was absolutely freezing some nights

"Be aware that the best part is how much you get to see and the worst part is that you do a lot of traveling to see them." – Laura McCrea

"Don't take too many clothes – you can rinse clothes out easily overnight or use lodge laundry services. I could easily have had just 2 sets and alternated and taken one set of something else for a night out. Torch very useful and a small powerful binoculars a must – so much to see." – Rachel Guinee

"Be prepared to get up early and there are some long journeys. Spend a few days in Cape Town before the trip and go to Hermanus to see they Right whales." – Averill Marks

"Take a head torch – it was absolutely invaluable. And believe the brochure when it says take warm clothes: it was absolutely freezing some nights. If you can, squeeze a sleeping bag in to your luggage. I'm not sure what the freezing point of washing up liquid is, but that's how cold it was. My other tip is that if you are a keen photographer, take the best photography equipment you can afford/borrow – the photo opportunities are endless." – Julia Ward


More about Namibia & Botswana
If you're hungry for a big serving of Southern Africa - landscapes, culture and wildlife - a holiday that takes in Namibia and Botswana should satisfy your appetite.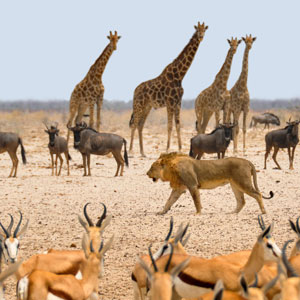 While you're never going to get a super-cheap safari that covers both countries, if you're interested in more budget Namibia and Botswana holidays, read on.