The Himalayas are art and the photographer a truly blessed witness to their effortless majesty

Get snap happy
Awe-inspiring snow-peaked summits, thousand-year-old villages, and crisp clear skies that teem with bright stars by night: Nepal is a photographer's paradise. It's likely you'll be as high as you'll ever be in your life, so get your camera out and put that perspective to good use.
Our Nepal trekking Holidays
Soak up the city sights
Your trekking adventure will likely begin and end in Kathmandu, a city as charismatic as it is utterly chaotic that has taken the hand that tourism dealt it and raised it by disconcerting speed. Though Thamel is a headache of hotels, knock-off sportswear and tourist tat, the Old City is a more authentic blend of temples and Buddhist architecture thatís really quite beautiful, if a little blighted by beggars that roam there through incense so strong you can taste it. Nearby Patan was once a powerful stand-alone kingdom and has retained much of its distinct personality. A grand and proud town, Patanís buildings are an interesting blend of artisan metalwork, dusty pink pagodas and intricately carved temples adorned with religious art.

Avert your eyes from Nepalís majestic mountains and allow yourself to soak up the spectacular views and sheer scale of its landscape

Look down
Trekking in Nepal is about appreciation and endurance; donít be too hasty to stride from point to point and look down Ė the mountains are extraordinarily beautiful, but so are the pink and red rhododendrons that flood the hillsides and the magnolia and jasmine that drop down the gorges.
Our top Nepal trekking Holiday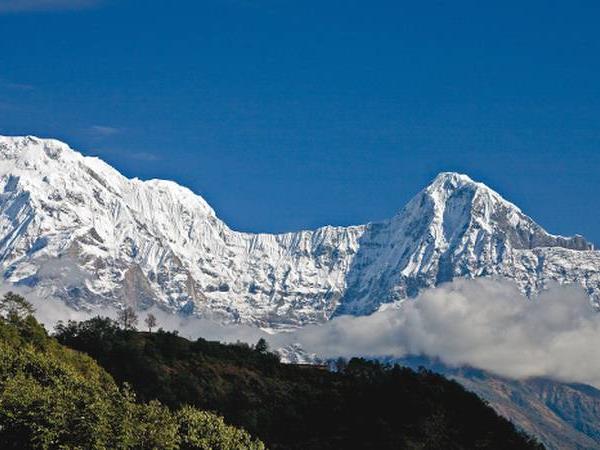 From the Annapurna Range vistas to jungles of Chitwan NP
From
£1290

to

£1340
11 days
ex flights
Small group travel:
2021: 21 Nov
2022: 9 Jan, 16 Jan, 30 Jan, 13 Feb, 26 Feb, 13 Mar, 20 Mar, 3 Apr, 7 Apr, 10 Apr, 17 Apr, 18 Sep, 25 Sep, 9 Oct, 16 Oct, 30 Oct, 6 Nov, 20 Nov, 4 Dec, 11 Dec, 21 Dec
If you'd like to chat about Nepal trekking or need help finding a holiday to suit you we're very happy to help.

Sip tea with the Sherpas
When youíre trekking in Nepal, the countryís deeply ingrained culture will play a part in everything you do: it can be seen in the temple-lined city squares of Kathmandu; listened to on spiritual walks with Buddhist pilgrims around the ancient stupas of the Kathmandu Valley; and learned about directly from the Newars and the Sherpas, two tribes of original Nepalese settlers whose cultural experience of the country spans decades of change.

The teahouse culture that has become inextricably linked with exploration of Nepalís mountains is vitally important to the economic survival of the rural population that live there and you will be as curious to the locals as they will to you; stay as rurally as you can, smile and say Ďnamasteí Ė youíll be gifted with rest, recovery and stories of life a million miles from our own.
More about Nepal trekking