New York State responsible travel guide
New York is so much more than a Big Apple. In fact, when I started to look beyond the shops and the skyscrapers, I found a garden of Eden bearing fruits which were in no way forbidden, but totally ripe to be picked. The reason we all know New York's postcode to be NY,NY is because New York City is just one small part of New York State. There are, in fact, ten other regions of New York State all just within a few hours' train or car journey from its buzzing core. So if you fancy a trip to New York, but want something more than museums and Macy's, there is a whole other New York world of adventures out there, many of which can even be fitted in after a city breakfast meeting or a Fifth Avenue frenzy.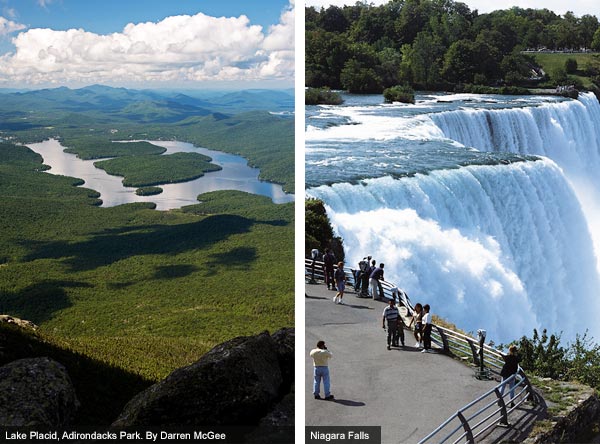 The beaches of Long Island, for example, are already famous, but not many people know that you can take the train from Penn Station in Manhattan out to one of Long Islandís two tips. Long Island is mostly known for The Hamptons which is wonderful for serious people watching, or head to Montauk for whale watching, kayaking up creeks or hiking into rugged, ocean view woodlands.
And the great American lakeside lodge hotels, such as The Golden Arrow Lakeside Resort in The Adirondacks, where you can ski and snowshoe in winter , or use it as a base to hike onto the Adirondack Trails when the wild slopes are transformed with appropriate seasonal treats. Or Mohonk Mountain House in the Hudson Valley, like something lifted off the front of a Swiss chocolate box and where, if you take an early morning dip in the lake, you might be joined by some wild deer from the neighbouring Catskill mountains nipping down for a quick drink.

You have to fit one big hike or cycle into your schedule as New York is crammed with protected landscapes all waiting to please with superb tracks and trails networks. Such as Letchworth State Park in The Finger Lakes, sometimes known as the Grand Canyon of the East, the Erie Canalway Trail, which allows you to cycle 365 miles between the cities of Albany and Buffalo or Catskill Park with mountains just a hour and a half from New York City and where serious hiking awaits among its mind blowing 600 000 acres.
All cool escapes from the summer heat of Manhattan and even cooler ones when the snows fall in winter. Retail therapy followed by a wilderness walking therapy is the way to go, even though snowshoes probably arenít the first thing on most peopleís NY packing.
For responsible travellers with water on the brain, you can dip and dive, canoe and kayak your way across New York State, with expanses such as the Finger Lakes, Thousand Island Seaway, the lakes of the Adirondack Mountains and of course, the coast of Long Island, with its dramatic ocean on the south side and the more soothing waters of the Sound on the North Shore. And for a touch of Manhattan green get-go, I couldnít resist a paddle on the Hudson River.
I remember being like a kid the first time I went to FAO Swartz toy emporium in New York, but weaving my way through the waters of a moonlit Manhattan by kayak was like all my Christmases come at once.
Responsible Travel would like to thank the New York State Tourist Board for their sponsorship of this guide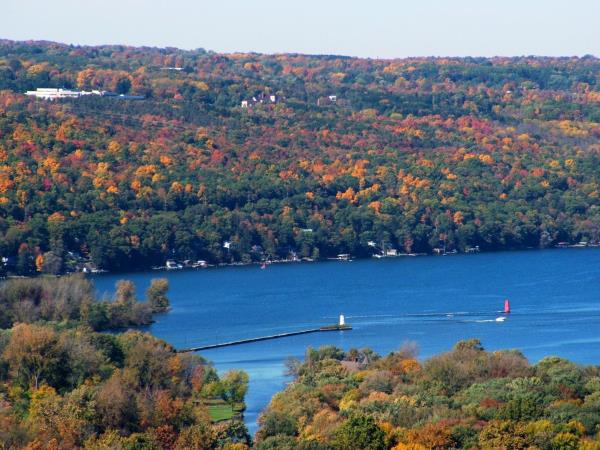 Discover the best of New York State on this tailor made tour
From
£2800
13 Days
inc UK flights