Art & culture in New York State
Albright Knox Art Gallery, Greater Niagara. A lively collection of fine art, using the multimedia of photography , sculptures and installations. Founded in 1862, The Buffalo Fine Arts Academy-the governing body of the Albright-Knox Art Gallery-is among the oldest public arts institutions in the USA.
Burchfield Penney Arts Center
, Greater Niagara. Dedicated to the work of Charles E Burchfield (1893-1967) who had a profound respect and love for nature, His fine collection of watercolours, sketches and journals are shown here, many in the Charles E. Burchfield Rotunda which was specifically designed to show the transitional effect of seasons on nature. Environmental themes ran throughout his work and, rather aptly, the gallery is a sustainable build. Indeed, in 2014 it will be curating an exciting series of events and installations to celebrate the 100th anniversary of the Clean Water regulations in the US. Follow them on
Twitter
, for an inspiring daily Burchfield quote.
Byrdcliffe Art Colony
, Catskills. Just what it says, this is a colony for the arts, created in 1902 on Mount Guardian, just outside Woodstock. With seven farms and 1500 acres, this was considered a utopia of the arts and crafts movement. Their regular exhibitions still capture this pioneering spirit.
Castellani Art Museum
of Niagara University, Greater Niagara. As well as its permanent collection of over 5700 works of art, including Picasso, Miro, Dali and Warhol, the Castellani has an impressive folk art collection celebrating many aspects of this region's local heritage.
Fenimore Art Museum
, Central New York. Located on Otsego Lake in Cooperstown, it is dedicated to genres which get less commercial attention in the art world, but which are fundamental to the arts heritage of New York. For example, it houses a vast collection of primarily American folk art and American Indian art.
Griffis sculpture Park
, Chautaugua Allegheny. A family-run parkland scattered with sculptures from the hand of the late sculptor Larry Griffis Jr, whose mission in life was to share the joys of experiencing art in nature. And this place is an utter joy. With 250 sculptures poised elegantly around 400 acres of ancient woodland, wild flower meadows and lakesides, this is one of my
top ten places to visit in New York
.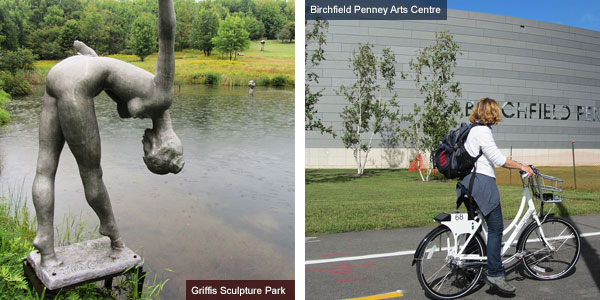 The Heckscher Museum of Art
, Long Island. As well as a generous collection of European and American artists from the last few centuries, there are some Long Island artists exhibited here too, such as the prolific Moran family of painters. Georgia O'Keeffe's watercolour Machu Picchu is worth the trip alone.
The Hyde Collection
, Adirondacks. What else would you hang in your early 20th century mansion other than the works of Rembrandt, Rubens, Picasso and Renoir? That was what Charlotte Pruyn Hyde, and her husband, Louis Fiske did. And then they opened their doors to the people of the town to share the joys of visual art, and the collections are still on view here, as well as offering an impressive calendar of visiting exhibitions.
The Mark Gruber Gallery
, Hudson Valley. Working exclusively with Hudson valley artists, they curate eight exhibitions a year, and celebrate the legacy of The Hudson River School. This was a mid-19th century American art movement embodied by a group of landscape painters. See also Art Along The Hudson, a website highlighting all artistic happenings on the Hudson.
Nassau County Museum of Art, Long Island. Luxurious location within 145 acres of the former Frick Estate, this not only houses an impressive permanent collection including Rodin, Lichtenstein and Katz, but also a sculpture garden. The gardens were a passion of industrialist and art collector Henry Clay Frick, with trails winding their way round these extraordinary formal gardens.
Opus 40
, Hudson Valley. In 1938 sculptor Harvey Fite bought a bluestone quarry so that he could live and breathe his next work. His Opus 40. His mission was to create art which represented a "world at peace, a reconciliation between all peoples and cultures". He kept carving and creating until his death in 1976, when he fell into the quarry where he had, literally, dedicated his life.
Pollack-Krasner House and Study Center
, Long Island. The extraordinarily humble home and studio of Abstract-Expressionist master, Jackson Pollock (1912-1956) and his celebrated artist wife Lee Krasner .
Read more about the
culture
and
history of
New York State.
Responsible Travel would like to thank the New York State Tourist Board for their sponsorship of this guide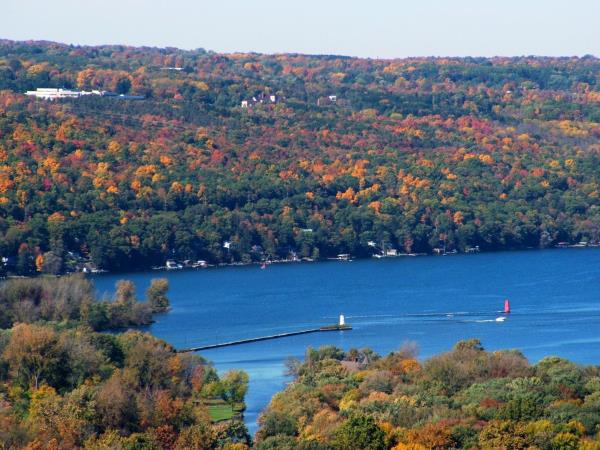 Discover the best of New York State on this tailor made tour
From
£2800
13 Days
inc UK flights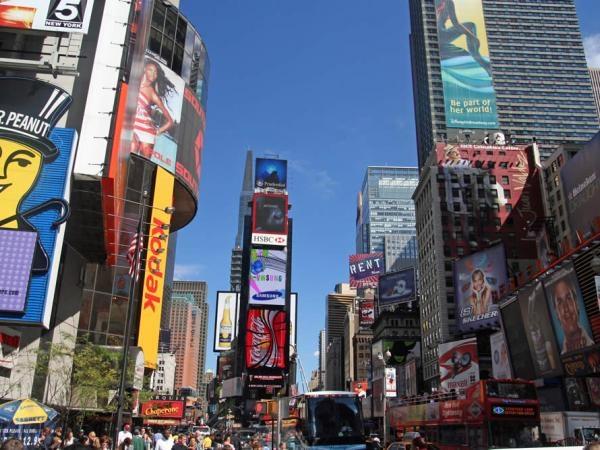 Niagara Falls & upstate New York short break from nyc
From
£699
3 days
ex flights