Chautauqua-Allegheny
Chautauqua is named after the lake that lies at its heart. A Seneca Indian word, it has been translated as 'a bag tied in the middle' as the lake is, indeed, split into two sections. Now a hub of
water activities
,
cycling
and
hiking trails
, the area became famous for being the first place to hold a Chautauqua assembly, an adult education movement started in the late 19th century which brought cultural events, lectures and symposiums to American towns. The 'Chautauqua' went on to become a generic word for an educational gathering as they sprang up all over the country. The Chautauqua Institute still offers a wide variety of education opportunities in the form of learning holidays.
Learning from nature and being out in the wilds is the norm here, but not in a red neck way. There is still no natural gas in the houses, and high speed internet access is somewhat limited. But people seem to be genuinely in touch with nature, with hunting, fishing, home brewing, maple sugar making, food growing, foraging and preserving the norm for many.
It is not surprising, therefore, that the Amish Community has settled happily here. The Amish lead basic non-mechanised lives, living off grid, practising self-sufficient farming, making their own clothes and home schooling. Everywhere you go here you see Amish people driving their horse driven buggies. There are many shops attached to their homes and, around these, the tourist office has successfully negotiated an
Amish Trail
. It has been a successful arrangement, the authorities marketing it to curious visitors, and the Amish people selling their products, such as leather goods, wooden toys, quilts , baked goods and farm produce at very low cost, as commercialism really is not their thing. And it is, therefore, in some ways, one of the most sustainable and ethical forms of tourism I came across in New York State. I advise doing the Trail by bike, as it is much more in keeping with Amish lifestyles, and please respect their request not to have their faces featured in photographs.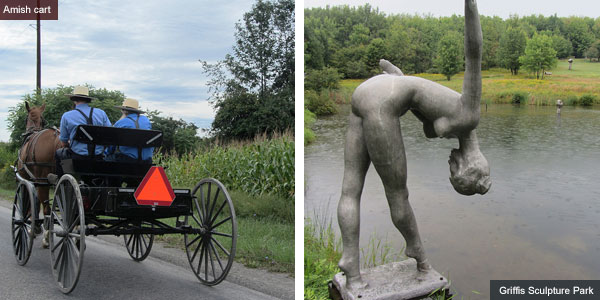 Nature is at its finest and most expansive in the region's Allegany State Park which, at over 65,000 acres, is the largest State Park in New York and is open year all year round, with eighteen
hiking trails
as well as some
cycling trails
and opportunities for horse riding. These are also top spots for winter walking and
cross country skiing
. Another natural initiative in this region is the regeneration of the Genesee River by the
Genesee River Wilds Group
. More famous for the big rapids 25 miles downstream at Letchworth State Park, I relished the more gentle connection with nature on this stretch compared with the whizzing white water I had experienced a few days earlier. It is so quiet we even indulged in clay body masks, made from the clay on the river shore, leaving it to bake in the sun and then diving in for that final spa treatment. It's all natural in this part of the world, you see, so you just have to go with the flow. Hire kayaks from community run Healing Waters.
Find more information on the
regions of New York State
Responsible Travel would like to thank the New York State Tourist Board for their sponsorship of this guide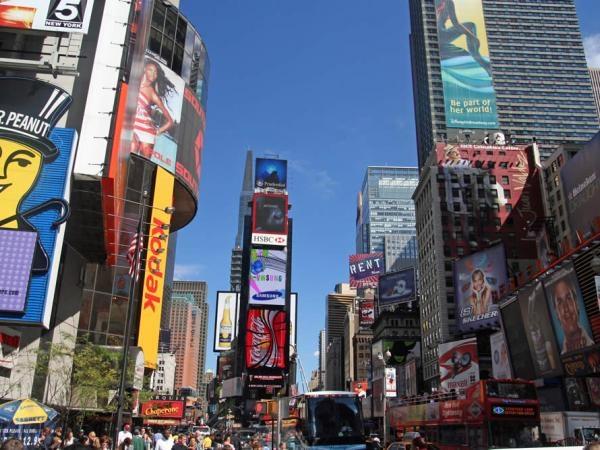 Niagara Falls & upstate New York short break from nyc
From
£699
3 days
ex flights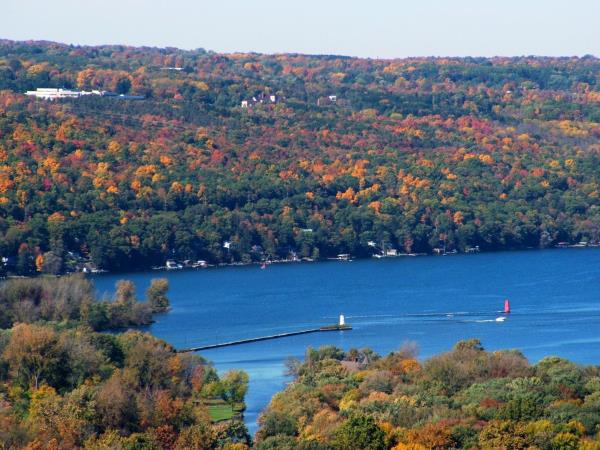 Discover the best of New York State on this tailor made tour
From
£2800
13 Days
inc UK flights