Farm to Fork in New York State
There is a great diversity of produce all over New York State, the traditional foods such as corn, root vegetables, gourds and tomatoes probably taking up most of the acreage. Fruit production is also huge, of course, with blueberries and apples a favourite, but other traditional orchard fruits can be found all over the state. Grapes are grown in the Finger Lakes, Long Island, the 1000 Islands and the Hudson Valley, with more details on this in the wineries and breweries section below.
As you head further north in New York State, the autumn is not only the perfect time to witness the leaf changing season, but also to hit the cider. And I don't mean the hard stuff. Unlike Europe, apple cider in the USA is actually a non-alcoholic farm produced juice which is unfiltered and unsweetened. It is very much a seasonal thing and all the better for it. Along with it comes apple jellies, apple sauce, apple pies and the list goes on.
Fly Creek Cider Mill
in Central New York is one of the best examples of how it can be well done. People flock in their droves to watch apples being pressed here, and to savour the outcomes.
Unlike most of Europe, there is a lot of information out there on how to buy local food when you are on your travels in New York. You can find out more about where to access farmers markets by clicking on the following links, most of which will have locavores drooling - the USA term for people who love to eat local food - gotta love it. See
Long Island
,
Hudson Valley
,
Capital-Saratoga Region
,
Finger Lakes
, Greater Niagara,
Central New York
,
Chautauqua
&
Allegany
,
The Catskills
,
The Adirondacks
and the
1000 Islands Seaway
for more details of times and place of farmers' markets.
And then of course, New York City, which is one big locavore love-in really. The extraordinary Green Farm movement, started in 1976 with twelve farmers in a car park has now grown into collection of
54 markets
where over
230 family farms and fishermen's
produce are sold. New York City is also home to some of the most extraordinary urban farms, many of them rooftop. Fine examples are
Brooklyn Grange
, the world's largest rooftop soil farm. This place is so cool you can even do yoga here.
Added Value
in Red Hook Brooklyn has a focus on empowering local young people through getting them involved in food production on waste land, and although it was severely damaged by Hurricane Sandy, it is getting back on its feet again.
Battery Urban Farm
is one acre packed with goodness in the city's stunning Battery Park and Tenth Acre Farms is Brooklyn's latest addition, starting in someone's back yard it now has two burgeoning sites and a weekly market (closed in winter). You can also see a list of New York State's markets that do stay open in winter on the
Department of Agriculture's
website.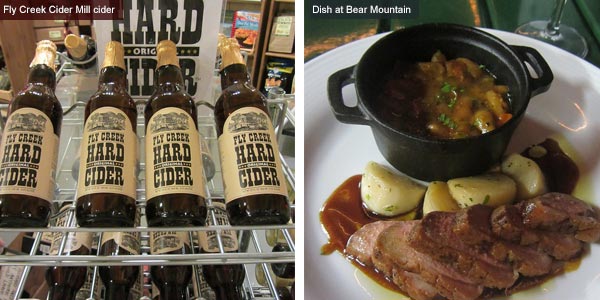 There is a wealth of restaurants in New York city jumping on the 'Farm to Table' wagon, some giving it a little token nod and others such as
Romans
and
Rosemary's
,
Union Square Café
and
The Green Table
in
Chelsea Market
going the whole hog. Around the rest of my travels I came across some top tables for local food which I highly recommend seeking out.
The Bear Mountain
Inn served Hudson Valley duck breast accompanied by local wines and even the New York
Saratoga
brand of spring water. Or the Farm Stand Café at
Madava Farm
, where just about everything is infused with their organic maple syrup, an appetite for which is well and truly whetted after a tour of this fascinating locally owned business. In the Adirondacks, you have to get the chef at the eco-friendly
Golden Arrow Hotel
to come and tell you about all the farms he works with - about ten of them from 'within the blue line' which means within the border of the Adirondacks region. Overlooking the perfect Mirror Lake, I was inspired to opt for the Adirondack trout fillet which was perfect in its simplicity. The chef's commitment to local is impressive and the proof is in the pudding. And the starters, the main course and the artisan cheese platter.
Just up the road in Lake Placid, but tucked off the main drag, is the lovely
Freestyle
restaurant where chef and owner Richard Brosseau pulled off a burger with flair, made with meat from local Kilcoyne Farm and topped with goats cheese from Adirondack Asgaard Farm. Don't miss their milk shakes either. The mint chocolate chip one has crème de menthe and vodka, which are not so local, but oh so good. You have to sit overlooking the water in Clayton in the 1000 Islands region, so it was wonderful to discover
Bella's
which does just that and which was, indeed, beautiful. As was the smell of bread when you go in, this fine restaurant starting life as a bakery and still selling delicious baked goods. It also does great breakfasts, but at dinner I opted for the Cross Island Caesar Salad, all sourced on the nearby Wellesley Island organic farm.
In both the Finger Lakes and Niagara regions you can sample New York's finest produce, as prepared by home produced chefs. Students at the
New York Wine and Culinary Center
in the Finger Lakes get to show off their creations at the Bistro overlooking Canandaigua Lake. In Niagara Falls, you can sample the
Niagara Falls Culinary Institute
students' work in fine dining style, in their deli or, for the icing on the cake, their patisserie. But the mother of them all is the
Culinary Institute of America
which is in Hyde Park in the Hudson Valley. Specialising in sustainability and ethics in cuisine, it's all just too cool for school.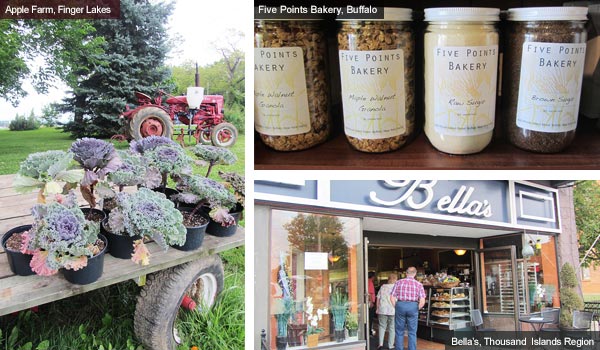 At the other end of the spectrum, I adored the sustainable food ethos at the core of both
Five Points Bakery
in Buffalo and also nearby
Merge
which is run by two sisters. They are super sourcers in terms of local produce, using local urban farms such as the
Massachusetts Avenue Project
and have also just started their own farm. Another sibling sensation that warmed the cockles of my heart in terms of ethical and sustainable food was Origins Café in Cooperstown, Central New York.

Buffalo urban farm's "Growing Green" project
Diane Picard, Executive Director of the Massachusetts Avenue Project explains the work of Buffalo urban farm, and the "Growing Green" project for local youth. [01:52]
Locavores must be in epicurean ecstasy when the New York food trucks come to town. These are artisan food producers which pull up in towns and villages offering a wide variety of local produce gone gourmet. More a feature of festivals and special events in Europe, these appear daily in various spots in New York. In New York City, check out
New York Street Food
website for more details. I sampled
Ate 0 Ate
for lunch in Roxbury in The Catskills, with squash fritters and Reuben fritters a specialty, all made from local ingredients. Catch them in the car park at the uber-cool
Roxbury Motel
on summer evenings and join the queue for the fun vibe and fine fare. And in Albany, the trucks all pull up outside the state buildings at lunchtime, with workers coming here instead of chain coffee shops for their fill.
The Food Trucks Festival
when they all truck in to Troy must be something else.
Find out more about the
food and wine
and
microbreweries
in New York State.
Responsible Travel would like to thank the New York State Tourist Board for their sponsorship of this guide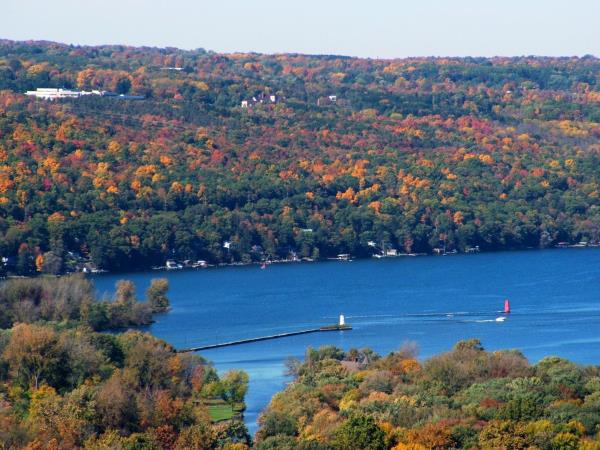 Discover the best of New York State on this tailor made tour
From
£2800
13 Days
inc UK flights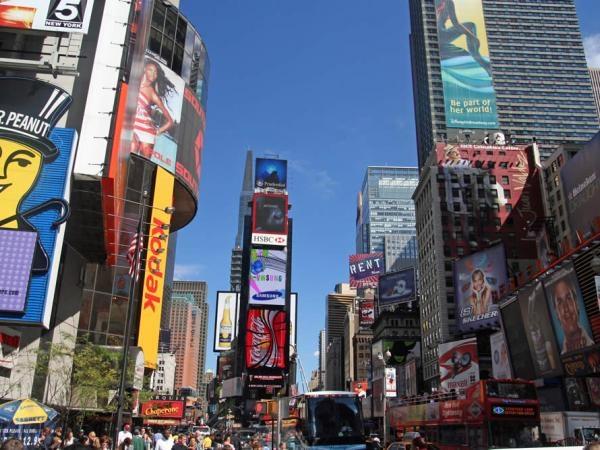 Niagara Falls & upstate New York short break from nyc
From
£699
3 days
ex flights