Greater Niagara, New York State
In my ignorance, I used to have no idea that
Niagara Falls
was in New York. I thought it was in Canada. But of course, it is in both. In fact, there is a friendly sense of rivalry as to which side offers the greatest experience, something I didn't get to test, as I didn't have my passport to cross the border, but I can safely say that the New York experience lives up to all expectations. Especially as you can get right up beside the falls here, strolling along the river's banks as it gathers speed towards the big drops. It is, in fact, the
oldest State Park
in the USA and like all parks is free to enter.
It's just like any right to roam space, but just happens to have some of the most spectacular waterfalls in the world crashing through it. And as such, it is open 24 hours a day, seven days a week, every day of the year. Designed by Frederick Law Olmsted, who also designed Central Park, he believed that this space should be about giving everyone access to nature's wonders, and this ethos still stands today. There are, of course, the traditional ways to see it, such as on the legendary Maid of the Mist ferry, or by climbing up the boardwalk to the Cave of the Winds, both of which you do have to pay for.
Niagara Falls is the tourist hub of the
Greater Niagara
region, but in fact this was, for many years, the industrial belt of New York State. It is now referred to by many as the rust belt. There is an interesting juxtaposition between the commercialism around Niagara Falls attraction, and the slightly run down vibe in the nearby towns of Niagara Falls and Buffalo. The latter is, however, now starting to boom. It's opening up, building up and looking up towards a brighter, more sustainable future. It was, in fact, one of the most dynamic cities I came across on my travels in New York State and for anyone who is passionate about industrial regeneration, social sustainability and community cooperation, Buffalo is now a shining, not rusty, example of how to do it well.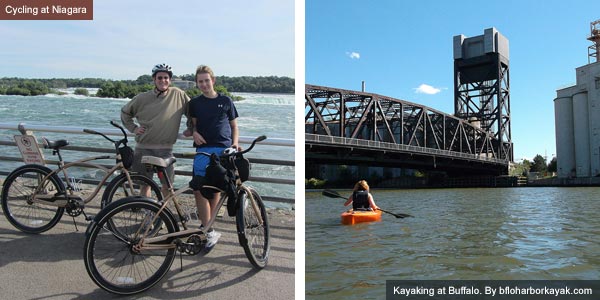 I could not understand how Buffalo could be booming to this extent during difficult economic times, but as one local person told me "the world recession just passed us by, as we were never rich to begin with". There is a culture of creativity here and it is uplifting, inspiring even, to witness. So, let the natural magnificence of Niagara Falls move you, as it will, but let the determination of a strong, fighting community move you too, by visiting their new Canalside,
kayaking through the now dormant silo city
which is waking up again into a
climbing centre
, arts venue and much more to follow. Use their new
social bike rental scheme
, and eat at one of their many restaurants that use Farm to Table as the driving ethos of what they do. Most of these schemes are driven by young people here, one of whom has created the blog,
Buffalo Rising
. Which is apt, because it does feel as if something good and responsible is rising from the ashes and, in a few years, other cities will start to look at Buffalo and want to learn about how they nailed it.
Find more information on the
regions of New York State
Responsible Travel would like to thank the New York State Tourist Board for their sponsorship of this guide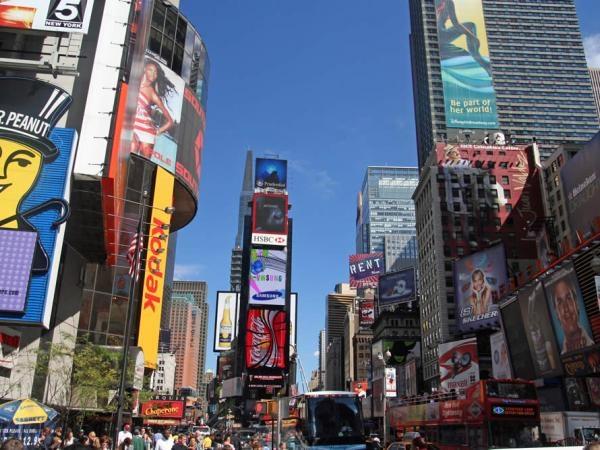 Niagara Falls & upstate New York short break from nyc
From
£699
3 days
ex flights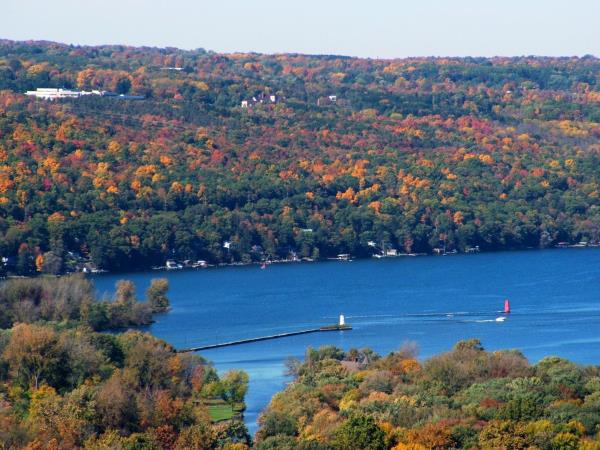 Discover the best of New York State on this tailor made tour
From
£2800
13 Days
inc UK flights