New York City, New York State
A heart thumping excitement that you get when you find yourself surrounded by the magic of Manhattan is something most people experience. With so much happening in a relatively small space, it's intense. Extreme consumerism is also pretty much in your face everywhere you go, and I have been guilty of going on a frenzy or two at Century 21 and Macy's in my day.
But by looking at the green initiatives in the city, you can start to see it from a completely different perspective. You can also see the New York City that New Yorkers love. The city that stretches way beyond Times Square, Broadway and Fifth Avenue. When you discover
The Highline
, for example, it feels as if you have cut open this Big Apple and found a slice made of gold. It is the genius work of residents Joshua David and Robert Hammond who fought, alongside their community, to protect and transform the elevated freight train track that runs through the city. It is now a green walkway, giving New Yorkers an elevated view over their beloved city, a breathing space where you are wrapped in creativity and community warmth. Still funded by donations, this work of art is industrial regeneration at its finest.
The city initiative of the
Greenway
is also one that will make you think outside the box when visiting Manhattan. Hire a bike at
9th Street Cycles
or Bike and Roll or use the new
Citibike Scheme
and hit the Hudson or East River shore along with bike happy Manhattan residents, because you can now cycle all the way around Manhattan, mostly off road, although there are still breaks on the East side when you have to go onto cycle lanes on the road. Mind you, you need to work to keep up. New Yorkers are speedy, even on their downtime.

Bronx River Greenway
Damian Griffin, Education Director for the Bronx River Greenway explains how they are getting people out and active, and spreading love for the river. [01:41]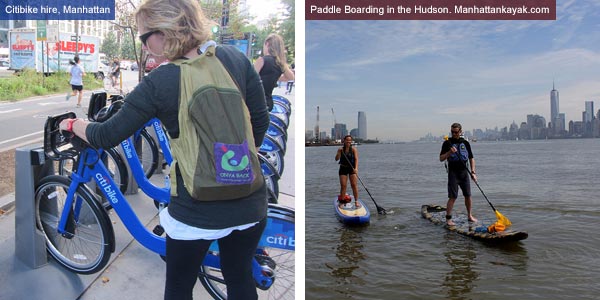 The Greenway has inspired other similar developments such as the new 23 mile trail which is revitalising the heart of The Bronx, created by the
Bronx River Alliance
and which also leads cyclists into the northern rural regions of the
Bronx River Pathway
in Westchester County.
The Farm to Table movement is also big in New York City. For a while, the term was being bandied around willy nilly, but time has sorted the wheat from the chaff and highlighted the serious players when it comes to wholly embracing local food supplies. And this isn't difficult in New York, given that the State's biggest industry is agriculture. For starters you've got
Romans
and
Rosemary's
,
Union Square Café
and
The Green Table
in Chelsea Market. Just do a search on 'Locavore' - the US term for someone who likes to eat locally produced food, and your cup will over floweth with fine fare. And if sussing out markets is your thing, the
Greenmarket
movement is what you need, with 54 markets throughout the city. The blog
Markets of New York
is also a great source of up to date information or you might want to consider taking a gourmet tour with
Foods of New York
.
It was on the Hudson River in downtown Manhattan that I had my moment of ultimate eco ecstasy however. Again, little known to visitors, I took a guided
twilight kayak trip
on the Hudson River. Seeing the city from this historic artery, one that I had already kayaked on upstream in the Hudson Valley, was heart stopping. For a couple of hours we paddled along the shore, taking in this startling skyline, watching business prevail as I bobbed along beaming at the very notion of kayaking here, the Lady of Liberty twinkling and almost winking at me in the distance. For someone who loves water and seeing places from a new perspective, in a clean, green way, this is sex in the city.

Paddle board & kayak in Manhattan
Julietta Gismondi, instructor with the Manhattan Kayak Company talks about exploring the city's waterways.
Find more water-based adventures here
[01:16]
Responsible Travel would like to thank the New York State Tourist Board for their sponsorship of this guide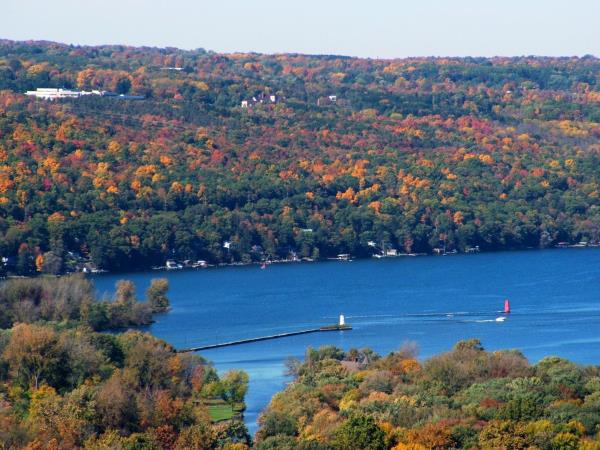 Discover the best of New York State on this tailor made tour
From
£2800
13 Days
inc UK flights
Back to the top
Convert currencies