New York State culture
Manhattan is falling down with magnificent museums and galleries, but with an eclectic heritage throughout this vast state the pickings of cultural patrimony are rich and widespread. From art to Amish, American Indian to Albany's New York State Museum, the only problem is knowing where to start. Sometimes museums can be a bit dry and dated, but there were many that stopped me in my tracks when travelling around the State. Exhibitions and galleries curated with skill and passion for the heritage they are endeavouring to protect and pass on. So when you have recovered from the wonders at the Museum of Modern Art, The Guggenheim Museum, The Frick Collection and Whitney Museum of Modern Art, check out the beautiful upstate regions as well as a couple off the beaten track in New York City.
Even some of the traditional cultural channels are thinking outside Manhattan. For example, the contemporary art museum, known for its Chelsea gallery in Manhattan, opened a vast new space in Beacon, Hudson Valley in 2003. In a refurbished Nabisco biscuit factory, this allows work of grand scale to be exhibited, with the backdrop of Beacon Mountain providing the most sublime backdrop. The Hudson Valley has, of course, been central to visual art since the Hudson River School movement of mid-19th century painters planted their easels here. Follow the Hudson Valley Art Trail for all the finest representations of this movement, past and present.
Performing arts also travel north, with celebrated theatres like Sheas's Performing Arts Center in Buffalo a major touring venue for Broadway shows. A national historic site, you can also take tours of this baroque style beauty.
Music has always been a part of regional New York too, with Woodstock a creation of the Catskills. Some of the cool, eclectic mix of music and multimedia emanating from around the State include City of Night Festival in the disused 'silo city' of Buffalo, the highly acclaimed Rochester Jazz Festival, the Glimmerglass Opera Festival in Cooperstown, Central New York and the North East Jazz and Wine Festival is a major pull at the Syracuse Arts Week every year, a city which already has a burgeoning arts scene.
Food and wine are central to New York culture, however, with festivals and culinary schools well represented in the state. Agriculture is still the leading industry in New York, and so it is all very well having painters reflect the fecund fields and luscious landscape in their art, but eating and drinking the fruits of their labours is what New Yorkers love to do best. Specialised food festivals include The Long Island's Oyster Festival, the Central New York Maple Festival, Seneca Lake Wine and Food Festival, The Cuba Garlic Festival, Finger Lakes Riesling Festival and The Taste of The Catskills Festival.
Responsible Travel would like to thank the New York State Tourist Board for their sponsorship of this guide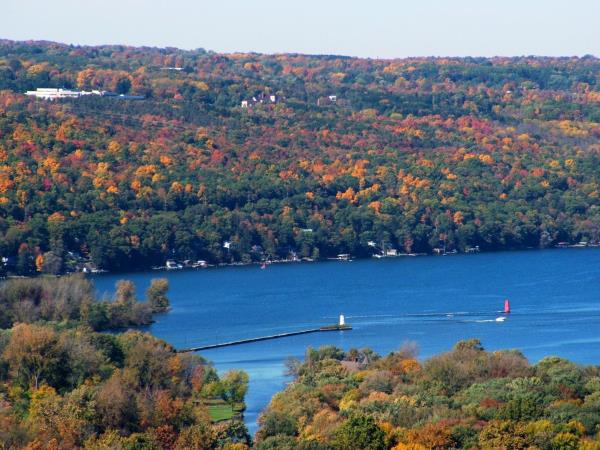 Discover the best of New York State on this tailor made tour
From
£2800
13 Days
inc UK flights