Regions of New York State
New York is often referred to as The Big Apple but, in fact, it is more like one Big Secret. Most people only think of Manhattan when you say 'I am off to New York for a break'. Even many New Yorkers don't think about their State stretching far beyond Long Island or The Hudson Valley. And before I travelled there, I had no idea that it was 330 miles long and 223 miles wide, reached up as far as the Canadian border, that it had hosted the Winter Olympic Games twice, has several mountain ranges, and it touches the coasts of two Great Lakes and the Atlantic Ocean. There are swathes of fertile farmland in New York, which explains why agriculture is the state's largest industry. I didn't even realise that New York was home to Niagara Falls. So, starting at its south-eastern tip on Long Island's Atlantic shore, I went on an anti-clockwise New York Odyssey, following the Hudson River from Manhattan up into its luscious valleys, and then to the capital region of New York State. Which is another secret - New York has a capital called Albany that lies 145 miles due north of Manhattan.
The roads started to climb as I headed further North to the splendid Adirondack Mountains and then from crests to coast I arrived at the 1000 Island Seaway where an archipelago which is shared between the USA and Canada (and unknown to most Europeans) is a maritime mecca. Following the shoreline of the St Lawrence, I headed to Lake Ontario, one of the Great Lakes, and from there to the smaller Finger Lakes. What the Fingers lose in size they gain in prettiness. From here to the wonder of Niagara Falls back up on the Canadian border again, with some time in one of the historical great cities of New York – Buffalo.
The Chautauqua Allegany region of New York was a complete mystery to me even though it has the largest state park in New York and then onto Central New York - a land of beaches, breweries and baseball. Who knew? I thought Central New York was Times Square until that point. And then, last but not least, The Catskills. Where wildlife filled mountains sweep down to lakes, fecund farms feed the city, and reservoirs keep it watered. An hour and half south of this and I am back in the Bronx. That is one very big and multi-flavoured apple.
Responsible Travel would like to thank the New York State Tourist Board for their sponsorship of this guide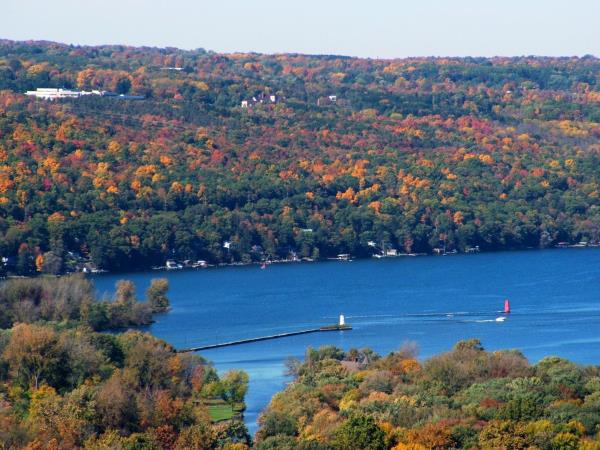 Discover the best of New York State on this tailor made tour
From
£2800
13 Days
inc UK flights
Back to the top
Convert currencies