Water based activities in New York State
You are never far from a lake, river, beach or waterfall in New York State. It has water everywhere, offering relief from the myriad motorways and concrete communities that cut through it or grow up out of it. At the State's two extremes, there are two very different yet equally spectacular kayaking experiences to be had. On Long Island, I kayaked along the
North Shore's Nisequoque River
where, within two minutes you realise there is so much more to Long Island than The Hamptons. With river beaches, snapper turtle sightings, egrets, blue herons and myriad grasses which were just starting to recover from Hurricane Sandy, this is a superb kayak, where you go with the tide downstream, and the company meets you at the other end, so you don't even have to kayak back against the flow.
Miles further north, at the other end of the State in the
1000 Islands Seaway
region, which borders with Canada along the St Lawrence Seaway, there is an archipelago to equal that of Stockholm or Croatia. With most of the boating activity taking place around Alexandria Bay and Clayton, I headed off the beaten track to the much quieter Chippewa Bay to kayak with
Riverbay Adventures
. Paddling from island to island, many of them private, we were able to land on
Cedar Island
, as this is a State Park, and swim in shallow lagoons which separate one island from another. The water is extremely clear here, due to the invasive zebra mussels which have upset the ecosystem a little, but have totally cleaned the water, making this region very popular for
diving
now too. This family run business also offers cabins on the water's edge, so you can fish for your supper, cook your supper and kayak after supper if you want. It's one of those 'never want to leave' hideaways, where chilling is top of the agenda.
And fishing is a must in New York. Surf fishing is an impressive sight on
Long Island
, particularly in the evening, when lines of fishermen (and women) stand on the beach waiting to reel something out of the waves. River fishing was a dream on the Genesee River, where the kids caught trout and bass on a fishing kayak trip in the
Chautaugua Allegany
region. Hire kayaks from community run Healing Waters, a wonderful initiative set up to inspire local children, and to reconnect people locally with the river again. And for the truly big catch, one of my overriding memories of my time in New York State was catching a twenty pound salmon on Lake Ontario in the
1000 Islands Seaway
Region. Get a group together to take out a charter with Captain Greg Gerhrig on Top Gun, one of the best on the lake, who talked me through the process of reeling in this beauty with calm and expertise. Take your catch into the nearby fishing mecca of Pulaski and you can have your fish smoked and shipped, or even stuffed if you want. And I don't mean stuffing of the sage and thyme variety. I jest not. It's a fishing frenzy here, and all well controlled by sustainable laws, supported by the work of
Salmon Hatchery
in nearby Altmar which is run by the Department of Environmental Conservation. Always check the licence regulations, and fish responsibly.

Salmon fishing on Lake Ontario
Captain Greg Gehrig of 'Top Gun' explains how he teaches all sorts of people to fish for salmon on Lake Ontario.
Discover the 1000 Island Seaway region
[02:00]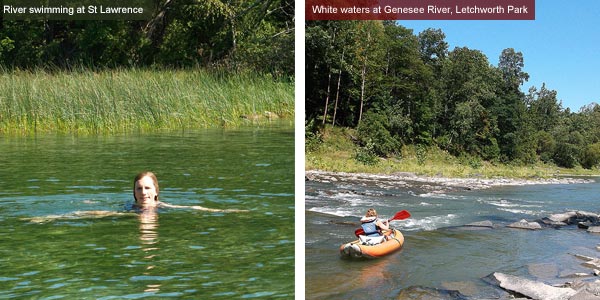 There is no time to fish on the white waters of the Genesee River as you go further downstream in
Letchworth State Park
in the
Finger Lakes
region. Genesee was named by the Seneca Indians and means 'beautiful river' and you won't find much more beautiful than the section flowing through this canyon, where three waterfalls add to the flow of these wild waters. I joined a team of white water kayakers,
Adventure Calls
, using inflatable super stable kayaks down the rapids (not down the falls) in one of the most exhilarating and memorable days to be had in New York State. It can get even more hairy after the snow melts in the spring, and the white water rafting takes over, but the buzz of the later summer rapids, which still leave a little room for rest, were perfect for me. Heart stopping excitement, followed by lying back and watching the turkey vultures soar overhead, the fish jump around me, the wild goldenrod clinging on to the ages old rock strata, and the smaller waterfalls, one of which I managed to swim under. The Seneca are right. This is sublime.
And if swimming is your thing, then make sure you have togs and a towel everywhere you go in New York. The opportunities are endless, with one of my favourites being in Mirror Lake in the
Adirondacks
. It is rare to find a motor free lake nowadays, but this one is kept mirror like because it has banned all motorised vehicles on it. Staying at the eco-friendly
Golden Arrow Resort
, with its own beach entry onto the lake, you can swim the length of it by following an actual swimming lane, set aside for those who are training for the Iron Man event which takes place here every year. Although it is just beside the more famous Lake Placid, Mirror Lake is, funnily enough, a much more placid place for blissful bathing.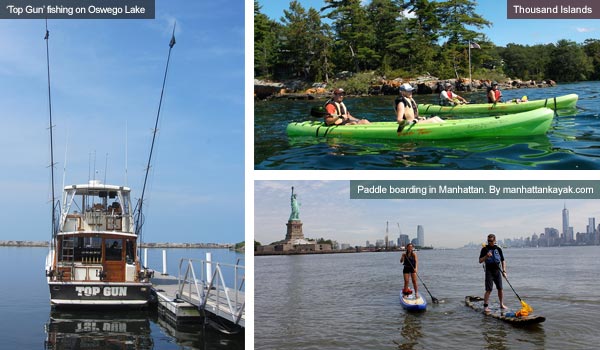 I also had one blissfully placid kayak in Halcotsville in the Catskill Mountains just before heading back to the city and this is one worth seeking out. Rent a kayak from Jim Kelly who runs Susan's
Pleasant Pheasant Farm
on Lake Wawaka because as I paddled my way up the lake towards the arresting view of the Catskill Mountains ahead of me, I felt as if I was entering a painting. The Catskill Mountains are almost elegant when viewed from a distance. They sweep down to the ground in a way that resembles creatures stooping gracefully to sip water from a brook. They are soothing to look at, and doing so from the waters of Wawaka just made that experience complete. Jim also has a b&b on the lake, surrounded by walking trails and swimming holes. Damaged by Hurricanes Sandy and Irene, they hope to reopen in summer 2014, and if it has half the magic and creative wonder that Jim puts into his kayaking outings, it will be, once again, one of the best places to stay in the Catskills.
And back in the madness of Manhattan, the water play doesn't have to stop. I took a
twilight kayak
on the Hudson River and kayaked the shoreline from downtown to uptown, watching the Manhattan night skyline come to life on one side, and the Jersey City shore twinkle on the other. This is one bite of the big apple you will never forget, leaving a sweet and lasting taste for a long time to come.
Responsible Travel would like to thank the New York State Tourist Board for their sponsorship of this guide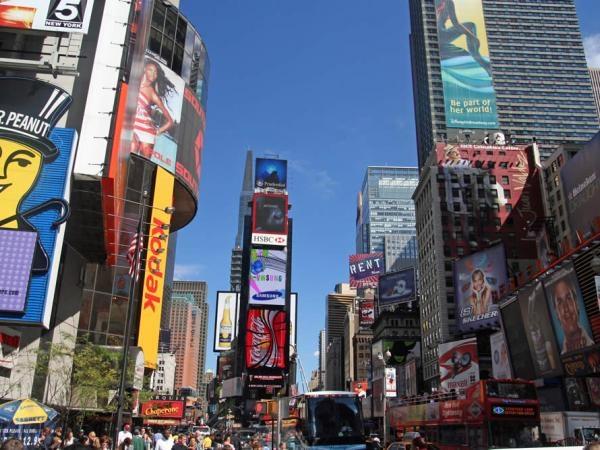 Niagara Falls & upstate New York short break from nyc
From
£699
3 days
ex flights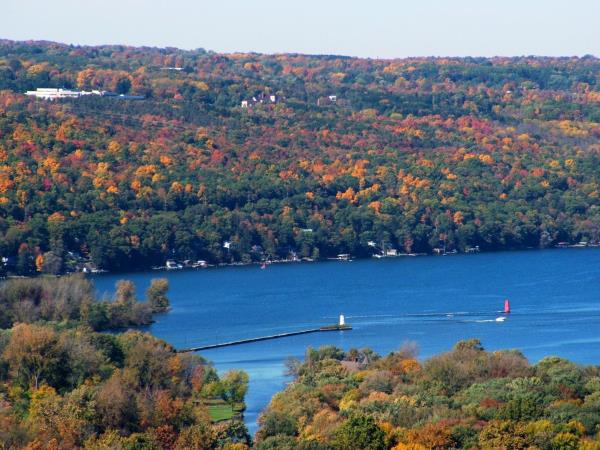 Discover the best of New York State on this tailor made tour
From
£2800
13 Days
inc UK flights