Wineries & microbreweries in New York State
Breweries
New York used to be one of the most important beer exporters in the world, with Albany Ale being shipped along the Erie Canal in the early 18th century out across the country and beyond. There is still an impressive whisky and rum distillery, Albany Distilling, in the capital city, but Albany Ale is a thing of the past. Head to nearby Troy, however for a contemporary revival of capital city beer at
Brown's Brewing Company
. Sustainable and switched on to the importance of reviving hop growing in the State, their Taproom is a great place to spend an evening. Also worth checking out in this region is
Saratoga Beer Week
in February each year.
Another Beer Week to book into is
Buffalo Beer Week
in September. And with over sixteen breweries in the area, they have good reason to celebrate. Check them all out
here
, or like the Facebook page
Buffalo Beer District
. In Utica, Central New York, beer still makes their world go round.
The Saranac Brewery
has been an institution here for the last 125 years and is still run by the same family. You can take a tour of this architecturally impressive brewery which has a history going back to prohibition years, with alcohol free beers being produced during that time. Today their leading brands are Saranac and Utica Club, which you can see brewing in their magnificent copper kettles. They also have a unique state of the art anaerobic digester to process the 150 gallons of waste water that they produce every day and which also powers 35% of the plant.
Syracuse's Empire Brewing Company
is another one of interest, which although based here, actually brews in Brooklyn. The nearby Cooperstown Beverage Trail includes visits to other breweries in the region and as well as the historic
Fly Creek Cider Mill
.
Blueberry wheat beer was new to me, and so it was top of my list at the
Ellicottville Brewing Company
in the town of the same name in the Chautauqua Allegany region of New York. This town has regenerated itself in recent years from industrial dependence to ski centre and so the bar and restaurant attached to this Brewery is, literally, hopping. With seasonal specials like EVL Blizzard and Winter Witte, and gourmet style foods like fish and chips and veal shepherd's pie, you will always feel within your comfort zone here. And they brew nearly thirty beers and ales, so you will never be stuck for choice.
On my travels I met a couple who were starting a cooperage business in Central New York. They said that the locally produced wine and beer market was growing so fast that producers can't source enough barrels. And indeed there are so many micro-breweries in New York, an OktoberFest appears on most regional calendars these days. Such as the
Black Forest Brew House
,
Brickhouse Brewery
and
Blue Point Brewing
all on Long Island and all of which you can visit to sample their wares. The beers at Greenport
Harbor Brewing Company
come under the title of 'Project Hoppiness' but really, with their location and evident passion, it should be called Project Happiness. Right down on the glorious tip of Long Island, this is a dream location for a dream project come true.
You have to go far north to visit one of the state's top breweries, but it is always worth going to the Adirondacks, and the
Adirondacks Brewery
captures what this region is all about. With twelve craft beers on offer, all brewed and bottled on site, this is fresh and frothy stuff with the more than apt strapline "A cold ale at the end of every trail'. New York does indeed loves beer and so for more information see the beer swillingly superb
New York Brewers Associatio
n which has one map you don't want to leave at home. Download the Think NY Drink NY map to imbibe the true taste of New York on your travels.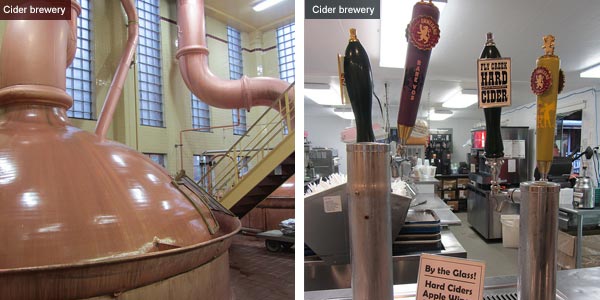 Wine
I loved the names of the Finger Lakes wines on the menu at the
Glen Iris Inn
in Letchworth State Park. They are called Radiance, Wisdom, Love, Inspiration and Harmony and all seemed very fitting to the extraordinary landscape and waterfalls that surrounded us here. These wines are from the nearby
Inspire Moore Winery
and with many more Sauvignon Blancs, Rieslings and Rosés in store, their glasses are never half empty.
The names of the Inspire Moore wines also sum up the attitude to grape growing and wine production in the USA, a dynamic industry even though it is still limited to certain regions. The vineyards are radiant as they bask in the sun, they are created with wisdom and love, and they are inspiring a whole new viticulture all over the state. There are too many to list, with this
Finger Lakes
region being one of the leaders in this field. For every lake there's a grape, it would seem, with wine trails around
Canandaigua Lake
, Cayuga Lake, Keuka Lake and
Seneca Lake
not forgetting a stop at the
New York Wine and Culinary Center
in Canandaigua.
Long Island is also crammed with vineyards. Now referred to officially as wine country, with its own regional
Wine Council
, it has grown from one small vineyard in the 1970's to 30,000 acres and fifty wine producers. The Long Island Wine Council's website is superb for keeping you up to date with wine events in the region, such as seaside appropriate Fish and Sips event at the Long Island aquarium in November, as well as giving a detailed listing of all the wineries.
Up on the shores of Lake Erie in the
1000 Islands Seaway Region
the well-drained gravel-loam soils and moderate temperatures created by the presence of the lake create the ideal growing environment for grapes. It is the biggest growing region for the Concord Grape which is why the headquarters of Welch Grape Juice is located here. You can follow the 1000 Islands Seaway Wine Trail to get an overview of all the different wineries scattered around the region, all offering different treats. Such as
Coyote Moon Vineyards
which offer wine cruises in summer, or
Tughill Vineyards
where you can also pick your own raspberries and blueberries in season, and toast your harvest in their impressive wine cellar shop afterwards.
And New York's metaphorical mother vine must really be in the
Hudson Valley
, the first region to produce wine starting as far back as the early French Huguenot settlers who brought their wine making expertise to this valley over 300 years ago. So you can get excellent vintage wines in the Hudson Valley now, and the vine covered valleys are still growing. Known as the Hudson Valley Wine Country there are established wine trails, all within an hour and a half of New York City. As I fell in love with the Shawangunk Mountains,
this trail
would be top of my list with fourteen wineries tucked into some of the Hudson Valley's most wild and wonderful elevated scenery.
There are various wine events during the year in the Hudson Valley, all listed on the Hudson Valley Wine Country website, culminating in the
Hudson Valley Wine and Food Fest
in September, which takes place in one of my favourite towns in New York -
Rhinebeck
. And to complete the eat, drink and be merriness of it all, you can take the scenically stunning train ride to nearby
Rhinecliff
, stay at the superb boutique hotel overlooking the platform (and the river), and take a three mile taxi into the Festival from there. All in all, Bacchanalian bliss.
Find out more about the
food and wine in New York State
.
Responsible Travel would like to thank the New York State Tourist Board for their sponsorship of this guide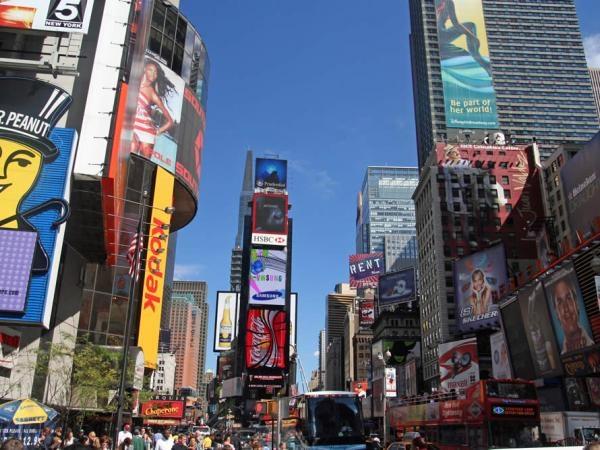 Niagara Falls & upstate New York short break from nyc
From
£512
3 days
ex flights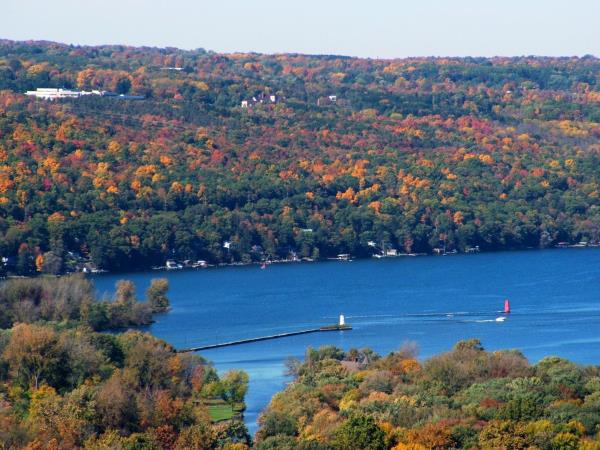 Discover the best of New York State on this tailor made tour
From
£2800
13 Days
inc UK flights