We suggest a short series of cardio workouts before any holiday in New Zealand. Not so much because the walks here are especially challenging, but because youíre going to have your breath taken away so often that it makes sense to develop a coping strategy.
Itís easy to see why Peter Jackson chose to film his Lord of the Rings trilogy here. The landscapes are jaw-droppingly beautiful; nothing short of epic. New Zealand of course is famed as an outdoorsy destination, and thereís no better way to see the country than on foot. There are plenty of demanding multi-day hikes available, such as the Milford Track in Fiordland, and full-day hikes abound, including the legendary Tongariro Crossing, but New Zealand also offers a wonderfully diverse range of shorter walks on both islands that can be tackled at a relaxed pace even by unexperienced walkers.
You might be walking through native bush to admire towering and ancient kauri trees, through deep gorges where waterfalls cascade down the walls, or the ruins of old gold mining communities. You could be strolling along the golden beaches of Abel Tasman National Park, black sand beaches like that of Muriwai near Auckland, in the divinely green botanic gardens of Christchurch, or around historic and eclectic city neighbourhoods such as Greytown in the capital, Wellington.
Another appealing aspect to walking in New Zealand is the range of other activities that you can combine with it: scenic catamaran cruises where dolphins and seals swim alongside the boat; soothing soaks in natural thermal pools; city sightseeing or wine tasting. From coast to forest, mountains to lakes, New Zealandís natural splendour will inspire you to get out and about whenever the opportunity arises.
Our New Zealand adventure Holidays
Kelly Reid from our specialist operator Exodus with a few recommendations on where to walk and why: ďMy favourite walks in New Zealand include Tongariro - the volcanic lunar landscapes are surreal, and the stories of the land and Maori mythology make any hike here quite magical. Abel Tasman is always a highlight, the trails suit a wide range of abilities, and the park is accessible by water taxi making hiking and boat combos an ideal way to enjoy the park without needing to carry everything on your back! You get consistently great weather, and can hike bay to bay with a swim at each one. Mount Aspiring National Park is another. Youíve got iconic South Island landscapes in this area of World Heritage status that spans both west and east of the Southern Alps giving it incredible diversity. Expect lush beech forests, mighty rivers, pristine lakes and glaciated mountains, and breathtaking hikes.Ē
How fit do I need to be?
Itís important to remember that not all New Zealand walks need to be tests of endurance. Many cover generally flat terrain that can be managed by inexperienced walkers. If you only want to tackle short walks then you may want to bring a pair of decent walking shoes or boots with you, but in most cases some robust trainers should suffice. Because New Zealandís weather is notoriously changeable, your daypack ought to contain a light waterproof and a hat Ė add a set of walking poles if you find them useful, and away you go.
Our top New Zealand adventure Holiday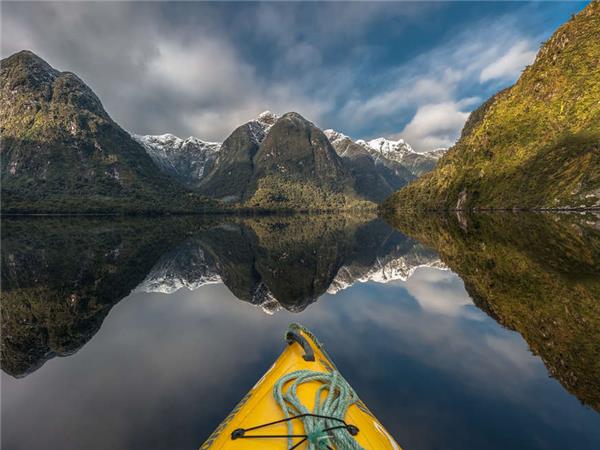 Combining the best of New Zealand's North and South Islands.
From
£5128

to

£5786
22 days
inc UK flights
Small group travel:
2022: 19 Mar, 12 Nov, 17 Dec
2023: 14 Jan, 4 Feb, 25 Feb, 18 Mar, 11 Nov, 16 Dec
If you'd like to chat about New Zealand adventure or need help finding a holiday to suit you we're very happy to help.

Popular New Zealand walks
Tongariro Alpine Crossing
Generally considered to be among the worldís greatest day walks, the Tongariro Alpine Crossing is a 19.4km track on the North Island just south of Taupo. It takes you through spectacular volcanic terrain: lava flows, steam vents and an active crater, with mesmerising views of emerald lakes and mountains. Itís a challenging trek that requires proper walking footwear and an awareness of local weather conditions, but even so expect the trail to be busy with fellow walkers.
Napier Art Deco trail
Napier is one of New Zealandís most unique towns. Most of the centre was levelled in the 1931 earthquake, after which it was rebuilt in the Art Deco architectural style that was all the rage at the time. A heritage walk takes you past around 70 landmark buildings over an easygoing two hours, or you can enjoy the coastal scenery instead.
Flagstaff Hill Track from Paihia
In 1840 the Treaty of Waitangi was signed in the Bay of Islands, and itís generally considered to be New Zealandís founding document. Not all Maori people were happy with the arrangement however, and across the water a flagpole bearing the Union Jack was repeatedly vandalised in an ongoing campaign of resistance to British colonisation. The 360-degree views from the hill summit are spectacular.
Roberts Point Track
This is a fairly demanding hike that rewards you with a superb viewpoint over the Franz Josef glacier, stretching out for 12km from the Southern Alps to the rainforest. Youíll cross rocky outcrops, dramatic suspension bridges and walk past waterfalls on an 11km route that takes around five hours.
Karamea Track
A classic long distance tramping route through Kahurangi National Park that normally takes around six days to cover its 100km length, overnighting in historic huts and led by guides descended from the pioneering families that were among the first to inhabit this region. Expect pristine beech forests, stunning alpine scenery and myriad opportunities for a refreshing wild swim.
Routeburn Track, Fiordland
Offering some of the most magnificent scenery in Fiordland National Park, the full Routeburn Track is a multi-day walk, but you can do shorter sections if preferable. A very popular and fairly easy route is that up to Key Summit, at the tail-end of the track, which provides beautiful views over the Humboldt and Darran mountains.
More about New Zealand adventure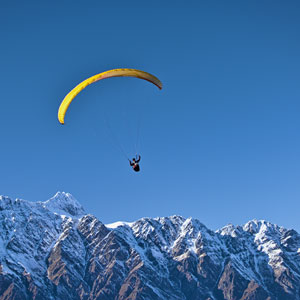 Our New Zealand adventure holidays travel guide is about getting your kicks without causing harm to the environment or local communities.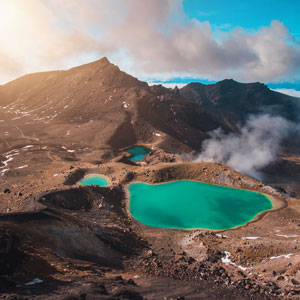 Our New Zealand adventure holidays map and highlights show you where to go, and what you can do while youíre there.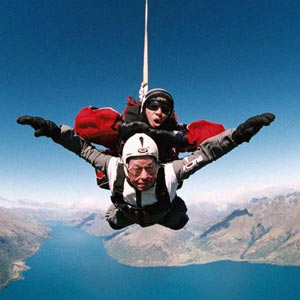 Our top eight adventure activities in New Zealand range from Ďsofterí experiences such as trekking and kayaking to more extreme.