Northern Lights watching advice
Ali McLean from The Aurora Zone with some aurora borealis advice:
Viewing tips
"Firstly, avoid light pollution: Much like the stars, the Aurora can only be properly witnessed once you escape the sodium glare of the city lights, making remote locations crucial for Aurora hunting. Secondly, keep mobile: Cloud cover is the enemy of Aurora hunters, so keep on the move to reach clearer skies. Thirdly, use local knowledge: Local guides know the best spots to see some truly incredible displays! Lastly, be patient: Like any natural phenomenon the Aurora are unpredictable and prone to appear after you've given up and gone to bed. So be willing to wait up, it'll be worth it! It's important to remember that the Northern Lights are a natural occurrence with so many factors and variables affecting their appearance in our skies. This means that although we can maximise your chances, by using local guides, heading to remote locations away from light pollution and embarking on activities that take you away from localise cloud cover, there can never be any guarantees you will witness a display during your holiday. Of course, this is what makes it so spectacular if you do see them!"
Our Northern Lights Holidays
When to go
"The Northern Lights are visible between late August and early April, and each month brings its own reason to travel. Scientifically, autumn and spring have increased chances of geomagnetic activity thanks to the autumnal and spring equinoxes, which in simple terms means more Northern Lights displays, making the months of September, October and March a great time for an Aurora break. Alternatively, the winter months of November to February are a great time to travel for the classic Northern Lights snow experience and the opportunity to try thrilling activities such as dog sledding, reindeer sleigh rides and snowmobiling!"
What (not) to pack
"All our winter holidays to the Arctic Circle include cold weather clothing as standard. This includes thermal overalls which will keep you nice and cosy as you hunt for the Northern Lights as well as winter boots, mittens or gloves, a hat and woollen socks. We also provide a helpful packing list to help you plan what underlayers you may wish to wear too. During activities you will also be provided with all the relevant equipment too, such as helmets on snowmobile safaris."
Daytime activities
Ali McLean from our expert operator The Aurora Zone on what to do when the lights aren't about:
"When it comes to the daytime, we highly recommend that you make the most of the pristine winter environments on offer by getting stuck into some snow-based activities. From memorable bucket list activities such as learning to mush on a dog sledding safari or speeding through the wilderness on a snowmobile to meeting a local reindeer herder and enjoying a sleigh ride through the forest, there are plenty of ways to bring the magic of Lapland alive."
Our top Northern Lights Holiday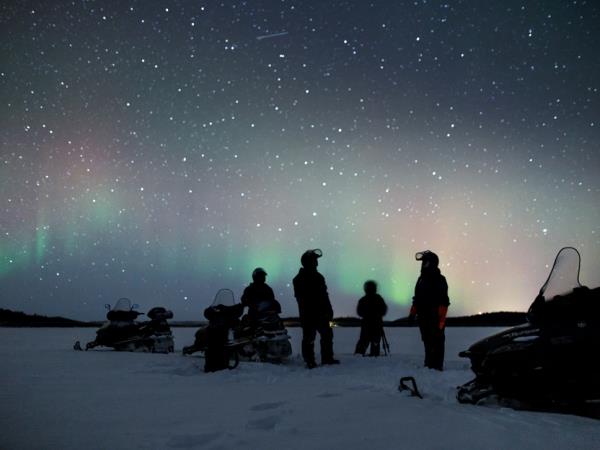 Winter activities & Aurora hunting in Finland
From
£1565

to

£2065
5 days
inc UK flights
Small group travel:
2021: 28 Nov, 5 Dec, 12 Dec, 19 Dec, 26 Dec
2022: 2 Jan, 9 Jan, 16 Jan, 23 Jan, 30 Jan, 6 Feb, 13 Feb, 20 Feb, 27 Feb, 6 Mar, 13 Mar, 20 Mar
If you'd like to chat about Northern Lights or need help finding a holiday to suit you we're very happy to help.
Health & safety in the Arctic
HEALTH
Europeans are advised to get a free European Health Insurance Card (EHIC) before travelling to Lapland or Iceland. This does not replace health or travel insurance, but entitles you to any necessary state-provided medical treatment.
If travelling to Alaska, you will need travel insurance that covers the USA. There is usually an additional supplement for this as US healthcare is private and very expensive.
Medical facilities in these regions are generally excellent, and each town usually has at least one 24-hour pharmacy.
Mosquitoes in Lapland in late June-July are vicious. Keep little ones well covered if travelling during this time.
SAFETY
Lapland and Iceland enjoy low crime rates, and public transport is safe and efficient. One of the main hazards can be driving – especially during winter, when it is a legal requirement to use snow tyres, preferably with studs. Check the laws for the country you intend to drive in. Engine heaters are also recommended. Black ice is a particular danger when the temperature is just below freezing. Look out for wildlife – collisions with deer are common, and accidents caused by moose can result in serious injury, and even death. Snowmobiles may only be driven by those with a driving licence. Generally in these regions, drink/drive laws are extremely strict and heavily enforced. Drinking is therefore not advised, especially in icy conditions. Be aware that in winter, weather conditions can change very suddenly, particularly in mountainous regions.
Northern Lights travel advice
At Responsible Travel, we think the best people to advise our travellers are often... other travellers. They always return from our tours with packing tips, weather reports, ideas about what to do - and opinions about what not to.

We have selected some of the most useful Northern Lights watching advice that our guests have provided over the years to help you make the very most of your holiday - and the space inside your suitcase.

Even if you are a photography beginner, go for it. The teachers are great and you'll learn very fast.

"Remember replacement camera batteries, thermal gear, and a torch. Be sure insurance covers camera and lenses in case of accidents on ice." - Shane Woods

"Stay as long as you can, both on the holiday and in the wilderness cabin – it is amazing. Be interested in what the guides can teach you, if you are willing to ask they know so much about everything it is fascinating. Standing near our cabin in the wilderness in silence so absolute, you could hear the water in the river over 5km away." - Kathy Agashi

"Book now and enjoy yourselves! Don't worry too much about not having good quality outdoor clothing, as they will provide you with everything you need. We really enjoyed all of the activities we chose, as did other people who were staying at the same time, so just book whichever ones take your fancy!" - Anna Stinson

Definitely get out of your comfort zone to experience the wilderness cabin; it may sound daunting to you but it's all worth it!

"The outdoor clothing provided is excellent, but take your own base layer and a neck warmer/buff. The food is excellent but you may want to take some snacks if you don't want lunch every day." - Mary Andronowski

"Pack plenty of warm thin layers to help you adapt to the constant changes in temperature (it varied between -2 and -35 degrees during the week we were there) and take some ski goggles for the snowmobiling – they really helped us!" - Carolyn Dann

"Take a tripod for your camera! An essential item." - Russell Needham

"Travel light as you are moving around so no chance to unpack properly. I wore my walking boots all the time & didn't really need another pair of shoes. And no need to take a skirt or dress. Just spare trousers & layers." - Gillian Girling
More about Northern Lights