I look out the window at this strange place called India. Inside the train, the people around me a re snoring. I don't understand how they can close their eyes when there is so much to see.

- Patricia McCormick, author and journalist
The Golden Triangle
This classic route completes a circuit of the whole country over about six weeks, starting and ending in Delhi. The opener of this odyssey is, therefore, India's glimmering Golden Triangle, which includes Agra, the Taj Mahal and then into the desert state of Rajasthan to visit the other shiny point on the triangle, the city of Jaipur. As well as many other Rajasthan wonders, of which there are many.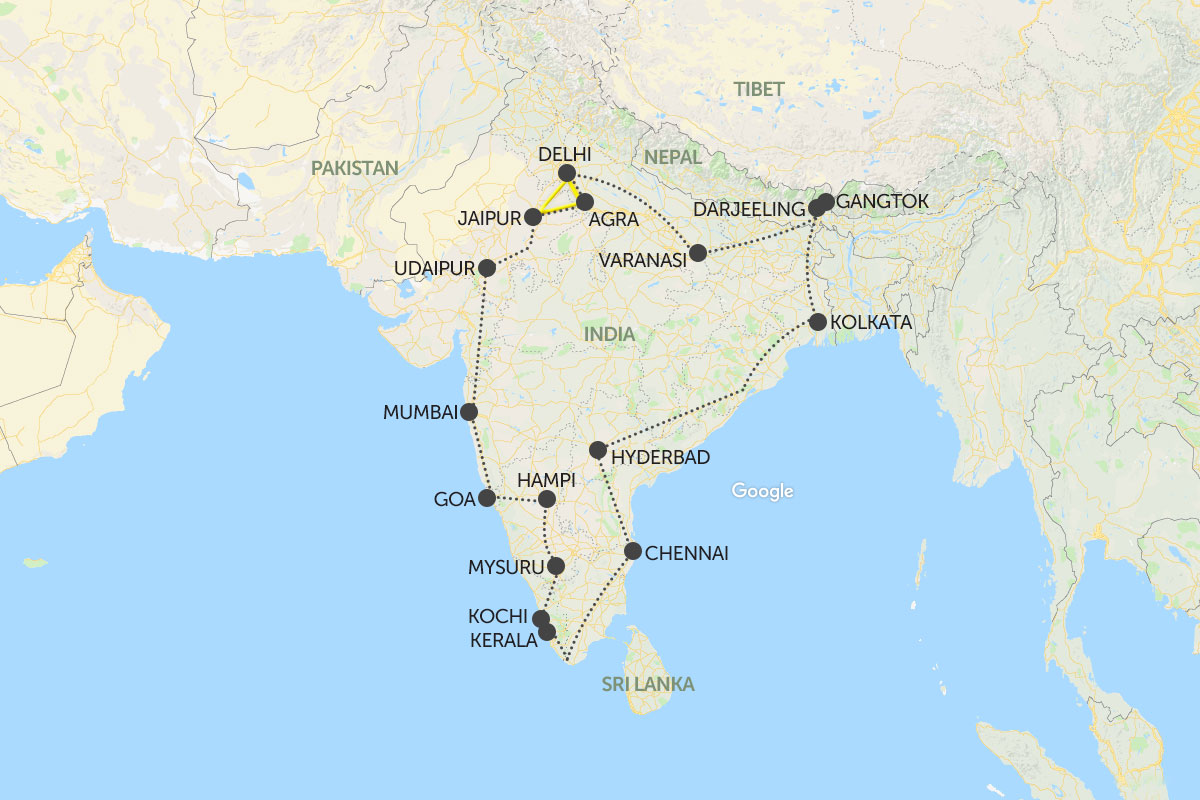 Mumbai
Travelling anticlockwise, your journey takes you on to Mumbai, India's largest city with over 20 million people, and quite some place to get your head around. Spending time in the station alone will open up a world of myriad cultures. This is one place you will be pleased to have downloaded 'Jai Ho', the superb, Oscar-winning song by A R Rahman from Slumdog Millionaire. Used for that famous Hindi dance number in Mumbai's Chhatrapati Shivaji Terminus train station, it captures the mad energy of this great city.
Goa to Karnataka
Some holiday operators skip a section by rail here and take an internal flight to Goa. However, 2017 saw the launch of India's first semi-high speed AC train, the Tejas Express between Mumbai and Goa in just under nine hours. So with new rail options on this leg now, watch this space.

After some beach bliss in Goa, the stunning and most underrated state of Karnataka awaits, opening up the mountainous and luscious terrain of the Ghat Mountains, where the colonial past of hill stations and plantations still hovers. This is also home to some great cultural sites, including the UNESCO temple ruins of Hampi, ancient forts in Madikeri and the palaces of Mysore.
Kerala and Tamil Nadu
Clinging to the coast, and heading further south into the tropics the more touristy but equally fascinating state of Kerala is next on your grand rail tour of India. This is the beaches, backwaters and beautiful-bouquet-of-spices segment of the tour. The beaches don't stop there, of course, but continue along the railway track into Tamil Nadu for a whole other side of India's history. Highlights here include the Tamil cultural hub in the city of Madurai, where the iconic Meenakshi Temple is an outstanding example of Vijaynagar architecture. Puducherry, a former French colony and also on the coast, has an almost Riviera feel to it with its fusion of colonial and traditional 'Pondi' cultural heritage. Travel on to Chennai, the capital of Tamil Nadu Chennai and formerly known as Madras.
Our top Railway Holiday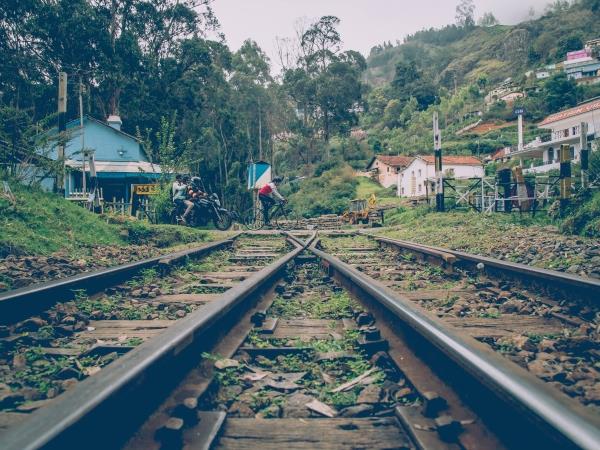 Rail trip visiting Kerala and Tamil Nadu
From
£2888
19 days
inc UK flights
Tailor made:
This trip can be tailor made to suit your dates and requirements.
If you'd like to chat about Railway or need help finding a holiday to suit you we're very happy to help.

Heading North again
One of the next big legs is up to Hyderabad, which you can reach on a sleeper train from Chennai, just one of several possible sleeper nights on this circuit, with most accommodation on our holidays being in small, locally owned hotels or homestays. So you really won't be on the train throughout. This train journey is as much about what to see when you get off the train as what to see when you are on it.

The next connection on the round India circuit is often by internal flight to Puri in the state of Odisha, another relatively unknown region on the Bay of Bengal, where you start heading north by train nback up to some of India's most revered spots, including Varanasi. This is the Sacred City on the Ganges where you will see everything from river funeral pyres to wandering cows and cricket games.
Jai Ho!
These long railway journeys around India tend to be small group holidays, with a tour leader to help you along the way. So, all in all, these aren't holidays to totally hideaway and chill out on really. Although there are plenty of independent days built into carefully crafted itineraries, as everyone needs their space from time to time after all. But this is India. It's a busy and beautiful place, so be prepared to embrace whatever comes at you. We think that travelling the country by train is a liberating and life enhancing way to experience it all. Jai Ho!