ROMANIA FAMILY HOLIDAYS GUIDE
---
2 MINUTE SUMMARY
Take your family from the tree-lined boulevards of Bucharest to the rural traditions of Transylvania where you'll be invited to pedal and paddle through glorious countryside as well as having the chance to saddle up and hit the Transylvanian trail on horseback. Aside from activities that can be added to a tailor made tour and accessed from centre based accommodation, Romania family holidays encourage a walk on the wild side with volunteering at the Libearty Bear Sanctuary a really rewarding experience for families with children aged over 14. It's often the simple pleasures that resonate most with families visiting Romania with warm and welcoming local people – still using horse and carts, scythes to cut grass, and hands to milk cows – conjuring up visions of the way things used to be against a backdrop of birdsong and refreshingly organic home cooking.

Find out more in our Romania family holidays travel guide.
ROMANIA FAMILY HOLIDAYS MAP & HIGHLIGHTS
---
MAKE THE MOST OF YOUR TIME
Although family holidays in Romania will usually feature a trip to Transylvania, to experience life in Sibiu, Sighisoara and the southern Carpathians, it's worth mentioning the Black Sea resort of Constanta that makes a worthy extension to a centrally-located itinerary. Bucharest provides access to the coast and the mountains with a 2.5hr train ride north to Brașov offering an adventurous start to a tour that may well include vampires, bears and foreboding fortifications. Staying in Sinaia or the remote village of Miclosoara, in a guesthouse owned by an actual Count, opens up life in the Carpathian countryside. Here, a slower pace of life prevails for families looking to get back to basics.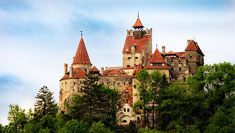 Brașov
In central Romania, Brașov is a brilliant base from where to explore in the Carpathians, visit the Libearty Bear Sanctuary and take your young vampire hunters on a tour of Bran Castle, the reputed home of Dracula. Brașov Old Town is bundled up in medieval tales too although you'll find a clearer perspective taking the cable car to the top of Tâmpa Hill for all encompassing city views.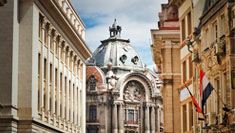 Bucharest
Romania's crown jewel showcases the contemporary and cultural trappings that you'd expect from a thoroughly modern European capital. Medieval and ecclesiastical architecture stand side by side with Communist structures, whilst traditional village life in the open air museum at Herăstrău Park offers families a glimpse at rural Romania amid an oasis of lakes and gardens.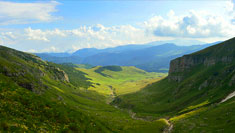 Bucegi Natural Park
The Bucegi Mountains highlight Romania's incredible natural landscapes with wooded hillsides and beautiful lakes, such as Bolboci, making a really impressive location for families looking to stomp outdoors. Views over Prahova Valley are truly breathtaking with cable cars whisking families into the clouds where legendary landmarks, Sphinx and Babele, further enhance photo ops.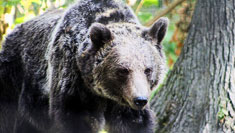 Libearty Bear Sanctuary
Although Romania's reputation for animal welfare has not always been positive, the Libearty Bear Sanctuary aims to chuck old fashioned notions out the window. Local people and volunteers work tirelessly to help over 80 rescued and mistreated bears have a better standard of life, and families visiting or volunteering will find a rewarding conservation project in a peaceful, natural setting.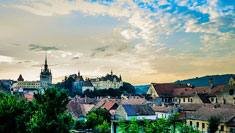 Sighisoara
Set on the banks of the Târnava Mare River, Sighisoara is a city of towers featuring a historic central district which provides a preserved peek at life in the Middle Ages. Birthplace of Vlad the Impaler - there's a cosy Casa Vlad Dracul restaurant – and considered one of Europe's most attractive fortified citadels, Sighisoara is ideal for families especially when combined with a trip to nearby Viscri village.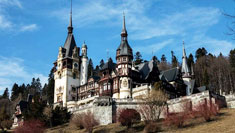 Sinaia
Dominated by the orchid draped slopes of the Bucegi Mountains, the former royal holiday resort of Sinaia is synonymous with clean air and healthy living with train trips to Sinaia Monastery and Peleș Castle certain to feature for families. Peleș Castle, especially, is a must with an armoury, secret passages and a hall of mirrors adding to statue-filled gardens and courtyards for hide and seek.