Rural accommodation in Crete
When you're surrounded by a rich variety of local producers and growers, mealtimes are always something to look forward to. Here in the foothills of Crete's White Mountains, a half hour drive from Chania, responsible holiday operators go to great lengths to support their community. John Flawith, one half of the husband-and-wife team behind Panokosmos, our rural accommodation providers in Crete, believes that the cuisine they're able to provide here is one of the main reasons why so many guests return year on year.

"We're passionate foodies and our own cooking is international fusion, with influences from the Middle East where my wife Yasmin grew up. We like to give our dishes a twist, so we cook moussaka using sweet potato, and our English breakfast has loukanika, the local sausage, rather than bangers. For breakfast we often gather together a range of Cretan produce – cheeses, oil, honey, walnuts, fruits and herbs all on a single plate."
For John and Yasmin supporting their community also extends to pointing guests in the direction of characterful family-run taverns that have opened for the summer season, spending a weekend every year at a wine fair to ensure they can offer people a wide sampling from the island's 30-odd wineries, and ensuring their eggs come direct from a nearby smallholding. It even goes as far as collecting all of their empty bottles for a local glass-blower to use.
You don't usually come to this part of the island for a beach holiday – though there are plenty of gorgeous coastal areas within an easy drive and your hosts will happily pack you a parasol and a picnic lunch. Instead you'll look out across dramatic gorges and weather-scarred hillsides planted with olive groves and vividly colourful orchards. In the winter they are clad with snow, in the spring with wildflowers, and in summer they shimmer under a heat haze. The hills and woods echo to the plaintive bleats of sheep and goats, birds of prey drift on thermals overhead, and your hosts serve up a mezze platter by the pool or in a shady part of the garden that's fragranced with jasmine and honeysuckle. "And don't forget the evening cocktails," says John, "we get through a lot of the local spirit, tsikoudia."
Our top Rural accommodation Holiday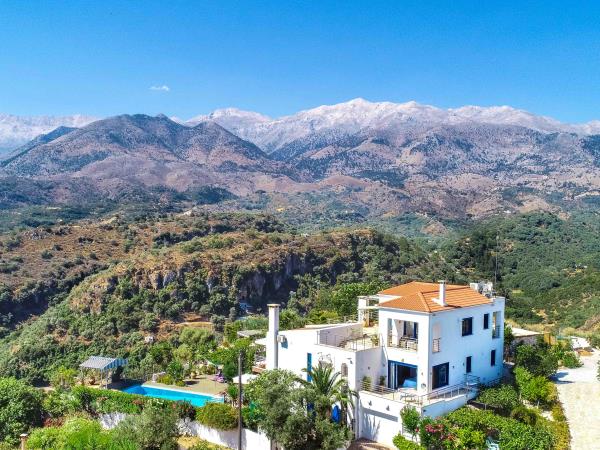 Spectacular views from luxury accommodation in Crete Mountains
From
€135

to

€170
per accommodation per night (sleeps 2-4)
Accommodation
If you'd like to chat about Rural accommodation or need help finding a holiday to suit you we're very happy to help.

Things to do
You're ideally positioned to explore the calmer, greener and more rugged western side of Crete, whether by car or on foot. Walks range from scenic strolls on the flat to shady forest trails leading to villages and archaeological sites, and more challenging day-hikes into the mountains.

Close by is Aptera, displaying more than 4,000 years of history including Roman baths and aqueducts, an old Turkish fort, and overgrown artefacts from the Minoan and Mycenaean periods. There is a beautiful mosaic at Almyrida, World War II sites, and of course the picturesque, pastel-coloured harbour at Chania where the Venetians once moored their galleys. "There's a crafts village close to Chania where a number of artisans produce and showcase their work," adds Yasmin. "We have a ceramist in Paidochori, a mountain village nearby, there are lyra makers and icon painters who sell most of their output to locals, and we can arrange day trips too, including four-wheel drives up into the White Mountains."
You can visit a local potter or woodcarver to watch them at their trade, meet a family that weave silk from the silkworms they farm themselves, see traditional Cretan knives being made or even have a pair of stivania ¬– knee-length leather boots – made up by hand. Anyone hunting for authentic souvenirs will be more than satisfied and your money will go directly into the local economy. And if you're not inclined to stray far from your idyllic accommodation then you might enjoy a personalised painting lesson from a local artist - all materials supplied in case you forgot to bring a brush.
Naturally you will never be short of inspiration on where to eat each day, with expert hosts such as John and Yasmin fully in tune with their community. "We can show you places specialising in the freshest fish, or the most heavenly barbecued chops. Just near us is a little taverna with simple Cretan cooking by an indomitable lady, Katerina, using fresh produce from the villagers' gardens."
Practicalities
Note that rural accommodation in Crete is often adults-only, with many travellers taking advantage of the ability to arrive outside of July and August. "The best time to come is out of the hot and busier summer season," agrees John Flawith. "Spring is wonderful here, it's so green and lush, there are many plants which only appear at this time. The flowers are spectacular, and everywhere seems to be fresh and new. The tavernas are just opened, the weather is pretty reliable and pleasantly warm, the air often clearer than later in the summer." Car-free holidays are possible but really you need a hire vehicle to make the most of the region and the historic, cultural and foodie attractions that are rife in these parts. Your hosts can ensure a suitable vehicle is booked and waiting for you at the airport.
You might be accommodated in a spacious rooftop apartment, with mountain or sea views available from a terrace and a kitchenette handy for self catering. Or you could be in a bedroom suite with concertina-doors that open onto panoramas across the Apokoronas Valley and the deep-blue Med. Cooling mountain breezes ripple over your breakfast table, and your hosts take pride in surprising you each day with a new area of the gardens to dine, or a different wine from their extensive collection: "There are 33 wineries on the island," says John, "and they've made tremendous progress with good and interesting wines, increasingly with local grape varieties such as Kotsifali, Mandilari, Vidiano and Thrapsathiri. Our 2020 wine list will have 25 wines from nine different wineries, more than any other establishment in Crete or Greece."
More about Rural accommodation