Russia travel guide
---
2 minute summary
As the world's largest country, around double the size of the USA and reputedly bigger than Pluto, there's a fair chance you're not going to cover all of Russia in a couple of weeks. Getting to grips with the highlights, however, does give you a fair taste; and from the architectural masterpieces of Saint Petersburg and Moscow to the isolated Siberian scenery which accompanies a trip on the Trans Siberian Express, undertaking manageable chunks is certainly an easier alternative to one giant bite. Chess, Communism, babushkas and Bolshoi or Pacific walrus, polar bears, snow geese and Siberian tigers, whatever you're hoping to find, just make sure you're ready for Russia rather than Russia being ready for you.

Hello.
If you'd like to chat about Russia or need help finding a holiday to suit you we're very happy to help.
Rosy & team.

01273 823 700
Russia map & highlights
---
MAKE THE MOST OF YOUR TIME
The only time trains have ever been late in Russia is when the leader of China visited in 2001 and schedules were paused to allow him speedy passage through to the capital. It's this sort of efficiency in the face of harsh conditions that has forged such confidence of character in Russia's people and no trip is complete without meeting at least a couple of the locals.

The art and architecture of Moscow and St Petersburg can only be topped by the phenomenal scenery of Siberia and Kamchatka, and if you've got time to spare then it's always worth taking the Trans Siberian Express to compare both sides of this huge nation.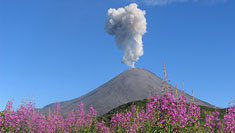 Kamchatka
A naturally diverse region that will have you ferreting for binoculars as bears, walrus and Arctic foxes rise from Wrangel Island, and more than 300 volcanoes lay claim to the rest of your camera's quota. From abandoned Cold War submarines to borsch, beer and salmon caviar, Kamchatka is definitely worth experiencing via a small cruise ship; all-weather gear is a must!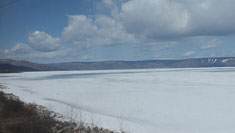 Lake Baikal
650km long and 80km wide, Lake Baikal is all about the superlatives as this is the largest, oldest, deepest and clearest freshwater lake on the planet. Often frozen enough to ice walk in winter and yet providing a place to swim, fish and skim stones in summer, trips on the Trans Siberian and homestay accommodation provide a great opportunity to dip your toe in a little further.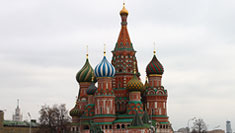 Moscow
Russia's dark and foreboding capital is endowed with iconic architecture and UNESCO sites, and just a glimpse of St Basil's Cathedral will have travellers in a complete and utter whirl. Explore a little further from Red Square and the Kremlin to find Gorky Park, Novodevichy Convent and the Pushkin Museum as well as monuments to Russia's revolutionary past, Lenin's Mausoleum a prime example.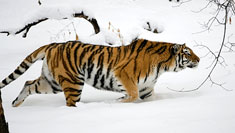 Siberian tiger safaris
With a population just under 600, the Siberian/Amur tiger has seen a resurgence in northeastern Russia due to major conservation efforts in the mountains and forests bordering Khabarovsk, just 30km from China. Winter snow reveals the clearest tiger tracks and undertaking a safari in Durminskoye Reserve with expert guide Alexander Batalov offers a unique natural adventure.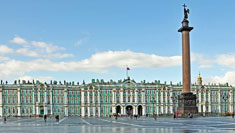 St Petersburg
If Moscow's mean and moody, St Petersburg's light and gay and considered to be a much more cosmopolitan alternative to its big sister some 800km south. A grand collection of pre-revolutionary buildings has led UNESCO to stamp its mark throughout the city with the Hermitage and Kunstkamera Museums and Peter and Paul Fortress presenting a wealth of treasures fit for a Tsar.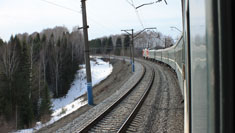 Trans Siberian Railway
Spanning two continents and incorporating over 9,600km of track, this is the world's longest railway and a great option for travelling overland from Europe to Asia. There are three lines which make up the route: Siberian, Mongolian and Manchurian, with the more commonly used, Trans Siberian, taking just over six days to reach Vladivostok from Moscow with opportunities to 'hop off' en-route.