Kamchatka is recognised as one of the world's most important eco-regions due to its globally significant biodiversity: Arctic and alpine tundra; freshwater lakes; boreal coniferous forests, and a UNESCO listed volcanic landscape. It's home to thousands of brown bears and some of the world's greatest diversity of salmon. Sadly though, this abundance of nature is what attracts its main threat – poachers and trophy hunters.
The issue of poaching in Kamchatka is not black and white. The region's economic state is massively depressed and poaching, certainly for salmon, is a direct consequence of that – in the absence of other jobs for local people, the poachers' actions are understandable, if not agreeable.
Less agreeable is the plight of the brown bear. Kamchatka has the largest population in Eurasia, but bears are hunted legally for sport and poached illegally for profit here, with about 1,000 shot each year. Foreign hunters with more cash than conscience pose the biggest threat. They shoot hundreds of bears annually and perfectly legally, paying upwards of £5,000 per dead bear. Their trophy? Generally, just a photograph with the dead bear. Some keep the bear's paws or – and we're not sure which is worse here – grill the paws along with the tongue and eat them washed down with 'celebratory' shots of vodka. Professional hunters kill around 700 bears a year, but no one knows how many animals are poached. However, with bear gall bladders selling for a high price in China, there is incentive there.
The post-communist economic transition hit Kamchatka hard and led to the closure of most state farms and fish plants, so now there are entire villages without a single job – it is not surprising then that most Kamchatkans are not losing sleep over poached fish or dead bears. For future sustainability, however, what has to be avoided is an entire generation being raised with a resigned indifference to the region's breathtaking natural resources. A poaching committee has been established among Kamchatka's local administration, which has so far seen a small reduction in poaching incidents and a rise in reported violations.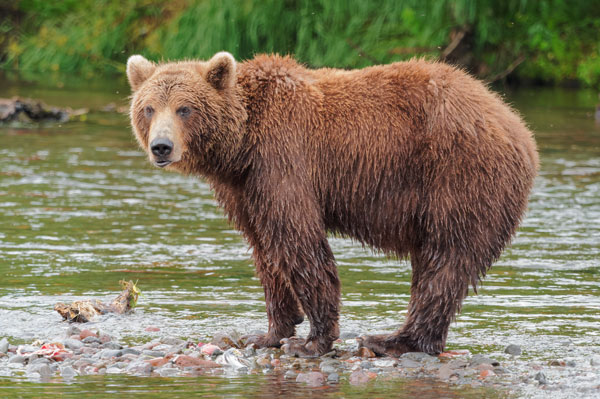 There are also groups such as the Kamchatka Wild Salmon Project, who have been working alongside the
WWF
to conserve Kamchatka salmon through Marine Stewardship Council Certification, and the American-led
Wild Salmon Center
, both of which are doing some very positive work to promote the improved management of salmon and trout stocks while also trying to protect key river systems.
Hopefully, the world's growing interest in Kamchatka's priceless wilderness, together with the rising surge of responsible tourism can help to show Kamchatkan authorities that their regions' bears earn revenue as living creatures, not dead trophies.
What you can do
The most effective thing we can do as tourists is put our money where our mouths are and book a trip to Kamchatka to see its incredible wildlife in a responsible manner, pushing the point that bears are worth far more alive than they are dead. Additionally, while we don't advocate trophy hunting as a tourist, visitors to these regions should be aware that it is a traditional way of life, which has been sustainable for thousands of years. As a visitor to Kamchatka, the best thing you can do is travel with an open mind, and engage with your hosts to learn more about subsistence living.