Responsible tourism issues
---
Travel right when sea kayaking
Sea kayaking is a lot of fun, with that sense of freedom and wilderness hitting you within the first few strokes of a paddle. Kayakers are, by nature, responsible and respectful. They are free thinkers and landscape lovers, and the last thing they want to do is harm the living things that thrive there, or the people with whom they want to share their passions through guiding. You will learn a lot from sea kayaking with a good guide, not just about how to protect yourself, but also how to celebrate the habitats all around. Here are some tips we have garnered along the way.
Safety & wildlife
---
Responsible sea kayaking
Safe sea kayakers are cool sea kayakers
---
Sea kayakers are cool, but safe sea kayakers are even cooler. One of the best things you can do to be safe when on a sea kayaking holiday is to go out with an expert, professional guide. Check their qualifications first aid knowledge and experience. A reputable company will not have any difficulty putting your mind at rest on that front. Then there is having the right gear. In colder climates good quality wetsuits are not only good for comfort levels, but also for safety, as you donít want to get hypothermia. You can easily sea kayak in the depths of winter, as long as you have the right gear. Helmets are necessary if you risk going near rocks and choppy waters, and buoyancy aids are always vital. So, you will have to forgo that all body tan for a body that is still here tomorrow.
If you are sea kayaking independently, always check the weather conditions. Professional guides check in with coastguards and have good working relations with rescue teams on land. So, if you are going it alone you should gain expert weather advice before you go, and generally it is best not to go more than 400 metres from the shore, unless you are experienced.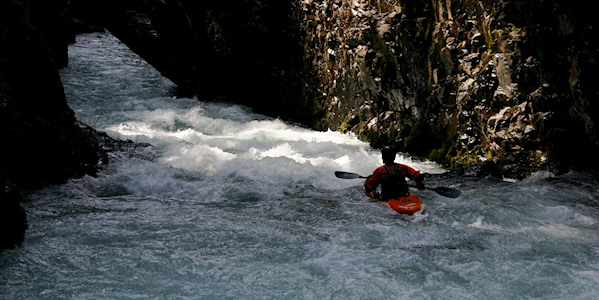 Sophie Hurst, owner of Preseli Venture, our sea kayaking supplier in Pembrokeshire:

"To go out on the sea, you do need to have a good level of understanding. And so, although people want to be able to do things themselves, most people do need a guide. Even if they have some of their own equipment. You have the currents and the weather to consider, but even on a calm day you could be swept out to sea or along the coast. So guides are important for anyone at any level really, even if you want to progress to instructor level yourself."
Wildlife is just that. Wild.
---
You will, hopefully, get to see a variety of wildlife on your sea kayaking holiday. But it is worth remembering that you are encountering these animals on their territory. Just as we are watching them, they are watching us. It is symbiotic and we need to respect that. The best way to do that is by keeping your distance. From whale watching in British Columbia to seal watching in Pembrokeshire, maintain the peace that you gain while paddling, when you spot wildlife.

For example, if you are lucky to be sea kayaking around whales, you must keep your distance and never box them in. That goes for all cetaceans. You can learn more about this in our Whale Watching guide. Or if you are bird watching in Pembrokeshire, guillemots and razorbills incubate eggs on their feet and if they are disturbed they fly off ledges in a panic, their eggs being dislodged or destroyed. And if you are turtle watching in Turkey, very strict rules of non-disturbance must be adhered to. Seals are generally good friends with kayakers, but you donít want to mess with a mother and her pups. So donít land on a beach where they go to pup, and never kayak between a mother and her babe either. And if you creep up on seals or approach them bow on, they may perceive you as a predator. And that is the end of a beautiful friendship.
Paul Renfro, Sustainable Recreation Co-ordinator, Pembrokeshire Coastal Forum:

"One of the joys of kayaking on the sea is the freedom to view wildlife in its natural habitat. However kayakers have a responsibility to develop an understanding of the needs of wildlife in order to minimise any negative impact."

Jim Kennedy, kayaking guide with Atlantic Sea Kayaking , one of our Irish suppliers:

"We recommend not going any closer than 200 metres if you see a whale while kayaking."
Responsible tourism tips
---
Travel better when sea kayaking
Sophie Hurst, owner Preseli Adventure, our sea kayaking specialist in Pembrokeshire, Wales: "In terms of equipment, you do get what you pay for in sea kayaking. We might not be the cheapest, but we have been told that we have the best kit in Pembrokeshire. And we check it all year round. The buoyancy aids have to float, the helmets have to withstand hitting the rocks and the backrests need to work. Itís cheaper not to bother doing all these things. But we always do. Plus we also have highly qualified instructors. But we are not the cheapest. But cheapest isnít necessarily the best."
Donít forget to bring water. Easily done as you are heading out on to the water, so it isnít always the first thing that comes to mind. But you get quickly dehydrated when sea kayaking as it works you harder than you might think. And no disposable plastic bottles please, they're light enough to fall in if the conditions get choppy.
Beware of the weather conditions at all times. If you want to rent a kayak independently, donít be fooled by calm waters and blue skies. This is the sea, and winds can come out of nowhere, carrying you when you least expect it. Generally, if you are kayaking without a guide, best not to go more than 400 metres from the shore.
Having the right gear is key, not only for safety, but to protect you from the elements. If you find your gear is faulty, or dodgy, tell your guides. It is not acceptable.
Litter is always a no no. Follow Leave No Trace principles at all times, including if you land on an island and build a fire. Even fruit peelings and seeds. Take them away, as they mess with the natural ecosystems.
Even if itís cloudy be safe and protect yourself from the sun at all times as you will be very exposed. Eco-friendly sun creams are always advised but especially so when you are dipping in and out of the water. Wear a hat, if helmets are not being worn.

John Gray, our man in the water in Thailand:
"Marine rubbish is pervasive, but we pick up what we can...John Gray has collected 9,027 bags since arriving in 1989. The guide team about the same. Please do your part!"
ROW Adventures is one of our suppliers in British Columbia, where wild camping is very much part of the trip:

"Kayaking is a minimal-impact activity, and we are certified carbon-neutral in our operations through our carbon-offsetting program to address the use of van transport, and propane for cooking (most meals are cooked with a dutch oven). Since the main other attractions of the tour are hiking and tidepooling, this tour is almost entirely human-powered. This not only gives a more intimate experience with the land, but it doesn't harm the sea creatures we treasure."

Vedat Vural, owner of Alternatif Outdoor, one of our suppliers in Turkey:
"There have been no serious accidents in sea kayaking in Turkey. But unfortunately, the government has not put safety regulations in place in the same way tha Europe has. So we set our own rules, using universal safety standards within our company, and we talk openly about this with our guests because we are proud of that. They can also see our standards from our equipment and the way in which we operate our trips. Sadly, there is no other company in Turkey with the same safety standards as we apply on our trips. I am not blowing my own trumpet, because I hate that. But this is a fact, and I hope it will change. Because that is good for everyone. The problem is that there is still no regulation or a sea kayaking federation here to make other companies oblige. That would be one of my missions, as Turkey is such a perfect place to paddle."