Responsible self guided walking
---
RESPONSIBLE TOURISM ISSUES
Walking holidays are wonderful for getting that 'not a care in the world' feeling that so many of us crave in our busy lives. It is hard to imagine that there would be any issues of responsible tourism emanating from a few hikers moseying around the moors, or rambling along a river valley.

But, in some ways, because walking holidays take us into remote, often totally wild places, the issues resulting from our being there are even greater. Mass tourism destinations are often prepared for visitors and local people have adjusted to having their annual invasion, but remote, rural areas might not be. Wherever you walk, there are certain things to keep in mind in order to keep your footprint featherlike in terms of the environment and, indeed, favourable to people who live there all year round.
People & Culture
---
land access
On self guided walking holidays you are usually walking into remote spots, albeit on waymarked, well managed trails, but often through other people's land and homelands. It is important to stick to the waymarked trails or paths that are given in your notes and itineraries. They have been created by experts, and are managed carefully not only to avoid erosion and overtrampling, but often after careful negotiations with land owners and land users. If you wander further afield, you may also be straying onto private land which is not only rude, but risky in some countries where hunting and guns go with the territory.
If you meet the landowner, you can always negotiate a right of way, of course, which most will grant if you are nice about it. And if you meet someone who clearly lives on, or makes a living from, the land where you are working, don't forget to say hello and engage a little. And sometimes, on these holidays, you can go for the whole day without seeing anyone. So stopping to talk to a real life shepherd, or an olive farmer, will often make yours and, hopefully, their day.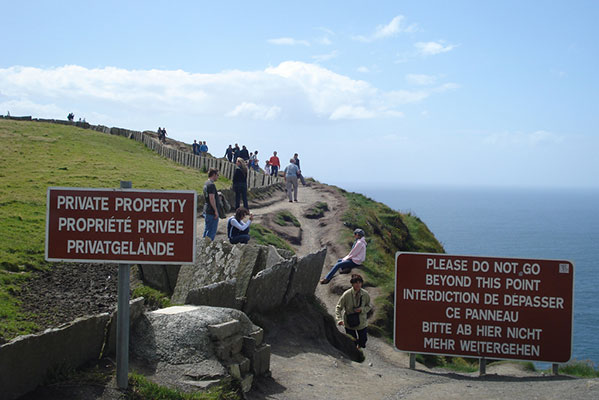 Wildlife & environment
---
LEAVE NO TRACE MEANS LEAVE NO TRACE
Is it OK to throw cherry stones into the Adriatic when hiking along the Croatian coast? Or an apple core behind a bush in the Pyrennees? It's all natural, right? Wrong. Unless you picked the apple from a tree where you are walking, or unless cherries grow among the coral, they don't belong there, so if in doubt, take it out.
Such is the message of worldwide organisation, Leave No Trace, which is the font of all knowledge and training when it comes to environmental protection and outdoor activities. It all seems like common sense and, in general, walkers love the environment and are extremely protective of it. However, this doesn't explain the wasters who leave things behind like disposable barbeques, cigarette butts, banana skins, chewing gum, drinks bottles and even pop up tents.
Leave no trace also means leaving nature as you find it, so don't pick wildflowers, please. A hard one to teach children, but just part of the big picture of protecting the few wild places we have left in the world.
What you can do
You can read more on the
Leave No Trace
website. Most is common sense, but here are some tips which are less obvious to most people but very important when it comes to lessening your impact.
Walk single file in the middle of the trail, even when wet or muddy.
Deposit solid human waste 15-20cm deep, at least 60 metres from water, camp and trails. Cover and disguise the hole when finished.
When washing dishes, or yourself, carry water 60 metres away from streams or lakes and use biodegradable soap.
Respect all rules about fires. Most national parks do not allow them, for example. But in wilder areas, build only small ones within a carefully constructed fire ring. Use small sticks and put them out completely, scattering the cool ashes. Leave no trace applies to fires too.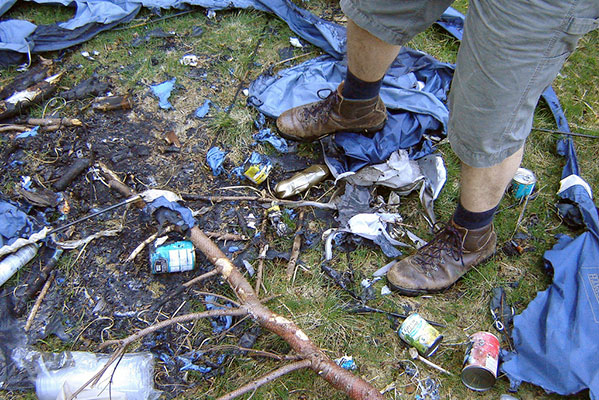 Responsible tourism tips
---
TRAVEL BETTER IN ON A WALKING HOLIDAY
One of the advantages of travelling with a responsible tourism walking company is that they work with carefully chosen local guides and experts, who check the walking routes at the beginning of the season to ensure that everything is clearly marked, or that there are no diversions necessary due to path damage and so on.
When you take a walking holiday in Scotland, you are benefiting from one of the most accessible, wild open spaces in Europe. Traditionally, it has always been considered important and right that every person should have access to countryside in Scotland. This right is now enshrined in law, which basically says that as long as you act responsibly, you can walk, cycle, canoe and horse ride in all open land or waters. Beware of the deer stalking season, however, from 1st July to 20th October, with a hind season until 15 February. The Heading for the Scottish Hills website is invaluable for keeping you up to date on what the various estates are doing and when, with detailed maps and regularly updated information. This is a time when cooperation between hikers and stalkers is vital. See our 2 Minute Guide to Scotland for more details.
A responsible walker is an insured walker. Accidents do happen, even if they are just a badly sprained ankle, and you might need to be rescued.
Spokesperson from British Embasssy in Madrid, Spain: "Make sure you have travel insurance. An emergency abroad can be extremely expensive. If you need to be returned to the UK it could cost you thousands, unless you are properly insured. It can cost, for example, £12,000 to £16,000 for an air ambulance from the Canaries. Every year British Consulates see cases of uninsured travellers facing huge bills – make sure you are not one of them. And it is good to be aware that the Catalonia region has started charging negligent hikers, climbers, skiers and other adventurers who have to be rescued. The regional government has recently started sending bills to all people who required emergency rescues, to encourage others to be more careful. People deemed to have been negligent will have to pay."
When travelling in remote areas, you will come across small communities which will often charm the person who has just strolled into town. The temptation is to take photographs straight away. Take your time to get to know people, always ask their permission to take photos, and check in advance with your guide whether it is appropriate to ask in the first place. And remember how you would feel if someone wandered into your home on a quiet Sunday afternoon, taking pictures and selfies by the second.