Where to go on short walking break
---
Map & highlights
There are lots of small walking holiday companies out there, tucked alongside the wild beaches of Suffolk, into corners where the mountains meet the sea in Turkey or amid the lavender filled meadows of Provence. They are run by walkers themselves. They know the best place to buy fish and chips on the Sussex coast, or where to swim under an icy waterfall alongside a Norwegian fjord. They will lead the way, or just cook you dinner and have it waiting for you, with the fire lit or a glass of Italian wine reaching the perfect room temperature for your arrival. Take your pick. And dust off those boots.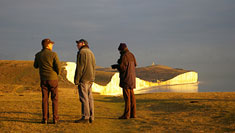 Sussex & South Downs, UK
Take a weekend escape from the predominantly urban south of England by walking along the South Downs and its national park, which is packed with walking circuits and superb views over the Sussex coast. For flat and easy walking, try the estuarine landscapes around Chichester harbour, or explore the valley carved out by the River Ouse. Perfect for self guided walking with great pubs boasting local food.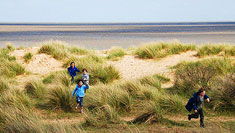 Suffolk coast, UK
Suffolk is the antithesis of suffocating. It has wild beaches, dunes, wide open wetlands and bird bedecked nature reserves. If you like to combine walking with sea swimming head to Walberswick or Southwold. Suffolk's landscapes and famous east coast light have inspired artists such as Benjamin Britten and Turner. Indeed, Suffolk's aesthetic qualities are verging on operatic. Or an operetta, in the case of short breaks.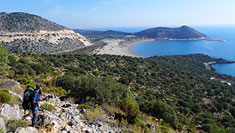 Lycian Way, Turkey
This was the brainchild of British walker and writer Kate Clow, who connected a network of ancient paths to create a continual 500km coastal walking trail. You won't do it all on a short break, but will get a good taste of the hills, coves, fishing villages and traditional Turkish life here. Do it guided or independently, have your bags transported and enjoy local accommodation en route. Like Kate, you won't want to leave.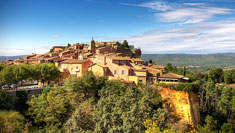 French Riviera
Get to Nice and then make it even nicer by taking a short walking holiday, based in a small rural village on the borders of Provence and the Cote d'Azur. Each day brings a mix of Med, maritime and mountain cultures. Hike inland to enjoy the Alpes-Maritimes, walking from one exquisite village to the next, or go coastal trekking in a guided walking tour from Nice or along stunning headlands.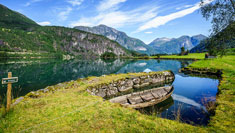 Norwegian Fjords
It's hard to imagine you can walk among Norway's remote fjords on a short break, but you can. Fly to Oslo or Bergen and transfer to the Aurland region, gateway to Sognefjord, the world's longest ice-free fjord (205km). This region is also renowned for its superb local food as well as the obligatory sauna at the end of the day. Walk for a weekend, and into another world.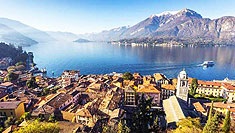 Italy
There is a feast of opportunities when it comes to short walking breaks in Italy. Combine Lake Como with Milan for hiking and shopping. Combine cooking with coastal walking in the exquisite Basilicata region of the south, aka Lucania. You can also combine wine tasting with walking in the eastern Adriatic region – all in a few days. La via e bella.


Short break walking advice
---
TIPS FROM OUR SHORT BREAK EXPERTS
Norway walking advice
---
Laura Greenman, from our supplier Magnetic North, has something to say about the very air itself on a short break walking holiday in Norway: "One part of Norwegian life which influences many of our trips is the idea of friluftsliv. Translated literally as 'free air life', friluftsliv is about enjoying nature and the outdoors in a simple and uncomplicated way. It is not about conquering a mountain peak or going to any extremes of nature, but rather enjoying the outdoors and reaping the benefits of nature to our own well-being."
"I love early summer – June and July – when the fjords sparkle and the walking is top quality in the mountains. August is great for berry picking, and by September, we're seeing fantastic autumnal displays of the aurora borealis."
England advice
---
June Zaft from our supplier Country Walks:
"It is no surprise that walking is one of England's most popular outdoor activities. The countryside is awash with a dense network of footpaths, many hundreds of years old. Originally formed to link one village with another, they still today wind through the landscape to all kinds of hidden delights. Then there's the thrill of discovery. On foot one can enjoy the detail, discover what nature has in store, choose which path to take, wonder who one will meet on the way. All that's required is a map, compass, enquiring mind and a sense of adventure! And in England one is never far from 'civilisation' so there are no real dangers."

Paul Day, from our supplier, Let's Go Walking, shares his experiences of walking in England:
"One of my favourites is the Purbeck Way which comes in from Lulworth Cove to Swanage via Corfe Castle. This is a great walk for wildlife as there's usually deer, buzzards and rabbits around the area with loads of seabirds in Swanage as well as an occasional hare or two, if you're lucky."
Packing tips
---
June Zaft from our supplier Country Walks: "It's essential to have comfortable walking boots and we advise when travelling overseas to wear them on the plane just in case bags are delayed or lost. For the same reason, we suggest when travelling with a partner, you each carry some of the other person's essentials. Quality waterproofs are also essential as is a properly fitted rucksack with adjustable chest and waist strap."
Morocco
walking tips
---
Mike McHugo, owner of Kasbah du Toubkal, has this advice on walking in the Atlas Mountains: "I just love going off the beaten track in the mountains here; I go almost anywhere in the mountains along minor roads. Increasingly, a lot of the secondary roads are being tarmacked now. They were only accessible by 4x4 in the past, but now you can see the same places and cover greater distances on a bike. So, you can easily go cycling from the Kasbah and hire mountain bikes in Imlil for about €20."
What to wear when walking in Morocco
---
"People are absolutely astonished when they walk up the Imlil Pass, just an hour and a half from the hustle and bustle of Marrakech's central square. We do ask people to remember that dress codes do differ in the Atlas Mountains from Marrakech. In Marrakech it's not unusual to see women in shorts, skirts above the knee, and scant or see-through tops. While it's still not appropriate in Marrakech it's much more shocking for people in villages — many of whose homes and front doors you'll be walking past on a hike."
Turkey tips
---
Julie Vural from our supplier Alternatif Outdoor reveals the pleasures of getting close to both nature and local people in her Turkey travel advice: "We see all sorts of wildlife on our hikes – turtles, flying fish, kingfishers while sea kayaking; storks, colourful lizards, birds of prey. We experience untamed nature on all our trips – craggy limestone mountains, tumbling streams, fragrant pine forests, peaceful deep blue lakes, hidden coves, impressive sea cliffs. Guests also love meeting local village people and getting an insight into their lives during our hiking and mountain biking trips – drinking strong black Turkish tea in a cafe or freshly squeezed orange or pomegranate juice on a villager's porch, or eating gözleme (Turkish savoury pancakes) in a village eatery."
Short break walking travel advice
---
TIPS FROM OUR TRAVELLERS
At Responsible Travel, we think the best people to advise our travellers are often... other travellers. They always return from our tours with packing tips, weather reports, ideas about what to do – and opinions about what not to.

We have selected some of the most useful short break walking holidays advice that our guests have provided over the years to help you make the very most of your holiday.
"The most memorable part? Seeing the wildlife, deer run across our path buzzards soaring and just being out in the fresh air... Travelling on the steam train. Go at your own pace and take time to enjoy every aspect of the area and speak to the locals, who all seemed proud and quite happy to tell us "inside" information." – Norah Johnston on a self guided walking holiday in Dorset, England

"Look at flights carefully. There are many different ways to fly there. Book a flight which arrives and leaves at a reasonable time of day. I think it would be good to stay one day after trip is over – for example in villa rhapsody, as I did. Be aware of temperatures/seasons- April is best, if only later suits-be prepared for it to be hot. Remember to have Turkey visa organised before you go. Have guide's number on Whats App." – Niamh McGarry on a Lycian Way walking holiday, Turkey

"Getting up into the Atlas Mountains was a welcome break from the bustle, hustle & excitement of Marrakech. It's a much quieter pace of life and very beautiful - I would highly recommend a couple of days here. Bring warm clothes for chilly evenings, although they do provide something if you forget. Go trekking. A half day trek up to the mountain pass was very do-able, even though I spend most of my days sitting at a desk." – Nicola and Chris, in the Kasbah du Toubkal in the Atlas Mountains

"The best parts of this tour were the wonderful informative guide with loads of local knowledge and fabulous stories and the range of stunning scenery that we traversed. We got to see village life, learn about (and see evidence of) ancient and recent history and met some lovely fellow trekkers. Medium fitness required - there were some steep uphills but the days were well-paced and very enjoyable. Surprisingly few other trekkers and confusing paths in this area made a guide highly recommended." - Gina Goble on a Lycian Way walking holiday

Benoit and Corrine were the most amazing hosts. They are always making sure their guests are happy and satisfied. The house is lovely. I recommend the top floor balcony room. The views of sunrise and sunset along the Alps Maritimes and the Côte D'azur are awe inspiring. Most memorable were a river walk guided by Benoit and swimming in a gorgeous natural pool of water at the end of the hike. Also memorable were the cooking lesson with Corrine and the gourmet lunches she prepared for our hikes…Bring really great and comfortable hiking boots. Shop at the village grocer, baker and join other guests in making meals some nights. You have kitchen privileges. The house is essentially yours in the common areas. You can eat dinner outside and watch the stars and moon. Add a bottle of local wine and you are in heaven." – Arlene Fleischmann in the French Riviera

Hello.
If you'd like to chat about walking holidays or need help finding a holiday to suit you we're very happy to help.
Rosy & team.
01273 823 700