BEST TIME TO GO ON A SLOVENIA FAMILY HOLIDAY
---
TEMPERATURE & RAINFALL
THINGS TO DO ON A FAMILY HOLIDAY IN SLOVENIA
---
WHAT TO DO & WHAT NOT TO
Things to do on a Slovenia family holiday…
---
If you've never tried stand up paddle boarding (SUP, to the initiated) or navigating a fast flowing river on a kayak or inflatable raft, then Slovenia is an excellent place to start. Adventure activities, while surrounded by dramatic landscapes and alpine scenes, can be truly memorable, bonding experiences and might also inspire further family fun and adventures upon your return home.
Although family holidays in Slovenia let you experience activities and unbelievable scenery together, as a family, there's still plenty to be said for teaming up with other families as part of a small group of likeminded adults and similar-aged kids. Group sizes range from 12 to 24, with a ratio of one tour leader for every eight people. Ice breakers, initiated by energetic tour leaders, allow friendships to form and grow during a week away.
Slovenia is a really small country and staying in one place, such as the centrally located capital, Ljubljana, enables you to get out and explore without the need for extensive transfer times. Ljubljana is really close to Slovenia's only national park, Triglav, and hiking around the hills of Smarna Gora or SUP boarding under the bridges on the Ljubljanica River, lets you make the most of one of Europe's most charming cities from a variety of angles.
Things not to do on a Slovenia family holiday…
---
Ignore safety advice. Family holidays in Slovenia are one such occasion when ignoring the experts is not recommended, particularly when rafting, kayaking or exploring the mountains. Local guides and activity leaders are experts in staying safe, inspiring confidence and allowing your family to learn more about traditional culture and respecting the natural world.
Forget your cozzie. Just a glimpse of the emerald green Soca River will have you tingling all over and if you're thinking this is going to be a family holiday for staying dry then think again as Slovenia has some amazing natural water features, including lakes Bled and Bohinj, readymade for family fun. Slovenia's rivers and lakes are so fresh that you'll feel like you're swimming or paddling in a cool glass of Evian.
Expect a lie in. Building a free day into an itinerary or allowing kids to rest, revive or play with newfound mates is a good idea; however, if you're wishing to make the most of a family holiday in Slovenia best advice is to pack each day with plenty of activities. Sleeping until lunchtime might well be fine for a beach break however, this is Slovenia, everything's exciting, and once your children have tried white water rafting, kayaking or zip-wiring, lazing about with an iPad is just not going to come into the equation.
SLOVENIA FAMILY HOLIDAYS TIPS
---
ADVICE FROM OUR FRIENDS IN SLOVENIA

Brett Smith, Director of our specialist supplier, Green World Holidays, shares his recommendations and lets families understand what they can expect from Slovenia:
Fitness and safety first
---
"We require family members to have at least a moderate level of fitness as this will increase their overall enjoyment and allow them to take part in as many activities as possible. If anyone has a specific fear or question about an activity our travel managers are always available to discuss this further. We also provide activity descriptions with our in-house ratings and comments, and where possible we can provide videos so families can make informed decisions before signing up."
Group bonding
---
"Our days are action packed and we deliberately don't have loads of free time. Trust games and ice breakers allow kids and parents to make friends and bond as a group which we find is really important before embarking on a week of outdoor activities."
Eating & drinking
---
"I'd recommend Atlantis Waterpark, Krvavec Adventure Park, Postjona Caves and the pretty Venetian coastal town of Piran as great locations to head to as a family on a free day in Slovenia. Ljubljana is also a lovely city, like a fairytale, and is very safe with loads of outdoor cafes and places to eat as well as lots of nice parks and places for picnics alongside the river. We also run SUP boarding trips along the river which runs right through the heart of Ljubljana."
"Lake Bled is a must see in Slovenia, it's like something out of a dream. However, one of the options that most of our guests really love is hiking around the wild flower filled meadows on Smarna Gora and stopping off at a mountain hut for lunch. If you're thinking of extending your stay in Slovenia I'd recommend staying close to Lake Bohinj as there are lots of cycling and walking trails and views over the lake are simply magnificent."

Hello.
If you'd like to chat about family holidays in Slovenia or need help finding a holiday to suit you we're very happy to help. Rosy & team.
01273 823 700
SLOVENIA FAMILY HOLIDAYS ADVICE
---
TIPS FROM OUR TRAVELLERS
At Responsible Travel, we think the best people to advise our travellers are often... other travellers. They always return from our tours with packing tips, weather reports, ideas about what to do - and opinions about what not to.

We have selected some of the most useful Slovenia family holiday tips that our guests have provided over the years to help you make the very most of your holiday – and the space inside your suitcase.
"We had a great holiday and would recommend Slovenia to other families with children above 10, preferably 12, to get the best out of the holiday." – Alyson Moss
"The biking was very enjoyable. We jumped and played in the river to cool off and saw some small villages and stopped off at the Tolminka Caves. Not a lot of people know about the Julian Alps, but they are stunning. We all enjoyed the canoe rafts, learning to tackle the white waters and the guides made time for games. We really appreciated this. There didn't seem any urgency and they obviously enjoyed the client interaction. Just being close to the Soca River is a spiritual awakening." – Troy Morgan
"Our holiday had a good mix of action and relaxation. We were very impressed by the kindnesses, thoughtfulness and fun offered by the team and the hotel staff. Slovenia is very beautiful and the guides gave us insights into the history and culture of their country." – Anne Lindsey
"Slovenia is clean and tidy and the respect shown by the locals to their countryside is contagious - so everyone respects their surroundings....rightly so!" – Lesley Finlayson
"The Soca River is the most spectacular I've ever seen. It's an emerald green colour and blows your mind when you see it. The water is clean enough to drink and makes for the perfect cooling device after a day of sport. All the activities were guided, well instructed and safe; I very much loved the canyoning. What a feeling!" – Shaun Frazer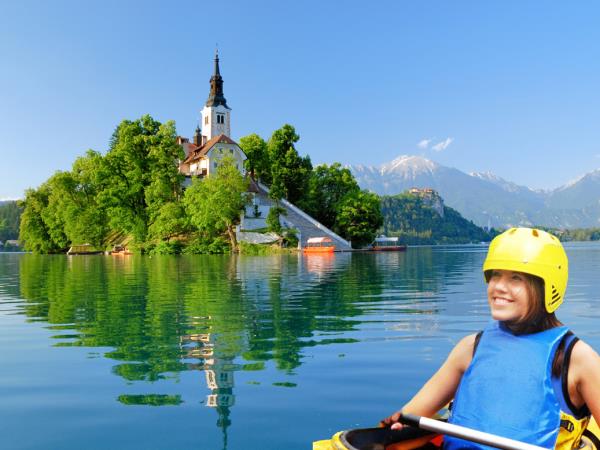 Perfect adventure for families, teenagers & active children
From
£995
8 Days
ex flights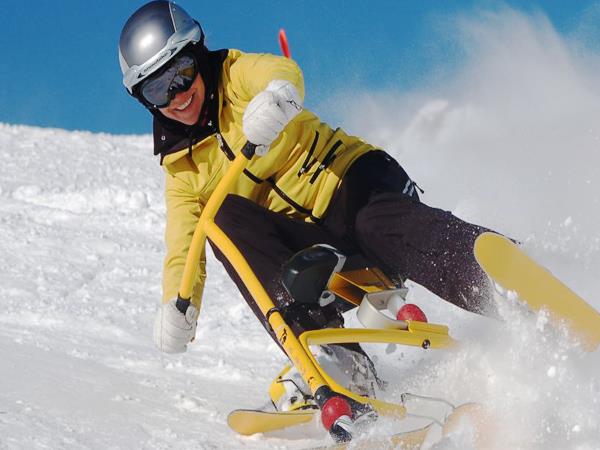 Ski safari in 3 different countries, with other fun families
From
£1375
8 Days
ex flights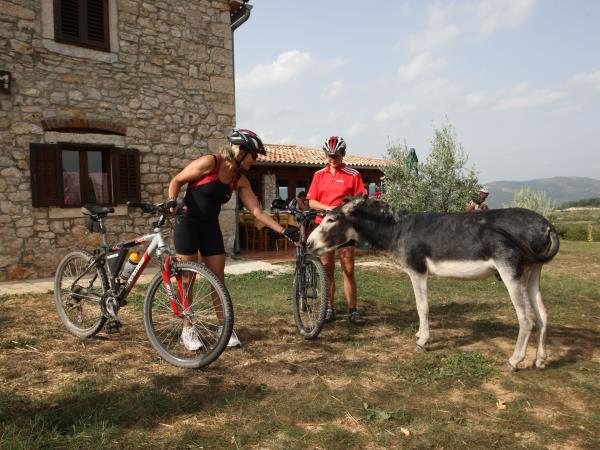 Enjoy an adventure with your family in Slovenia and Croatia.
From
€1690
8 Days
ex flights