Lisbon to Malaga cruising
You could drive from Lisbon to Malaga in six hours, or fly in one and a half – but where's the fun (or the ecological credentials) of that? A cruise from Portugal's southern Algarve towards Malaga – via a stop in Morocco, will let you dip your toes in three countries and two continents in just over a week. On your way, you'll uncover just how much Portugal, Spain and Morocco share. See just how much Moorish influence infused the grand architecture of the cities in southern Spain, how much Spanish you can hear in Tangiers port – and find out just how narrow the Strait of Gibraltar really is.

Voyage through the night, and wake up in a new location every day for a quick swim and a full day exploring. That narrow slip of land half-glimpsed across the sea? Africa.

As you thread between Europe and Africa, you'll see that the cultures lace together in unexpected ways. Once you get to Malaga, disembark and, if you have time, take a day to visit the magnificent Alhambra at Granada – an enduring symbol of 13th century Moorish rule in Spain. Did you really think you'd left Morocco behind? That's the joy of weaving together three countries on one cruise.
Benefits of a small ship cruise
Lisbon and Malaga heave with tourists for much of the year – the benefit of being on a small ship cruise is that you can leave them in your wake, in favour of the lesser-visited coastline sights in between. On the Costa del Luz, in the hottest corner of Spain, the tourists are invariably Spanish (down from Seville), and far less numerous. Cruising along the Algarve is the best way to enjoy the quieter pockets of its coast, and being on a small boat means you can also navigate the Guadalquivir River up to Seville. In this culture-dense corner of the world you can see something new every day, with only a short passage between the sights. What's more, small ship cruises are very sociable, and aren't big enough to contribute to overtourism.
What does this trip entail?
A smart 55-metre motor vessel will be your home for the eight day cruise between Lisbon and Malaga. You'll soon come to the conclusion that this is the only way to travel. The ship has a capacity for 50 people looked after by between 16 and 18 crew – that's small fry compared to cruise ships. Instead of eating on the boat for every meal, the focus is on the wonderful places you'll visit – meaning that you'll have a hard time contracting cabin fever. Motor boats of this size can clip along at a good 11 knots. You'll make way at night –– leaving the days for exploration. Worried about sea sickness? Boats are equipped with stabilisers, but this is generally a calm area to cruise.

You'll get meals on board, dining al fresco when possible. All breakfasts are provided as well as roughly half your lunches and dinners, so you can eat off the boat at local restaurants – try sardines in the Algarve, orange juice in Morocco, olives in the Spanish countryside – all fairly inexpensively and very locally. Most of your time will be spent off the boat. A few handy bus transfers whizz you inland, and there's a longer bus journey get you from Lisbon to the Algarve – where the cruise begins. For many of the destinations you'll be under the wing of knowledgeable local guides, gathering to listen on the shady side of the street, or letting your eyes adjust to the cool darkness inside a historic church. Activities like wine tasting, guided walking tours and cafe visits (with a serving of mint tea), are all included.
When you're on the boat, bring a book, or perhaps a board game, for some quiet time on deck. You can swim most days – which you'll find a tempting prospect, no matter how much you want to pack into the day, as summer temperatures will turn the sundeck into a roasting pan.
Double cabins are available for couples. If you're travelling alone you can choose to share a room with another traveller of the same gender, or pay for solo occupancy of a twin room. All cabins come with windows, an en suite, a television and a water-stocked fridge. There's WiFi at an extra cost, but it can be intermittent out to sea.
What to bring?
Packing a soft bag rather than a hard-case suitcase will help you maximise your cabin space. There are regular opportunities to swim, so bring your swimming costume, accessorised with biodegradable sunscreen, sunglasses and a hat. In general, pack for the heat, but include some arm, leg and midriff-covering clothing for entry to the Alhambra, churches and monasteries and for travelling around Morocco. Include comfortable shoes that can tackle cobbles and uneven surfaces on your frequent explorations of the towns. Water purifying tablets are helpful for filling up your refillable water bottle off the boat – be aware that water is precious in Andalucía, especially in summer, so be careful with your supply. You may like to bring seasickness tablets – and earplugs, if you're a light sleeper and you think you might be disturbed by the low-level engine noise as the ship cruises through the night.
Lisbon to Malaga cruising highlights
Chefchaouen
The dramatic Rif Mountain setting should be reason enough to visit Chefchaouen. But for the last 500 years, this tranquil Moroccan mountain town has had a tradition of painting its houses, its streets, and even the trunks of some of its trees, a dreamy, achingly photographic blue. Browse the medina, photograph a scrap of a cat sleeping on a blue step and meet the town's residents who will be delighted to talk turquoise with you.
Huelva
Huelva province in Andalucía, and its namesake port city, is very close to Spain's border with Portugal. Columbus was big news here in the 15th century. You'll see replicas of Niña, Pinta, and Santa Maria – the ships that carried him on various voyages – in Palos de la Frontera, and you'll be able to visit the well-preserved Santa Clara Monastery; the explorer stayed here whilst petitioning the Abbess for funds. Luckily, she eventually acquiesced.
Lisbon
Cruises start in Portimão, a two and a half transfer from Lisbon, but Lisbon is a worthy stop. The Portuguese capital is comprised of spectacular view after spectacular view, thanks to its many hills, its pretty church towers, its Golden Gate-esque bridge and its Rio de Janeiro-esque Christ statue. Two things you can't miss: the Atlantic beaches, popular with surfers, and the pasties de natal – custard tarts popular with everyone.
Malaga
Far more than just the gateway airport for the Costa de Sol – Malaga city is the southernmost city in mainland Europe and combines a hot al fresco lifestyle with well-preserved history. Picasso was born here, and a Picasso museum is one of the city's star attractions (plus, it's out of the heat). Modern beach bars and restaurants will entice you back outside – but go further, to the magnificent Alhambra at Grenada, if you have time.
Ria Formosa National Park
The beautiful Ria Formosa Natural Park is famed for birdlife. It's a place where flamingos, kingfishers, and statue-esque herons will endeavour to distract you from spotting the rarest prize in the park – the rare sultan hen. If you can't see this little bird, instead look out for the Portuguese water dog. This local breed has found wider fame as a pricy show dog. He's happier in his natural environs, doggy-paddling through the shallows.
Ronda
Straddling a dramatic gorge above vineyard-clad valleys, Ronda is a muscular town – attracting that most masculine of all writers, Ernest Hemingway, who stayed here for multiple summers. It still practises bullfighting annually – something we'd
heavily discourage you to fund
on your visit. Instead, spend time marvelling at its amazing bridge. Puente Nuevo spans the gorge in three arches, and has a 100 metre drop. Settle your nerves after peering over the edge with a glass of local wine.
Seville
If Chefchaouen is blue, then Seville is definitely orange. This burnished city has cathedral, castles, grand squares and cool, entirely-tiled interiors. The spaces often fill with the blur of guitar notes and the snap of percussion: the art of flamenco is alive and well in the city, practised by gravely gesturing women and foot-stamping men. Don't miss the chance to see a performance. Seville is roughly 70 km inland, but connected to the sea by the Guadalquivir River.
Tangier
Lying in beach-bound, spicy splendour just 30km from the Spanish coast, Tangier is a sophisticated port city. American writers William Burroughs and Paul Bowles lived here in the mid 20th century. Today it's a little busier, but still has beautiful sights around the Kasbah. Hercules Cave, just around the pine-covered cape, is part of Greek legend, rather than Moorish lore or American fiction; it's where the hero is supposed to have rested between labours.
Portimão
Clue's in the name: this Algarve city is known for its port, and it's where most Lisbon to Malaga cruises actually start. Inland is the hilltop town of Silves, worth a day trip for its castle, cathedral and Moorish ancestry. Next, get down to exploring the coast. Biscuit-hued limestone cliffs crumble into caramel beaches, and yellow caves slosh with the sound of the sea. Don't miss the cave at Benagil Beach.
Our top trip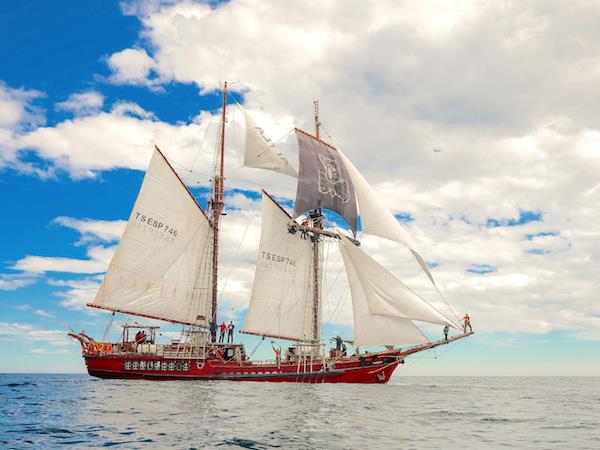 Adventure sailing in Spain on a historic ship
From
€740

to

€980
6 days
ex flights
Small group travel:
2024: 17 Mar, 24 Mar, 31 Mar, 7 Apr, 14 Apr, 21 Apr, 28 Apr, 5 May, 12 May, 19 May, 26 May, 2 Jun, 9 Jun, 16 Jun, 23 Jun, 30 Jun, 7 Jul, 14 Jul, 21 Jul, 28 Jul, 4 Aug, 11 Aug, 18 Aug, 25 Aug, 1 Sep, 8 Sep, 15 Sep, 22 Sep
If you'd like to chat about Small ship cruising or need help finding a holiday to suit you we're very happy to help.

When is the best time to cruise from Lisbon to Malaga?
How hot do you like it? In July and August southern Spain, including Seville, has average highs of 35°C but can, and will, go a lot higher. Cruises tend to run from June to early September. Being on a boat away from the shore will provide some relief from the relentless heat of the land, but once you're ashore the heat – and the crowds – will wash over you. If you're keen on bird watching at Ria Formosa, then visit as close to spring and autumn as you can to catch the busy migratory periods of some of the birds.
There's a minimum age of 15 to go on this trip. There aren't any strenuous activities, but you'll need to be able to move about the boat easily, and climb its stairs.

Once you stop in Morocco you will need to exchange your currency for Dirhams – these can't be acquired outside of the country, but a quick and easy trip to the Bureau de Change will sort you out.

In Spain, you'll find that the lunch break – the mediodía – can be quite a long stretch, as lunch is the main meal of the day – and shops will close for a couple of hours at least. If you want to go on a trip to Granada's Alhambra you will need to book in advance – there's a six month waiting list.
More Small ship cruising articles