Best time to go cycling in South Africa

Spring in the Western Cape brings blossoming orchards and hills blanketed in wild flowers as well as whales off the coast of Hermanus.

Whales appear from Oct to Dec whilst warmer weather from Jan to Mar also brings strong winds which can be a blessing or a curse. Eastern areas in the summer, around the Drakensberg and Panorama Route, will be hotter and wetter than the west. Mar and Apr are generally the best time to go on a South Africa cycling holiday in the east as temps are comfortable, rainfall low and wildlife watching in Kruger is less congested. Autumn is one of the best seasons to go cycling around the wine regions as it's harvest time which adds a splash of colour to country scenes close to Cape Town.
Western Cape Weather Chart
In January and February, cyclists will want to pack their breathable waterproofs around the Drakensberg Mountains and Kruger National Park. If you're cycling around the Western Cape, conditions are much drier. Very high winds blast through in South Africa in March although competing in the annual Cape Argus Cycle Tour can be thrilling if you fancy cycling 109km in under seven hours. As South Africa enters autumn, in April and May, cycling the wine routes around the Western Cape can be really rewarding with colourful vineyards a hive of activity during the harvest. Temperatures will drop in the west and rain increases. In the east, however, dry conditions are ideal for cycling in the Drakensberg and for game drives in Kruger National Park. June and July are not the best months to go cycling around the Western Cape as it's wet and cold. The north and east of the country, on the other hand, have comfortable temperatures and hardly any rain making the Panorama Route a real joy. Extra layers are key if you're cycling on the Western Cape during August as evenings can be cold and rain is still very much a feature. September in Hermanus signals the start of the whale watching season with lots of festivities to enjoy out of the saddle. Cycling conditions are perfect in the northeast during August with the added bonus of minimal foliage and dried up watering holes allowing wildlife watching to take centre stage. Temperatures start to increase in the west during October and November with cycling tours along the south coast often built around whale watching. The rest of the country, including the Drakensberg and the Panorama Route, can experience a fair amount of rainfall during December and January so not the best time of year to go cycling in the east and northeast of South Africa. December can also be a very crowded month as kids break up for the school holidays, so roads will be busier and accommodation along the wine routes may be taken by summer wine enthusiasts.
David Sear, from our supplier Exodus
"The best time of year to go to SA really depends on what you want to see. If you are going for the flora and fauna then early in the year is recommended as the countryside is much greener after the rainy months. Whilst later in the year ( Oct – Dec) is best for whale spotting on the south coast and animal spotting in the game parks as the bush is less dense making animals easier to find."
Our top trip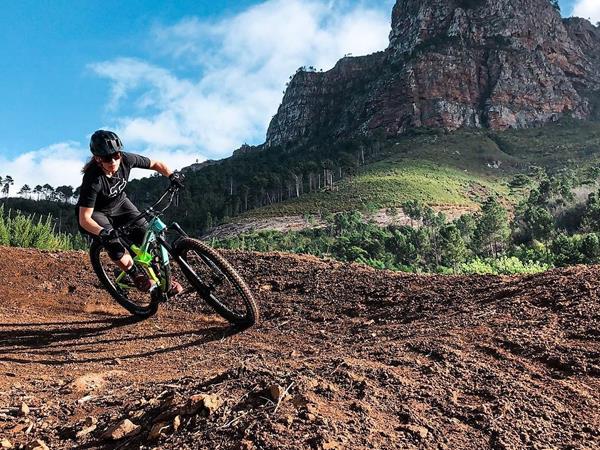 A fully supported & guided African cycling adventure
From £1800 to £2300 7 days ex flights
Tailor made:
This trip can be tailor made throughout the year to suit your requirements
If you'd like to chat about South Africa cycling or need help finding a holiday to suit you we're very happy to help.

Things to do on a South Africa cycling holiday
Things to do on a South Africa cycling holiday…
Lions, elephants, leopards and rhinos are all to be found within the vast perimeters of Kruger National Park and swapping bikes for safari vehicles is one of the best ways to watch wildlife in South Africa as part of a cycling holidays. Alternatively, if you're cycling on the Western Cape, keep your eyes peeled for whales and sea birds from Bredarsdorp to Gordon's Bay, as well as troops of roadside baboons, and African penguins on Boulders Beach.
The Western Cape features some of South Africa's classic touring routes, which incorporate Boschendal, Franschhoek and Stellenbosch winerie, plus sections of the Cape Argus race route and the Whale Coast from Hermanus to Gordon's Bay. Head east and the opportunity to pedal over the Panorama Route provides ample examples of stunning scenery as you cycle past Wonder View en-route to an evening meal overlooking the Three Rondavels.
Pace yourself. Although average daily distances won't top the 55km mark it's still worth keeping your speed to marathon rather than sprint if only to ensure you get to make the most of the gorgeous views. Keep hydrated, avoid too much wine the night before, and cover up to avoid sunstroke or burning if cycling in the summer. Also, get some practise in before you touch down in South Africa. The fitter you are, the more you'll enjoy the tour.
Things not to do on a South Africa cycling holiday…
Our South Africa cycling holidays don't involve pedalling all day, every day. Embrace chances to feel the ground beneath your feet. Stroll around the rock formations in Blyde River Canyon Nature Reserve; swim in the Tugela River cascades at Royal Natal National Park; indulge in a beer or two at the Birkenhead brewery or a Sauvignon at Stellenbosch; whatever you do, don't forget you're on holiday, remember to smile.
Ignore instructions. Your group leader is there to help you have the best experience possible so please don't ignore their advice. Safety helmets are compulsory in South Africa, and you need to be able to hear what your guide is saying so save the headphones for poolside. Most of the roads you'll be riding on are tarmac so stick to them, wherever instructed, and try to resist the urge to head off on your own, including zooming off too far ahead.
Cycle solo. Although it can be fun to whizz off on your lonesome, nothing beats a small group cycling holiday in South Africa in terms of socialising and seeing the sights from a shared perspective. The additional security of knowing that you're cycling in the right direction with a guide who knows the roads is also advantageous, with a back up vehicle, just in case, further boosting confidence and safety levels, especially if you're cycling here for the first time.
SOUTH AFRICA CYCLING HOLIDAYS TRAVEL ADVICE
David Sear, from our supplier, Exodus, shares advice and recommendations small group cycling holidays in South Africa:
Wine and wheels
"Our favourite area to combine cycling and wineries has to be Stellenbosch. Home to the first ever official South Africa wine route (founded in 1971), it is packed with great wines and vineyard stops. This, coupled with the beautiful jagged mountains and nature parks full of quiet roads that surround the area, makes it a truly ideal spot for a cycling break."
Waves and whales
"One of the best coastal rides in South Africa has to be the whale route between Hermanus and Gordon's Bay. This stretch of coastal road is known to be one of the most scenic rides in the world as it passes False Bay and the Cape of Good Hope. Throughout the ride we will most likely see troops of baboons wandering the inland paths, and in season (June to November) this stretch of coast is famous for humpback whales swimming just offshore."
What to expect
"Road conditions in South Africa are very good with wide, smooth tarmac roads throughout the country. Though specific cycle lanes are not common, the roads we use feature a large shoulder area which is perfect for cycling and allows us to stay away from any road traffic. On some of our cycling tours we use gravel or unsurfaced roads to enable us to visit more remote destinations. These are not technical and allow us to cycle away from any motorised vehicles, the most spectacular being in the Hlumu Mountains on our
Drakensberg and Kruger tour
."
Cycling sustenance
"Though it doesn't fit in our panniers, the best food to fuel our cycling in South Africa has to be a braai (barbecue). On specific days of our tours, the support crew goes ahead and fires up the braai, usually at an extremely scenic spot. Our groups will then cycle round a bend and find the crew all set up with the braai smoking away and loaded with fresh, locally sourced meat and veggies ready to be tucked into."
More South Africa cycling articles