Classic South Australia itinerary
Highlights:
Wildlife, Outback & Wine
Best suited to:
UK visitors, particularly those visiting for the first time
Duration:
7 days
Regions:
Adelaide, Kangaroo Island, Barossa, Flinders Ranges, Clare Valley
On Kangaroo Island there is an abundance of wildlife and amazing scenery. Highlights include getting up close to sea lions at Seal Bay and walking on Remarkable Rocks. For a change of pace visit the Barossa, one of Australia's most famous wine regions. Tour with one of the many specialised local operators for an insight to the region's superb wines. Overnight in the Barossa then travel north to the Flinders Ranges. Highlights of this region include Wilpena Pound and surrounding ranges, wildlife, bushwalking opportunities and scenic flights. From the Flinders Ranges travel back to Adelaide via the picturesque Clare Valley wine region.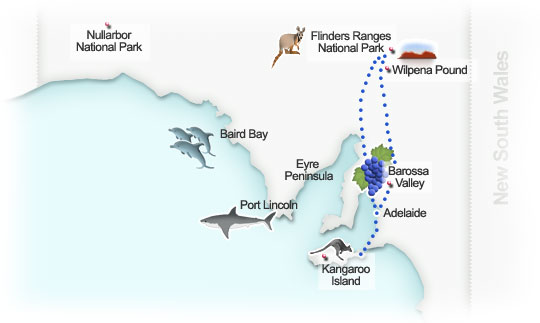 Day 1 - Adelaide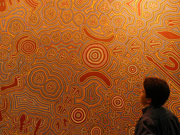 There are many touring options in Adelaide.
For an Aboriginal experience visit Tandanya – National Aboriginal Cultural Institute for visual art, performances and a shop selling authentic arts and crafts. The South Australian Museum's Aboriginal Cultures Gallery is a must– see and features more than 3,000 Aboriginal artefacts – guided tours are available. Visitors can also take a native bush food tour of the Botanic Gardens with Bookabee Tours Australia.
Take a walking tour with Tourabout Adelaide along North Terrace, Adelaide's cultural boulevard and get an insider's view of Australia's first 'free settlement', revealing grand vistas and hidden charms, national treasures and local follies and a pioneering history.
Food lovers can explore the Adelaide Central Market (open Tuesdays, Thursdays, Fridays and Saturdays), just off Victoria Square in the city centre, founded in 1869 and considered one of the best in Australia. Guided tours are recommended with Chef's Media Tours or Adelaide's Top Food & Wine Tours. For wine lovers a visit to Penfolds Magill Estate is a must. Combine a tour of the winery with a fabulous dinner at the renowned Magill Estate Restaurant.
For a wildlife experience close to the city, cruise with Temptation Sailing from Glenelg to watch or swim with Bottle-nosed Dolphins that inhabit Adelaide waters. Afterwards swim at Glenelg beach or enjoy the shopping and dining options along Jetty Road. Then catch the tram back into Adelaide.
Overnight:
Adelaide Options include a wide variety of central hotels and charming heritage accommodation in the nearby North Adelaide precinct.
Day 2-3 - Kangaroo Island
Take a morning flight or ferry to Kangaroo Island.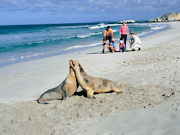 Alternatively a flight from Adelaide to Kingscote can be taken with Regional Express or Air South.
Touring on Kangaroo Island – options include self-drive (cars can be hired on the island or some companies allow their vehicles to travel on the ferry), coach touring or luxury, personalised touring in 4WD vehicles. Some companies offer packages ex-Adelaide, incorporating accommodation and transport to the island (including ferry/fly, ferry/ferry or fly/fly options).
Highlights on the island include Seal Bay Conservation Park, Flinders Chase National Park, Remarkable Rocks, fur seals at Cape du Couedic's Admiral's Arch, Little Sahara, pristine beaches and stunning coastline, local produce including honey, seafood, marron (freshwater crayfish) and wine, friendly and relaxed locals, and abundant wildlife including koalas, wallabies, echidnas, kangaroos and little penguins. The smaller the group the more likely visitors are to have close encounters with the wildlife.
Overnight:
Kangaroo Island on Day 2. The island has a great variety of accommodation including hosted bed and breakfast accommodation, hotels, apartments and luxury retreats. An evening penguin tour, if staying by the coast, is recommended. Overnight: Adelaide (Glenelg)
Adelaide to Kangaroo Island:
30 minute flight or 1 hour 30 minute drive and 45 minute ferry ride
Day 4 - Barossa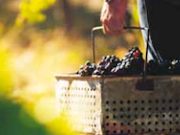 Spend the day exploring the Barossa, Australia's most famous wine region. Many companies offer tours of the region, with some of the smaller luxury tour operators offering expert wine guides who are happy to personalise tours to cater for particular interests.
Visitors have the opportunity to taste premium wines, visit the homes of some of Australia's best-known labels such as Jacob's Creek, Wolf Blass, Peter Lehmann and Yalumba, and discover more about the winemaking process.
Some wineries, such as Penfolds allow visitors to 'Blend their Own' wine and take home their own blend as a souvenir. Many tours include interaction with local winemakers and personalities, and showcase the stunning local food produce of the region.
Overnight:
Barossa The region offers a wide variety of accommodation options from rooms within a resort complex through to luxury gourmet retreats, cosy selfcontained cottages and B&Bs and traditional country guesthouses.
Adelaide to Barossa: 1 hour 30 minute drive
Day 5 - Flinders Ranges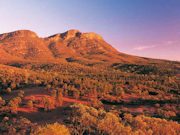 From the Barossa travel through the Clare Valley and taste wines at some of the region's best loved wineries such as Skillogalee and Sevenhill. Hire bicycles and ride along part of the 33-kilometre Riesling Trail, stopping for wine tastings along the way.
Explore the area, visiting art galleries and studios, wineries, gardens and historical buildings and townships.
From the Clare Valley travel north to Melrose, in the southern Flinders Ranges.
The Flinders Ranges, recognised as one of the eight national landscapes in Australia, provides visitors with a taste of the outback and many tour operators travel to the region. However, the Flinders Ranges is also perfect for self-drive visitors. Stop at the North Star Hotel, for a meal, refreshment or to spend the night.
From Melrose travel to Wilpena Pound. Explore this natural amphitheatre and surrounding gorges with their excellent bushwalking trails and abundant wildlife. Head to quirky Prairie Hotel at Parachilna for an outback pub experience where some of the local wildlife has found its way onto the menu. Watch for wildlife at sunset, particularly the elusive Yellow-footed Rock-wallaby, for which the region is known.
Overnight:
Accommodation options vary from luxury eco villas and working sheep or cattle stations to camping out beneath the stars.
Barossa to Flinders Ranges:
4 hours drive
Day 6 - Flinders Ranges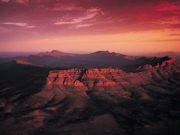 Take a scenic flight from Wilpena Pound Resort, the best way to truly appreciate the awesome landscape. For the return journey to Adelaide travel through Hawker and Quorn to Port Augusta. For a little soft adventure consider a camel tour in Quorn.
Port Augusta is the gateway to the Flinders Ranges and home to the Australian Arid Lands Botanic Garden and Wadlata Outback Centre, where visitors can learn more about the region. A Flinders Ranges Water Cruise up to the top of Spencer Gulf is also recommended.
Overnight:
Adelaide
Flinders Ranges to Adelaide:
5 hours drive
Day 7 - Adelaide
Depart Adelaide, perhaps heading south-east through the Fleurieu Peninsula and Limestone Coast regions towards the Great Ocean Road and Melbourne.
Responsible Travel would like to thank the South Australia tourist board for their sponsorship of this guide