Events in South Australia
January
Schutzenfest,
Adelaide (13-14 Jan)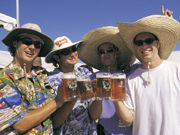 Enjoy the oompah music, traditional dancing, roasted pork knuckles and wursts - let's not forget the beer! It's Adelaide's annual German festival, come to the Schutzenfest - Prost!
Santos Tour Down Under,
Adelaide (15-22 Jan)
The Santos Tour Down Under in Adelaide attracts some of the biggest names in world road cycling. It's a week-long festival of cycling and entertainment. See the world's best cycling teams light up South Australia in the first race of the prestigious UCI WorldTour calendar.
Port Lincoln Tunarama Festival,
Port Lincoln (26-29 Jan)
Port Lincoln Tunarama is a family friendly festival held over the Australia Day long weekend on the foreshore of Boston Bay, the perfect backdrop for this great event. The picturesque foreshore lawns of Port Lincoln are filled by a bustling alley of stalls, sideshows and rides, with fun events, activities and competitions for all ages.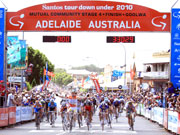 Crush,
Adelaide Hills (30-31 Jan)
Join the party in the Adelaide Hills. The local wineries and eateries pour passion into this event as they share it with you. Relax on lush lawns, sipping delicate wines and savouring locally made cheeses.
February
Cellar Door Wine Festival,
Adelaide (24-26 Feb)
Come and discover the best wine, food and regional experiences in South Australia... Right in the heart of the city for three days at Adelaide's biggest cellar door! Get your "wine passport" and come aboard this fabulous educational experience with wine tastings, master classes, food sampling, a regional farmer's market food court, live music, Fringe performances and more...
Adelaide Fringe,
Adelaide (24 Feb- 18 Mar)
The Adelaide Fringe is Australia's largest arts festival. The Adelaide Fringe's 52 year history is a testament to its success. Adelaide's well-loved venues and "pop-up" venues provide fun and quirky locations to see great shows. Families are looked after with many family friendly events. The Fringe is an open-access event which means anyone can register in the categories cabaret, comedy, circus, dance, events, film, music, theatre and visual arts.
March
Adelaide Festival,
Adelaide (2-18 Mar)
The Adelaide Festival is one of the world's great arts festivals. Every year, Adelaide becomes the arts and entertainment hub for artists and audiences, with a feast of theatre, film, dance and opera. The Adelaide Festival is host to the enthralling Writers Week and the South Australian Short Film Awards.
WOMADelaide,
Adelaide (9-12 Mar)
WOMAD is the World of Music, Arts and Dance. WOMADelaide began in 1992 and has gone-on to become one of Australia's favourite festivals. The 2012 event will celebrate the 20th anniversary of the event. The program features performances and workshops on seven stages by the world's best musicians, dancers and DJ's, alongside street theatre artists and visual artists.
Clipsal 500,
Adelaide (1-4 Mar)
The Clipsal 500 Adelaide is the "best touring car event in the world", according to Murray Walker. He'd know! He's one of the world's best known motor sport commentators. Feel the adrenaline rush as dozens of V8 supercars roar past you at extreme speeds.
April
Oakbank Easter Carnival,
Oakbank (7-9 Apr)
The Oakbank Easter Racing Carnival is like no other in the world. If you love the Melbourne Cup, then you'll love the vibrancy of this great annual horse race. It's one big picnic! Easter Saturday gets everyone in the mood so you might want to stay nearby because Monday is the big day!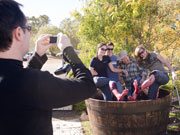 Tasting Australia,
Adelaide (26 Apr – 3 May)
Tasting Australia has become one of Australia's most popular food and drink festivals. Attended by some of Australia's and the world's top chefs, sommeliers, restaurateurs, food, wine, beer and travel media - including the most highly respected television presenters and producers.
Barossa Vintage Festival,
Barossa (Biannual event, next event: 2013)
Barossa Vintage Festival is a week-long celebration of Australia's most famous wine region. Jazz, brass or rock, it's your choice or all three! Join us for the largest wine festival in Australia.
May
Clare Valley Gourmet Weekend,
Clare (12-13 May)
Be the first to sample the years vintage before the winemaking process is complete (a privilege usually reserved for vintners). On 'Gourmet Sunday', vie for a spot beside a bonfire to eat hand-made sausages and roasted tomatoes.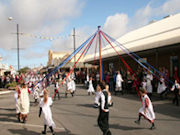 Penola Coonawarra Arts Festival,
Penola (17-27 May)
The Penola Coonawarra Arts Festival is one of regional Australia's leading arts festivals. It celebrates the literary and arts heritage of Penola and the fine wines of Coonawarra and premium regional produce.
Kernewek Lowender - Copper Coast Cornish Festival,
Yorke Peninsula
Copper Coast Cornish Festival is held in the historic copper mining towns of Kadina, Moonta and Wallaroo on the Yorke Peninsula. The festival has grown to become the world's largest Cornish festival, held over seven days with the highlight being 'The Big Weekend' which comprises of three large fairs, the village green fair "Fer Kernewek" and the Classic Cavalcade of Cars.
June
Riverland Balloon Fiesta,
Renmark (1-30 June)
The Riverland Balloon Fiesta is the only official ballooning event held in South Australia. Hot Air Balloon flights and demonstrations are an amazing experience for all ages. Launches are held daily rising from the finest winter sunshine. See a kaleidoscope of colours across the Riverland skies.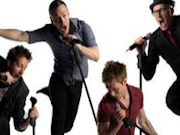 Adelaide Cabaret Festival,
Adelaide (8-23 Jun)
Over the last eleven years the Festival has become a major event in the international and Australian arts calendar, as the most comprehensive cabaret festival in the world.
It has a reputation of highlighting the best local, national and international artists in the cabaret genre, with classic and contemporary cabaret performances.
BankSA Sea & Vines Festival,
McLaren Vale (10-11 Jun)
This event celebrates the renowned wine district of McLaren Vale. Take it at your own pace. Venues cater to your style; party place, easy-going or a little bit special. Whatever you desire, South Australia's premier chefs and restaurants will feed your senses. Local wineries will share their cellar doors, wines and stories with you.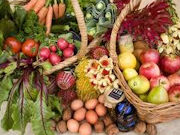 July
Kangaroo Island Farmers' Market,
Kangaroo Island (year-round, first Sunday of each month)
Join a selection of Kangaroo Island's top food producers at the Penneshaw Farmers market. Purchase a range of fresh local produce from the very people who grow, farm or make it. Tastings, breakfast, coffee and a great village atmosphere are all on offer...so be sure to make a morning out of it.
Saatchi Gallery,
Adelaide (30 Jul – 23 Oct)
Britain's hottest new contemporary artists showcase their talents for the first time in Australia. 'Saatchi Gallery in Adelaide: British Art Now' brings together the audacious best of contemporary art straight from London's internationally acclaimed Saatchi Gallery – arguably the biggest influence on contemporary British art over the past 25 years.
August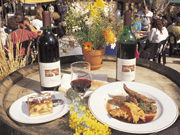 NAB Barossa Gourmet Weekend,
Barossa
Treat yourself to fine dining and premium wines in Australia's most famous wine region. Be soothed by ambient live music. Indulge in the hospitality of the beautiful Barossa. Enjoy a weekend that is truly gourmet.
Langhorne Creek Cellar Treasures,
Langhorne Creek (13-14 Aug)
You'll need your treasure map to seek out the riches of Langhorne Creek this weekend. Local cellar masters have rummaged through their cellars and dusted off some special bottles just for you.
September
Royal Adelaide Show,
Adelaide (2-10 Sep)
South Australia's biggest annual event run by the Royal Agricultural and Horticultural Society of South Australia. Experiences run the whole gamut from carnival rides, exhibitions and attractions to exquisite handicraft, cookery and wide variety of champion livestock and animals. The Royal Adelaide Show is the 'people's event' and truly offers something for everyone!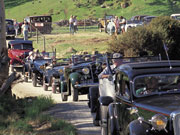 The Supaloc Classic Targa Adelaide,
Adelaide (14-17 Sep)
The streets of Adelaide will come alive this September when classic vehicles make a return to South Australia for a new annual rally. The Supaloc Classic Targa Adelaide marks the triumphant return of classic cars to the streets of Adelaide since the Classic Adelaide Rally ended in 2009. Spectators will have the opportunity to watch the rally in the Adelaide Hills, Barossa and Fleurieu Peninsula from designated viewing points.
Bay to Birdwood Classic,
Birdwood (25 Sep, biannual)
The sun will not yet have risen over the Adelaide Hills when the very first vehicles start arriving at Adelaide Shores. 'Breakfast With The Cars' has become a classic start to the day as entrant vehicles start arriving ahead of their official flag off by Mr Glen Dix of Grand Prix fame at 9am. This is your chance to get up close and personal with motoring history.
October
Saatchi Gallery,
Adelaide (30 Jul – 23 Oct)
Britain's hottest new contemporary artists showcase their talents for the first time in Australia. 'Saatchi Gallery in Adelaide: British Art Now' brings together the audacious best of contemporary art straight from London's internationally acclaimed Saatchi Gallery – arguably the biggest influence on contemporary British art over the past 25 years.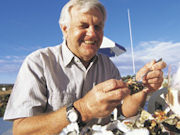 Ceduna Oysterfest,
Ceduna (1-2 Oct)
If you go for the fresh seafood, you'll want to stay for the music, dance and parties. A colourful opening celebration sets the scene for the weekend. You will love the array of concerts and gourmet treats.
Riverland Wine and Food Festival,
Riverland (13-16 Oct)
Relish the flavours of the Riverland. Wineries, restaurants and a brewery come together to present their finest products.
Relax, indulge and enjoy the atmosphere of the Riverland Wine and Food Festival.
Coonawarra Cabernet Celebrations,
Coonawarra (14-16 Oct)
Australia's other red centre will delight you with stunning red wines. If you've got a thirst for knowledge (and wine), join a masterclass. If you're looking to indulge, you'll be spoilt for choice with the restaurants.
World Solar Challenge and World Eco Challenge,
Adelaide (16-23 Oct, biannual)
The World Solar Challenge is an adventure of epic proportions. Build a car that runs on the power of the sun. The event is conducted in a single stage from Darwin to Adelaide. Once the teams have left Darwin they must travel as far as they can until 5pm in the afternoon where they make camp in the desert where-ever they happen to be. All teams must be fully self-sufficient!
Kangaroo Island Surf Music Festival,
Kangaroo Island (30 Oct – 9 Nov)
This 6 Star Association of Surfing Professionals (ASP) World Tour Surfing event will host some of the world's top surfers on Kangaroo Island for 10 days of high action surfing. Former world champion Mark Occhilupo will make an appearance and take on the next crop of elite athletes. The event will coincide with a camping, food, arts and culture festival from 3-5 November, with major music acts to still be announced.
November
Kangaroo Island Pro,
Vivonne Bay (4-9 Nov)
The inaugural Kangaroo Island Pro will be held at one of Australia's most picturesque beaches, Vivonne Bay. Former world champion Mark Occhilupo is already confirmed as a starter and he will be joined by up to 150 top male surfers from around the world. Camping facilities for about 5000 people will be available at the festival and Sealink will be offering packages to the event.
Feast Festival,
Adelaide (12-27 Nov)
Feast Festival is the most anticipated lesbian and gay event in Adelaide. It offers an amazing program of theatre, cabaret, comedy, film, forums, literature, dance, visual arts, tourism, sporting and community events. For those outside this community it gives an unrivalled opportunity to experience an alternative to the mainstream.
Deloitte Australian International Three Day Event,
Adelaide (18-20 Nov)
Australia's premier equestrian competition. It is the only CCI four star event held in Australia, the only one held in the Southern Hemisphere and one of only six held across the world. For the past ten years, Adelaide has been the chosen host city of this hallmark equestrian event.
Port Adelaide Enfield Twilight Christmas Parade,
Adelaide (19 Nov)
The annual Port Adelaide Enfield Twilight Christmas Parade signifies the start of the Christmas Season and brings the community together for an evening of fun and celebration in the iconic setting of Port Adelaide. This year's parade will be bigger and better than ever!
December
Mitre 10 Twilight Race Day,
Mount Gambier (2 Dec)
The Mitre 10 Twilight Race Day will have eight horse races, full bar and catering, TAB and Bookmakers, free return bus service and there will be a special guest appearance by Father Christmas.
Carols by Candlelight,
Adelaide (18 Dec)
Christmas is a time of tradition, and Carols by Candlelight is certainly one of Adelaide's favourite annual traditions. Features include a Christmas concert with entertainment for the whole family, headlined by outstanding Australian acts plus a special appearance by Father Christmas and a spectacular fireworks finale. Proceeds from sales support Adelaide children's charities.
Loxton's Christmas Wonderland,
Loxton (26 Nov – 31 Dec)
This is the 27th year that this private display has been staged at Loxton East. 30 stunning displays stretch over 250 meters and include the nativity scene in Bethlehem, Christmas Village, Santa's Boot, and Lolly Shop, popular cartoon characters plus more. Free entry but donations are always welcome and maps are available. Best viewing times are between 8.30pm to 11pm.
Summadayze Festival,
Adelaide (31 Dec – 1 Jan)
Kick of this New Year's Eve with a sunny afternoon in Adelaide's most picturesque parkland and then party all the way through to 2012 with an awe-inspiring fireworks display and a blockbuster line-up of some of the hottest artists on the planet.

See
things to see and do in South Australia
Responsible Travel would like to thank the South Australia tourist board for their sponsorship of this guide