Explorers Way itinerary, Australia
The Explorer's Way crosses Australia from Adelaide to Darwin, through the South Australian Outback and the red centre of Australia. It covers a total distance of 3016 kilometres or 1874 miles. This itinerary takes visitors from Adelaide to Alice Springs.
Day 1 - Clare Valley
Travel north from Adelaide via Main North Road for two hours before reaching Clare Valley. As well as being the centre of an important pastoral industry, Clare Valley is internationally known for its Riesling and is a popular spot for an overnight stay, with the choice of motel, bed and breakfast and luxury accommodation. Take the opportunity to sample the area's fine wines at one of dozens of cellar doors.
Alternatively, continue on to Burra, established when copper was found in the area in 1845. Much of its colourful history and character is still intact. Obtain a 'passport' from the tourist information office (for a small fee) and spend the afternoon exploring the 11-kilometre (7-mile) trail that highlights 43 heritage sites, seven of which can be entered with the passport key.
Adelaide to Clare:
132km/82 miles 2 hours
Clare – Burra:
42km/26 miles 30 minutes
Day 2 - The Flinders Ranges
Travel from Clare/Burra to the Flinders Ranges, one of eight National Landscapes in Australia. Stop in Melrose, the oldest town in the Flinders Ranges for a meal or refreshment at the North Star Hotel.
Continue north to the quaint town of Quorn. Take a camel tour or, on selected days from April to October, ride the Pichi Richi Railway through the beautiful Pichi Richi Pass.
After Quorn, drive to Wilpena Pound in Flinders Ranges National Park.
An enormous natural amphitheatre, the pound offers breathtaking scenery, rich Aboriginal and European history, wildlife, and above all, a great chance to unwind. A variety of accommodation is available at Wilpena Pound Resort and nearby Rawnsley Park Station. See page 104.
Clare to Wilpena Pound:
382km/237 miles 4 hours
Day 3 - Wilpena Pound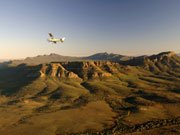 Spend today exploring the area either by walking trail or on a guided 4WD tour, keeping an eye out for native animals and wildflowers (in season). Scenic flights are available (such as a 30-minute flight over the pound), and are another great way to truly appreciate the grandeur of this remarkable area.
This afternoon travel to Parachilna for an overnight stay at the Prairie Hotel, an outback pub that offers a high standard of accommodation and an award-winning restaurant featuring Australian 'native' cuisine and a colourful front bar.
Wilpena Pound – Parachilna:
77km 1 hour
Day 4 - Arkaroola
This morning drive from Parachilna via Blinman to the township of Arkaroola, exploring areas such as Chambers Gorge if time permits.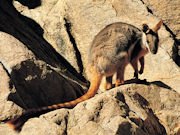 Arkaroola is a private wilderness sanctuary and one of Australia's most spectacular areas. Rich in history, the area features rugged mountains, towering granite peaks, magnificent gorges and waterholes, and, of course, wildlife including the shy Yellow-footed Rock-wallaby.
This afternoon, join Arkaroola's famous Ridgetop Tour, which features breathtaking scenery from the back of a 4WD. The pinnacle of the tour is Siller Lookout, which givesvisitors the impression of being on top of the world.
Tonight, take a tour of the night skies from Arkaroola Astronomical Observatory that houses the largest privately owned telescope in Australia. The skies are so clear, the view is simply stunning. A variety of accommodation is available at Arkaroola.
Parachilna to Arkaroola:
197km/122 miles 2 hours 30 minutes
Day 5 - Outback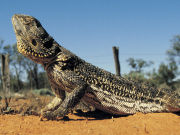 Continue your journey into the Outback driving from Arkaroola to William Creek, via Iga Warta, Copley, Lyndhurst and Marree. At Iga Warta there is an opportunity to learn about the Aboriginal people, their culture, history, food and music.
Marree is the starting point for the Birdsville and Oodnadatta Tracks. The journey to William Creek is along the Oodnadatta Track, once the track of the Ghan railway to Alice Springs. It is now mostly used for livestock transport and travellers wanting to experience the real Outback.
At Coward Springs, there is an old railway siding and a campground that has shaded sites and the chance to soak in a natural hot pool. Continue along the Oodnadatta Track to William Creek, which boasts the world's most isolated pub. Spend the evening here, in basic cabin or hotel accommodation.
Arkaroola to William Creek:
450km/280 miles 7 hours
Day 6 - Coober Pedy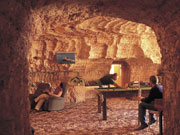 Travel from William Creek to Coober Pedy, Australia's unique 'underground town'. Opal was discovered here in 1915 and Coober Pedy now produces 95 per cent of Australia's opal.
Miners who flocked to the area quickly discovered that living underground gave a cool escape from the scorching summer. Visitors can share the experience by choosing from a wide range of accommodation, some offering underground rooms. There are several good restaurants and cafés.
This afternoon, take a tour of the town and get a fascinating insight into a completely different lifestyle. Tours visit underground churches, homes and shops, and the spectacular landscapes of the Breakaways and Moon Plain.
William Creek to Coober Pedy:
166km/103 miles 2 hours
Day 7 - Alice Springs
Depart Coober Pedy and travel along Stuart Highway to Alice Springs. Just over 150-kilometres (93-miles) north of Coober Pedy is Cadney Roadhouse, which has good facilities and essential services for visitors. Time permitting, take a detour east from here to the stunning Copper Hills and Arckaringa Hills, known as The Painted Desert (allow an additional three hours for this experience). Once back on Stuart Highway, drive through Marla (also recommended for a fuel stop) and begin the last section of the drive, which takes you into the Northern Territory and Alice Springs, the heart of the red centre of Australia.
Coober Pedy to Alice Springs:
680km/422.5 miles 7 hours
* Distances and times do not include detours or stops.
Responsible Travel would like to thank the South Australia tourist board for their sponsorship of this guide