Kangaroo Island travel guide, South Australia
Kangaroo Island is a relative newcomer to the world stage but it is now indubitably one of Australia's premier attractions.
Someone called it the nation's Galapagos, and as similes go it isn't a bad one. It refers to one of its main attractions, the healthy, flourishing populations of Australian species that are safeguarded by huge national parks and protected from the mainland's biggest pests, rabbits and foxes.
But Kangaroo Island is neither small nor isolated: it's 1700 sq miles – that's seven times the size of Singapore or an area equivalent to Manhattan – and has a population of just 5000. Isolated? Not at all. It's less than a three-hour scenic drive/ferry ride from Adelaide, or a brief 30-minute flight.
It's also diverse, a little bit sleepy and truly beautiful.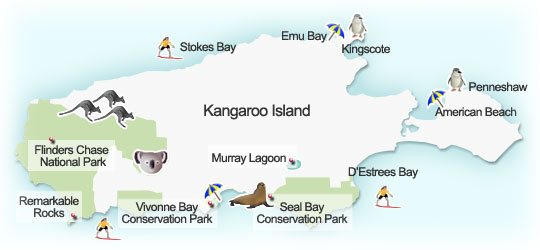 To some extent it's easiest to think of it in bands of colour: from turquoise shallows washing up on white sands to the smoky greens of bushland to the fields under green pasture or yellow grain.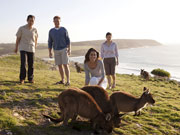 Walk into the Flinders Chase National Park and you'll find gorges, cliffs, rivers and wildlife. 'Deserted' beaches are just that – unless you count the kangaroos and sea lions that occasionally visit.
Tour the south coast to find wind-sculpted rocks, Little Sahara dunes that exhaust you on the ascent (and thrill you on the toboggan ride down) and the fearsome Southern Ocean (next stop Antarctica). On the north, the scenery is almost Cornish – lush and green with coves and snug beaches cupped between steep headlands.
Read more about
Kangaroo Island
The islanders are traditionally farmers and fisher folk, though they've been joined by producers who've found good livings cultivating or producing gourmet foods like abalone, freshwater crayfish, sheep's cheese and fine wines. Add to this a thriving art scene, a dramatic history of shipwrecks and whaling, lighthouses, brilliant fishing, surfing and fishing… it's no wonder tourism has flourished.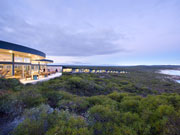 Accommodation used to be hard to find, but not these days. You'll find a wildly eclectic range of places to stay. From the spectacular cliff-top eco-resort that is Southern Ocean Lodge to a camp site.
From a Lighthouse keeper's cottage to a bespoke architected holiday home digitally wired from attic to cellar.
From a B&B in the capital Kingscote to an eco wilderness lodge in the thickest bush.
The good news is it has all been carefully and consistently managed with the home-grown Tourism Optimisation Management Model (TOMM), a model that others are choosing to follow for its success in ensuring the long-term health of the island.
As part of this, visitors are politely reminded on landing that most of the island roads are unsealed (dirt) and that animal crossings get very busy at dawn and dusk. Which means, for their sake, please slow down.
We'll add a corollary if we may: Kangaroo Island is 80 miles across and literally packed with places to see and things to do. Which means, for your sake, please give yourself time.
Responsible Travel would like to thank the South Australia tourist board for their sponsorship of this guide