South Australia culture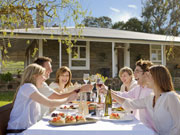 Definition of culture: "The set of shared attitudes, values, goals, and practices that characterizes an institution, organization or group."
We'd argue that 'culturally speaking' South Australians tend to be open-minded, relaxed and accessible. Historically, we're a very progressive state and a champion of the 'fair go' (it's little known we were the first in the world to accord women their right to stand for parliament) but we're often seen as slightly conservative and 'quite English'.
This latter possibly relates to our modesty and our manners (you'd never call us 'brash') rather than our makeup: we're very much a migrant community and we believe a successful one, with people enjoying what the different cultures bring to the table. Speaking of tables, as you know food and wine has a big place in our culture, as well as a love of sport, festivals and a truly great outdoors that gives us some of our simplest pleasures.
Ultimately, this amounts to the thing we perhaps most cherish – our lifestyle. It's also a cultural aspect that we hope you'll find easiest to enjoy. Here are a few cultural 'touchstones'…
The sea
We love it, we live by it and many of us came across it in order to call Australia home. For a substantive look at our love for the maritime, check out Port Adelaide and in particular the Maritime Museum; alternatively, take a good look at someone fishing from a beach or a jetty. This is one of the state's greatest passions and you're never likely to see us more at peace. (An easy way to meet a local? Buy a $5 hand reel and ask if they mind you dropping a line alongside them…)
Churches
The Europeans established the new colony on the basis of tolerance (hence the slightly irksome appellation of Adelaide as the 'City of Churches'). But churches provide a brilliant – and often beautiful window – on an important part of our history and culture. Head into North Adelaide to inspect the huge gothic edifice that is the Anglican Cathedral, then pop next door to the simple meeting house belonging to the Quakers. It was shipped over in 1839, packed into 69 crates.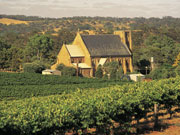 The Central Adelaide Mosque, built in 1888, was the first in the Southern Hemisphere. In the Barossa or Hahndorf in the Adelaide Hills you'll see the elegant spires belonging to Lutheran Churches, built by the protestant settlers who were forbidden to build those same churches in their Silesian homelands.
In Sevenhill, Clare Valley, you'll see St Aloysius, built by the Jesuit Priests in 1851; the same Jesuits still run the winery next door, making sacramental wine for Catholics all over the Asia Pacific.
In country South Australia, look out of the tiniest little churches – some but a single room – stuck out all alone in paddocks. They were built to service the needs of pioneer communities.
Different folks
Across the state you'll find rich microcosms of culture and history relating to the people who make up the state. North Adelaide is one such microcosm, home to both the grand mansions of the (mostly British) settlers who made their millions and the tiny cottages of the (mostly Irish) servants who helped them make it. Hahndorf is another microcosm – a distinctive German town, with unmistakable architectural and food influences. Towns like Tanunda in the Barossa exhibit the same.
In Glenelg, the Greek community enjoys the colourful Blessing of the Waters in January, followed by Greek food, music and dancing on the foreshore. OzAsia takes place in July. In January, the Uraidla Oval is filled to capacity with some 3000 vintage British cars and motorbikes – all very loved, most of them leaking oil.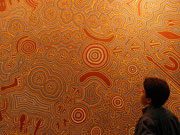 South Australia's Aboriginal people lived lightly on the land so their heritage would be hard to see even without the rapacious settlement that came after 1836. But this heritage is coming to be appreciated, not least because South Australian Aboriginal people are increasingly sharing their knowledge and stories.
Tandanya in Adelaide is a great place to start your native Australian journey, a gallery space where music and dance is readily accessible.
Be sure also to see the peerless collection of Aboriginal artifacts in the South Australia Museum (though a guided tour can help you get your head around the often complex link between Aboriginal people and 'country').
Haydyn Bromley does a cheeky bush tucker tour of the Botanic Gardens, a wonderful interpretation of such a quintessential European establishment. In Hahndorf, the Ancient Earth gallery now has performances telling some of the long-lost (and very little seen) dreamings of the Peramangk people. In the Flinders Ranges, you may seek out Iga Warta in the country of the Adnyamathanha peoples, a centre that offers a range of cultural tours.
Sport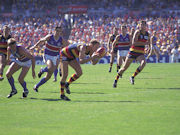 And lots of it. Australian Rules Football is king in South Australia's winter (a fast and flowing field sport that's easy to get into) while cricket dominates in Summer. Try to see some cricket at Adelaide Oval – and for the 'footy' we recommend a local game. On any Saturday between May and September, seek out a local oval: ask around for a fixture or simply listen for the sound of parked cars honking their horns to cheer the scoring of a goal. It's old school, hard fought, family friendly and indubitably bolstered by lashings of comfort food, beer and wine.
We're also home to two of the country's biggest events: the Tour Down Under cycling race in January, the first of the world's UCI pro cycling tours outside Europe; and the Clipsal 500 Adelaide (February/March), when the city roars to the sound of V8 supercars.
Country horse racing events are a terrific way to get into an important part of Outback and country Australian culture. If you get a chance, spend a day at these colourful (sometimes raucous) affairs including Oakbank Races in Adelaide Hills, Beltana Races in the Flinders Ranges and Balaklava Races on the Adelaide Plains.
Grand architecture…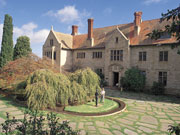 During the boom times our forefathers were perfectly content to broadcast their status via the grand mansion. You'll see plenty of them, many in the tradition of the British stately home.
Down Under grandeur can be seen (and visited) at Ayers House (North Terrace), Carrick Hill (Springfield) and Martindale Hall (Mintaro). During the summer months, many of South Australia's most gorgeous private gardens are revealed to the public as part of the Open Gardens Scheme.
We should add that architectural statements continue to be made today, many of them brilliantly worked into the wild and wonderful landscapes of South Australia – and not a few of them turned into spectacular accommodation.
…Great art
We're not short of people expressing themselves in South Australia. Whichever region you're in, someone will be pouring their heart and soul into works of glass, metal, wood, oil and pencil. Kangaroo Island is particularly noted for its artists in residence – 'in residence' on the island, that is, with some 10% of the population calling themselves an artist. Make a habit of stopping off at studios and retreats; alternatively galleries like Fine Art Kangaroo Island in Kingscote showcase some excellent work including ceramicist Mark Capon and photographer Sean McGowan.
Responsible Travel would like to thank the South Australia tourist board for their sponsorship of this guide