South Australia travel information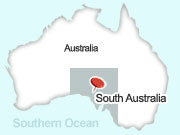 Where?
In South Australia you'll find two things that are rare in an over-explored, over-packaged world.
Space.
And a sense of possibility.
South Australia is a state in the southern central part of Australia.
It is bordered by all of the mainland states and the Northern Territory and the Great Australian Bight and the Indian Ocean lie to the south of it.
The fact is, we're a big state – huge in fact – twice the size of France, one-and-a-half times the size of Texas and four times the size of the UK but we've only got 1.6 million people living here, most of us based in the city of Adelaide.
That leaves a lot of country waiting to be discovered.
Distance charts
Adelaide
| | | |
| --- | --- | --- |
| From Adelaide to... | Time (Hrs) | Distance (km) |
| Arkaroola | 8 hrs | 670 |
| Baird Bay | 8 hrs 30 mins | 720 |
| Barossa | 1 hr | 100 |
| Ceduna | 9 hrs | 773 |
| Coober Pedy | 10 hrs | 842 |
| Clare | 2 hrs | 136 |
| McLaren Vale | 1 hr | 40 |
| Mount Gambier (via Hwy One) | 5 hrs | 445 |
| Port Lincoln | 7 hrs 30 mins | 645 |
| Robe | 4 hrs | 345 |
| Victor Harbor | 1 hr 30 mins | 80 |
| Whyalla | 5 hrs | 382 |
| Wilpena Pound | 5 hrs | 430 |
Kangaroo Island
| | | | |
| --- | --- | --- | --- |
| From | To | Time (Hrs) | Distance (km) |
| Adelaide | Cape Jervis (for ferry to Kangaroo Island) | 2 hrs | 106 |
| Cape Jervis | Penneshaw (ferry) | 45 mins | 14 |
| Penneshaw | Seal Bay | 1 hr 10 mins | 96 |
| Seal Bay | Rocky River (Flinders Chase National Park) | 1 hr | 67 |
| Rocky River | Kingscote | 1 hr 10 mins | 99 |
| Kindscote | Penneshaw | 45 mins | 58 |
For more details please see
suggested itineraries
or visit
http://www.southaustralia.com/
Getting there
Airport details
Adelaide is South Australia's capital city. It is easily accessed by air from all Australian capital cities and international destinations. Adelaide Airport is only 8 kilometres from the centre of the city, a 15 minute drive. Adelaide Airport (ADL) services regional, domestic and international travellers. The state of the art facility is the newest and most efficient aviation terminal in Australia, incorporating the latest in design and technology.
Getting to and from the airport
There is a $AUD2 levy on all taxi fares to and from the airport. The average taxi fare from the city centre to the airport is $AUD15. Skylink Shuttle operates between the airport, city and Adelaide Parklands Terminal at Keswick. Cost is $8.50 one way. JetBus provides transport between the airport, Adelaide city and some suburbs.
Air travel within Australia
Several international airlines travel to South Australia. Qantas Airways, Virgin Australia and Jetstar offer frequent daily services to Adelaide Airport from Australia's capital cities. Domestic flight times (direct) are:
Domestic flight times (direct) are:
Melbourne - Adelaide: 1 hour 5 minutes
Sydney - Adelaide: 1 hour 40 minutes
Canberra - Adelaide: 1 hour 40 minutes
Brisbane - Adelaide: 2 hours 30 minutes
Perth - Adelaide: 3 hours 10 minutes
Darwin - Adelaide: 3 hours 35 minutes
Alice Springs - Adelaide: 2 hours
Getting around
Adelaide city
Once you arrive in South Australia, getting around is easy. There are plenty of ways to see Adelaide and wider South Australia. South Australia is a big state and we love to get out and about, so travel options are numerous. City travel is by car, train, bicycle, bus and tram. Country travel is by car, coach and train. See as much of the state as you can while you are here.
Air travel around South Australia
Within South Australia, Regional Express, QANTASLink and Sharp Airlines offer daily services to some regional centres.
Coach travel
The main coach terminal in Adelaide is the Adelaide Central Bus Station on Franklin Street. All coaches depart from and arrive at this terminal. A number of coach companies have connections within South Australia. Look at Greyhound Australia, Premier Stateliner or Firefly Express for available services.
You can travel to the Adelaide Hills, Barossa, Eyre Peninsula, Fleurieu Peninsula, Kangaroo Island, Murray River, Mount Gambier and Yorke Peninsula from Adelaide. Some regional centres in South Australia manage their own town bus services. You can also find coach route information on the BusSA website.
Public transport
Adelaide Metro is the city's transport system. It services the greater metropolitan area with trains, buses and trams. Visit the Adelaide Metro website for details of routes and fares. A Metro Ticket can help you travel on most transport systems. You can find information about the Metro Ticket, available in several languages, on the Adelaide Metro website's ticket section.
Trams
The famed Glenelg tramline extends from the Adelaide Entertainment Centre on Port Road, Hindmarsh, via the city centre and all the way through to beachside Glenelg. Travel free within the city centre (anywhere between North Terrace and the South Terrace stop). Outside of this zone, you'll need to purchase a ticket. You can find all route and timetable information on the Adelaide Metro website.
Free travel
You can travel around the Adelaide city centre for FREE when you hop on board the tram between North Terrace and South Terrace, or the 99C bus. You'll find route information on the Adelaide Metro website.
The Adelaide Connector
This bus service is a convenient link between the major facilities within North Adelaide and Adelaide city centre. Facilities such as universities, schools, community services and shopping precincts are now linked and accessible via the Adelaide Connector free bus service. The service operates seven days a week (except public holidays). Mondays to Thursdays it operates from 8am to 6pm, on Fridays from 8am to 9.30pm, on Saturdays and Sundays from 10am to 5pm. For more information, see the Adelaide City Council website.
Tindo - the world's first solar-powered electric bus
The world's first solar-powered electric bus is a new addition to the Adelaide Connector Bus service. The bus is carbon neutral. The air-conditioned solar electric bus can carry up to 42 passengers. Tindo travels through the Adelaide city centre and North Adelaide. For more information, see the Adelaide City Council website.
Hire car
There are numerous hire car companies that can help get you on the road. Budget Rent a Car, Europcar, Access Rent-a-Car, Avis, Excel network Rent a Car, Hertz, Smile Rent a Car and Thrifty Car Rental are just some of the companies in and around Adelaide. Taxis.
Taxis
All taxis in Adelaide accept major credit cards and Cabcharge. There are several companies that offer an alternative to taxis, providing luxury vehicles and uniformed drivers for transfers and touring.
City taxi ranks
North Terrace, near the Adelaide Casino
Corner of Hindley Street and Morphett Street
Pulteney Street, at the end of Rundle Mall
Rundle Street, near the Exeter Hotel
Hilton Hotel, on Victoria Square
Weather
South Australia enjoys a warm and mild climate. Winters are mild, whereas summers are warm and dry. Read more about
South Australia weather
Public holidays
1 Jan – New Year's Day
26 Jan – Australia Day
2nd Monday of March – Adelaide Cup Day
06 April – Good Friday
08 April – Easter Saturday
09 April Easter Monday
10 April – Easter Tuesday
25 April – Anzac Day Holiday
2nd Monday of June – Queen's Birthday and Volunteer's Day
1st Monday of October – Labour Day
25 December – Christmas Day
26 December – Proclamation Day Holiday
For more information please visit
http://www.southaustralia.com/
Time zone
Greenwich Mean Time plus 9-and-a-half hours (G.M.T. + 9 1/2)
Money
Australian Dollar (AUD)
Dialling code
+61
Emergency contact numbers
000 for police, ambulance of fire service
112 from mobile phones
131 444 for non-emergency police attendance

Read about
Things to see and do
in South Australia,
luxury
travel and
responsible tourism
in the area.
Responsible Travel would like to thank the South Australia tourist board for their sponsorship of this guide