Vineyards in South Australia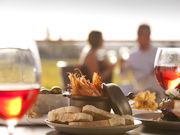 South Australia comprises 16 official wine regions but there are perhaps five that have truly 'travelled'. They're all excellent on the palate and easy on the eye, but each has its own essential identity, its hero brands and 'don't-miss' cellar doors.
Many of these regions have long histories and traditions associated with the settlers who first planted the vines. Not unrelated, the rich soils raise first-class ingredients which mean a first-class gourmet experience is never far away.
Here then is a taste of things to come…
Adelaide Hills
This cool-climate region is boutiques-ville, with some 50 cellar doors dotted among the valleys, vales and farms. It's probably the fastest growing region in the state, with the number of cellar doors doubling in five years. That said, it never loses its intimacy or its rustic flavour. It's popular throughout the year, partly owing to its closeness to Adelaide but also because the seasons change the elevated landscape quite dramatically.
Known chiefly for: Sauvignon Blancs
Heroes: Shaw+Smith, Petaluma, Bird in Hand
Tasting notes: Wineries with views tend to install decks, fireplaces and fine food: try Hahndorf Hill, The Lane and Shaw+Smith. You'll also find some great 'farmhouse' wineries including Barrister's Block, Deviation Road and Ashton Hills – all with the winemaker usually doing the honours.
Barossa
Thanks to a new freeway you can get from Adelaide to the world-famous Barossa in 45 minutes. Back in 1842, however, you laboured here by ox-drawn cart.
German settlers gave the region its name, as well as its most successful export, and today their influence is still evident in the towns and traditions, with many of the old families still maintaining a connection with the region's most famous labels.
Barossa is a mix of old and new producers, as well as operations that are both miniscule and household names. Some of Australia's greatest export names reside here and rather like the way movies dominate Hollywood, you can't help but feel immersed in the business of wine while you're visiting.
A personal guided tour is a great way to get into the Barossa 'thing' but you can look at the region in all sorts of interesting ways including by bicycle, motortrike, 1962 ex-royal Daimler and hot air balloon.
Known chiefly for: Shiraz, Shiraz, Shiraz.
Heroes: Jacob's Creek, Wolf Blass, Penfolds, Yalumba, Seppelt, Peter Lehmann and (in neighbouring Eden Valley) Henschke.
Tasting notes: the region's most photographed road sign is the one next to a small creek along which a man called Jacob once lived: the sophisticated cellar door at Jacob's Creek tells the story very well, and you're quite welcome to take a bottle to picnic alongside his eponymous waterway. Don't miss Seppeltsfield Winery, with its family mausoleum, gardens and astonishing avenue of 2000 date palms. Yalumba is one of the truly big players, but you'll find the stone winery retains plenty of charm and history. Langmeil Winery in Tanunda is home to 'The Freedom 1843' believed to be the world's oldest surviving Shiraz vineyard.
After you've met a few Barossa winemakers, it might be time to put your own winemaking skills to the test: don a labcoat at Penfolds' Nuriootpa winery and mix varieties to taste. Have your vintage bottled and labelled with your name – then see if 'Chateaux Fred' cuts it at your next dinner party…
Clare Valley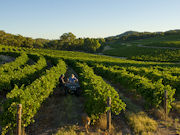 Clare Valley is the 'Queen of Reez', a narrow strip of mostly boutique producers, and another highly picturesque wine region (a visual hybrid, it's argued, of Tuscany and the Emerald Isle). Don't miss the interesting and very scenic sub-regions including the Skilly Hills and Polish River.
Known chiefly for: Riesling
Heroes: Killikanoon, Taylors, Annie's Lane, Jim Barry, Mount Horrocks, Knappstein
Tasting notes: The region's oldest winery is one of its most popular attractions – Sevenhill Cellars. It has been run by Jesuits since 1851 and continues to supply sacramental wine to countries all over the southern hemisphere. Brother John May has 48 vintages under his belt and still runs occasional tours of the winery and the onsite stone church, St Aloysius. The Knappstein Enterprise Winery and Brewery is located in a fine old landmark in the town of Clare, while Skillogalee is a classic farmhouse winery with a much-celebrated restaurant. You can tour the region's wine-making corridor by foot and bike along the Riesling Trail, a scenic 25km path winding past vines, wineries and villages. The Annie's Lane cellar door is home to a terrific (suitably ramshackle) museum – enjoy.
McLaren Vale
'The McLaren' is another producer of champion full-bodied reds, but it's also cherished for its heady combination of 'sea and vine'. The region is home to 65 cellar doors, some of them enjoying elevated positions overlooking the low ranges and coast. The region produced South Australia's first wine export, shipped back to England by settler Thomas Hardy; the Hardy company (now considerably enlarged) is still here. Today, there's a pronounced Italian flavour to the region, with the climate looking kindly on many of the Italian varietals.
Know chiefly for: Shiraz
Heroes: d'Arenberg, Hardy's, Rosemount, Penny's Hill, Chapel Hill, Wirra Wirra
Tasting notes: This is perfect touring country – compact, cosy, lovely to lose yourself in. Take some of the smaller roads and see where you end up (chances are it'll be at the door of a boutique producer). Eating is taken pretty seriously in these parts: don't miss Coriole Winery for its views, its platters and its wood fired pizzas; d'Arry's Verandah Restaurant is a special treat if you fancy a splurge. Blessed Cheese in McLaren Vale is where you collect a hamper of cheeses, biscuits and dried fruits – as well as a map indicating the wineries at which you should stop, and taste a specific wine perfectly matched to the cheeses in your basket.
The Coonawarra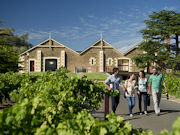 The champion reds raised on the local 'terra rossa' has seen the Coonawarra dubbed 'the Bordeaux of Australia'. The region is the furthest from Adelaide but its reputation is certainly enough to cause wine lovers to make the four-hour trip. Of course it's also on the coastal route towards Melbourne – one more attraction on the fabled Great Ocean Road.
Heroes: Hollick, Rymill, Bowen Estate, Wynns and Yalumba
Known chiefly for: Cabernet Sauvignon
Tasting notes: Broad, open and sunny, the Connawarra has a quiet gentleness. Don't miss Wynns and Rymill—both offering gorgeous surrounds as well as a great wine. The town of Penola has recently found renewed fame not only as the home of Hollick and Leconfield wineries, but the birthplace of Mary Mackillop, Australia's first saint, canonized in 2010.

Food & drink in South Australia
Responsible Travel would like to thank the South Australia tourist board for their sponsorship of this guide