Where to go on a Sri Lanka honeymoon
---
Make the most of your time
You want to feel special on honeymoon, and Sri Lanka does special, particularly if you create a holiday tailor made to suit all your interests and passions. And let's face it, passion should be paramount on honeymoon. Wildlife lovers, sit back and enjoy a wildlife safari around Yala National Park. Or go whale watching off the south coast. Luxury lovers, hello eco lodges and Ayurvedic retreats. And for that cultural hit, the ancient Sinhalese culture mixed with contemporary Buddhism doth a very happy marriage make. This is a country where you will feel blessed. And if that isn't enough for you, throw in a few days in the Maldives.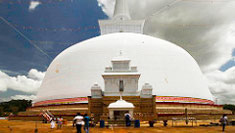 Cultural Triangle
You don't have to see them all, but do pick at least one of these cultural gems along what is known as the Golden Triangle, while on honeymoon. Many of them on the Buddhist pilgrim's trail, they are not only of historic importance but also a spiritual one. All part of the ancient Sinhalese civilisation, the three main points are the vast palaces of Anuradhapura, ruins of Polonnaruwa and citadel at Sigiriya.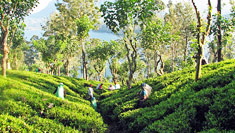 Heading for the hills
Some come here to hark back to the romance of colonial times, staying in hill station heritage hotels, visiting tea plantations, or the gorgeous Hakgala Botanical Gardens in Nuwara Eliya. Others enjoy the more natural romance of hiking to World's End in Horton Plains National Park or Little Adam's Peak taking in waterfalls en route. The heritage train from Ella up through the hills will melt everyone's heart though.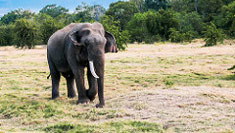 Minneriya National Park
While most wildlife lovers go to Yala, Minneriya is more off the beaten track, yet still on the flight path for culture vultures exploring the Golden Triangle. Elephants are prolific, especially Aug-Oct when a carnival of animals known as The Gathering occurs, and elephants all come out in search of water. The park is also home to macaques, langurs, sloth bears, sambar and a few elusive leopards.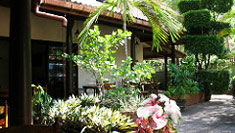 Romantic accommodation
Sri Lanka is bursting with romantic gems, including Ayurvedic retreats and safari camps on the edge of Wilpattu National Park. There is also the wonderful Geoffrey Bawa, a renowned architect whose work, known as tropical modernism, is seen in hillside houses and beach hotels. All about working sustainably with the natural heritage, it is also totally sumptuous.
Whale watching
If your idea of a marriage made in heaven is watching a massive blue whale leap out in front of you both, here you have it as Sri Lanka hosts these migratory marvels late February until mid-March. If that doesn't fit into your wedding timeline, don't panic, there are plenty more whales in the sea. And dolphins, between November and mid April. Best spots are Galle, Mirissa and the Kalpitiya Peninsula.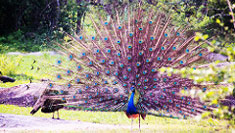 Yala National Park
Considered one of Asia's finest national parks, in particular for its leopards, of which it has the world's most concentrated population. A wonderful mix of mangroves, monsoons and marine wetlands it's also a nesting nirvana for 200+ species of bird. So put binoculars on your wedding list for these and the elusive leopard, although you won't need them for the elephants, buffalo and sambar roaming around.



Hello.
If you'd like to chat about Sri Lanka honeymoons or need help finding a holiday to suit you we're very happy to help.
Rosy & team.
01273 823 700
Honeymoons in Sri Lanka travel advice
---
TIPS FROM OUR FRIENDS

John Beswetherick, Managing Director of our leading Sri Lanka wildlife holidays supplier Tikalanka (UK) Limited:
Why honeymoon in Sri Lanka?
---
"Where in the world can you honeymoon with a hot air balloon flight before breakfast, explore ancient cities in the daytime, spot a tusker at dusk, and sip sundowners on a tropical beach? Sri Lanka, of course! Also, most of Sri Lanka's hotels offer special honeymoon benefits including room upgrades, complimentary drinks and dinners, exclusive excursions, and personal pampering, all delivered with the legendary Sri Lankan generosity and smile."
The best time to go
---
"The best time to visit most of the national parks is from April to August when there are generally fewer tourists and the wildlife is more plentiful. Personally, I feel that May is absolutely superb, all around the country, as it is outside both monsoon seasons. And it is the quietest time of the year too, so you can have a really good holiday then, and yet it is still considered low season. The monsoons aren't as predictable these days anyway. Although many sightseeing trips and activities in Sri Lanka are best in the early morning, an early start is compensated by a long siesta during the heat of the day in one of the island's wonderful boutique hotels or sumptuous villas."
Wildlife advice
---
"The Kalpitiya Peninsula, halfway up the west coast, is quite different and off the beaten track. And in the season November to April you can go whale and dolphin watching. There are wonderful laid back places to stay here which are very kick back and sand between your toes feel about them. Enjoy the spectacular and abundant birdlife in Sri Lanka as much as the 'Big Four' – you never know, you may become a closet 'twitcher'!"
Cultural tips
---

Ishara De Silva, Managing Director of our supplier Srimal Plantation and Ayurveda Hotel:
"Do try and move beyond the tourist strip because everything here, from the shops to the people are all simply tailoring to that market and that is not real Sri Lanka. In the tourist strip people can get very opportunistic, and I want tourists to know that not all Sri Lankan people are like that at all."
Honeymoons in Sri Lanka travel advice
---
TIPS FROM OUR TRAVELLERS
At Responsible Travel, we think the best people to advise our travellers are often... other travellers. They always return from our tours with packing tips, weather reports, ideas about what to do - and opinions about what not to.

We have selected some of the most useful Sri Lanka honeymoon travel tips that our guests have provided over the years to help you make the very most of your holiday – and the space inside your suitcase.
"Our honeymoon trip... was due to be two weeks of culture, nature and beaches. It was the first time we had used a tour organiser, but with the stresses of the wedding we thought it the best approach to take any further hassles away. John at the operator was fantastic throughout, nothing seemed too much trouble and he was also full of advice about the island…" – Jaime Webb
"This was an amazing destination for our honeymoon. In the twelve days that we were there we took in tea plantations, forests, national parks, and beaches but had a really relaxing time. We loved all of the hotels which were destinations in themselves. Sri Lanka is a beautiful country with friendly, welcoming people... we were blown away by the Heritance Kandalama in Dambulla... the beaches in Southern Sri Lanka are beautiful, we really enjoyed sipping cocktails on the beach and swimming in the sea, in Unawatuna." – Jay Das-Munshion
"A purpose built tour can be arranged just for you, by a small, but established, travel company in Sri Lanka who have the best up to date knowledge of where is best to go and stay... We had a fantastic honeymoon, organised by this operator. It was lovely to have a personal tour, with our own professional and knowledgeable driver... Our trip enabled us to really see Sri Lanka away from the tourist areas... Highlights were the beautiful countryside, particularly in the highlands and beaches, sampling the local culture and food, climbing Sigiriya, visiting the tea plantations and safaris at Udawalawe..." – Adrian Golder-Hayes
"Take protection from the heat. Make sure you cover up your shoulders as a woman in the temples to avoid any stares or the wrath of the locals. Always take the time to say hello to those helping you as they are very friendly people and try to tip well in local restaurants. You should not be too worried about crime, but remember to be firm to those who are trying to sell you trinkets if you do not want them to. Once you have made it clear, they will leave you alone unlike other countries." – Alastair Francis