St. Vincent & The Grenadines information
---
Transport, families & practical information
Where
St. Vincent and the Grenadines are part of the Windward Islands, and are located at 13° 15 N, 61° 12 W. Their closest neighbours are Grenada, 120 km (75 miles) to the south, St. Lucia 40 km (24 miles) to the north and Barbados 160 km (100 miles) to the east. St. Vincent is the largest of the 32 islands that comprise this nation, covering roughly 390 sq. km (150 sq. miles). The Grenadines extend 72 km (45 miles) to the southwest, like a kite's tail. The major islands, north to south, are Young Island, Bequia, Mustique, Canouan, Mayreau, Union Island, Palm Island, and Petit St. Vincent. See a
map of the islands
.
Getting there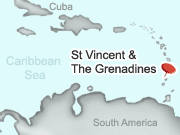 What has protected St. Vincent & The Grenadines from mass tourism is that there are no direct flights to the destination, but getting there is still easy.
Visitors typically fly from the UK to Barbados then take a regional flight to one of the five airports (St. Vincent, Bequia, Canouan, Mustique, Union Island) with LIAT or Grenadine Airways. It is also possible to fly into Antigua or St. Lucia, but Barbados is the more popular choice. Flight time to St. Vincent is approximately 35 minutes from Barbados.
Airlines that have direct services to Barbados include: British Airways, Virgin Atlantic and BMI, in addition to charter services with First Choice. These can then connect with LIAT and Grenadine Airways scheduled and private charter services.
Getting between the islands
By boat:
You can travel between St Vincent and the Grenadines by boat. You can catch a ferry from Kingstown on St Vincent to Port Elizabeth on Bequia several times a day. The journey time takes an hour. Mailboats also carry passengers three times a week between St Vincent, Bequia, Canouan, Mayreau and Union Island. From St Vincent, times range from one hour to Bequia to over four and a half hours to Union Island. You can also organise a private boat or yacht charter between the islands.
By plane:
You can fly between St Vincent, Union Island, Canouan, Mustique and Bequia, and although it is more expensive than boat, it can be faster. Mustique Airways (www.mustique.com) and SVG Air (www.svgair.com) both have flights between the main island St. Vincent and the smaller islands of the Grenadines. Most of them are scheduled flights with some private charter flights.
Getting around
By car:
There are several international car rental agencies, as well as local agencies on St Vincent offering a range of cars. Options are limited on the other islands though, where taxis are a better way to get around privately. Remember that driving is on the left hand side of the road and that you need to buy a special temporary driving permit which you can get at the car rental offices.
By bus:
Buses are an easy and fun way to get around the island of Saint Vincent and great way to meet the locals. Buses on Bequia are also good, but are more of the shared taxi type. On most routes you can just flag down a bus and get on and off anywhere you like. On the other islands, some shared taxis are available, or you can hire a private taxi.
Public holidays
New Year's Day (1 Jan), St. Vincent & the Grenadines Day (Mar), Good Friday (Mar/Apr), Easter Monday (Mar/Apr), Labour Day (first Mon in May), Whit Monday (May/Jun), Caricom Day (Jul), Carnival Tuesday (Jul), Emancipation Day (Aug), Independence Day (27 Oct), Christmas Day (25 Dec), Boxing Day (26 Dec). See more
events
.
Weather
Year-round temperatures average a lovely 30°C, with the driest months being December to June. The rainy season, especially in mountainous St Vincent, is from July to November, which is also hurricane season. Although full-on hits are rare, get ready to follow locals' advice when bad weather is on the way. Read more about
when to go
.
Travelling with children
These islands are perfect for family holidays. Vincentians are very family orientated and children are a very important part of island culture. It is also an incredibly safe country with very little crime and a welcoming, friendly atmosphere. Many of the beaches, especially in the Grenadines, have gently shelving beaches, and all have perfectly clear, warm, clean sea.
There is plenty to do for all ages. Little ones will enjoy collecting shells, drinking out of a coconut for the first time, spotting crabs on the Belmont Walkway in Bequia or taking a trip in a glass bottom boat. Once they are a bit older, children can visit the Turtle Sanctuary on Bequia, try to spot the St Vincent Parrot or have their first experience of snorkelling on safe shallow reefs. There are dolphins and whales to see at certain times of the year and turtles to snorkel with in the stunning waters of Tobago Cays.
Families looking to occupy their teenagers can take them hiking up the Soufriere volcano on St Vincent, cycling on the Vermont Nature Trail and kayaking through batcaves.
Some of the private island hotels are particularly suited to families who enjoy the privacy and security offered by these properties. Whilst not offering the organised "kids clubs" they have plenty of facilities - family suites, swimming pools, tennis courts, water sports such as paddle boats, kayaks, snorkelling and diving.
Sailing is also particularly appealing for families who want to enjoy an activity together and discover a number of islands - swimming in the Tobago Cays, anchoring in Admiralty Bay, Bequia for a family friendly "jump-up", playing on deserted beaches and enjoying the buzz that is the Kingstown market in St Vincent.
Electricity
230V AC, 50 Hz, British style three-pin plugs are standard.
Dialling code
+809 (national).
Money
Eastern Caribbean dollar (EC$) is the currency.
Time zone
GMT -4.
Airport tax
There is a departure tax of EC $40.