Thailand small ship cruising guide
Thailand's beaches and islands are numerous and famously beautiful, and when presented with this smorgasbord of beauty, why limit yourself to a tiny serving? Rather than sticking to one or two islands, join a small ship cruise and gorge on lots.

A small ship cruise is all about accessing the idyllic – remote beaches, uninhabited islands, coral reefs and clear seas – far from the tourist crowd.

Hop aboard a compact yacht with just a skipper and a handful of passengers, or relax on a romantic clipper that will sail you in style. Whatever the vessel, the delights are the same – access to beaches that can't be reached by road; to tiny uninhabited islands; to coastal villages where locals will welcome you with a fresh seafood lunch. Some of Thailand's islands are victims of their own beauty, attracting hordes of travellers in search of beach and bar life, but a small ship cruise will float you away from those hotspots to discover remote places well off the tourist trail, and beyond the reach of larger boats. Find out how in our Thailand small ship cruising guide.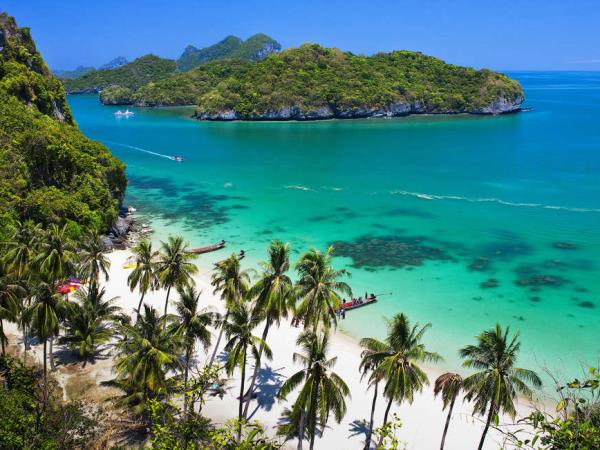 Cruise between Thailand's idyllic islands
From
£1089

to

£1360
14 days
ex flights
Is a small ship cruise in Thailand for you?
Go on a small ship cruise in Thailand if…
… you want a sense of place. Good cruises introduce some culture and context, so you're not simply floating from one idyllic bay to another, but learning about life in Thailand, too. Many cruises visit villages affected by the 2004 tsunami so you can hear tales of survival and bravery. Or they take in the Moken community of the Surin Islands, so you can learn about the life of these 'sea gypsies'.
… you love to snorkel. There are fantastic coral reefs bustling with marine life in the Andaman Sea, including whale sharks, turtles and moray eels. Snorkelling reveals the abundance of life, with amazing visibility in the warm waters.
… you dream of escaping the northern winter. Cruises in Thailand take place from November to April, when the sun is bright and the temperatures toasty, making them the perfect antidote to cold, grey conditions at home.
… you get bored on a beach break. The beauty of a cruise is the effortless way it transports you from one gorgeous island or secluded bay to another. Just sit back and enjoy the ever changing scenery. You won't be stuck on the same beach each day, but treated to a huge range of them, with the opportunity to meet local people, kayak, stand up paddle board and hike, too.
Don't go on a small ship cruise in Thailand if…
… you hate being offline. Smaller vessels won't have WiFi and larger ones will charge a fee to use it. Some resorts and restaurants will have access to WiFi, but essentially a cruise in Thailand is about floating from one notspot to another. … you love a three-piece luggage set and fancy clothes. Soft bags can be stowed easily in your cabin, where space is tight, and are more practical than hard, wheelie suitcases. You can leave the dinner jacket and cocktail dress behind, too. Neat casual is the dress code on a small ship cruise. … you're not a fan of the water. Marine activities are the focus, and confidence in the water means you can make the most of the snorkelling, swimming, kayaking and stand up paddle boarding woven through every trip. … you want to see temples and elephants. Sorry, you're in the wrong bit, doing the wrong thing. Take a trip to the mainland, visit Bangkok and head up to Chiang Mai instead. A small ship cruise is about island exploration, snorkelling and relaxing on little visited beaches.
What does a small ship cruise in Thailand entail?
How big is a 'small' cruise ship?
There are quite a mix of ships sailing around the Andaman Sea off Thailand's west coast, ranging in size and facilities. At the largest end of the spectrum are masted clipper ships that can take 170 guests and feature several bars, multiple swimming pools, an elegant dining room and a library.
State of the art motor sailers also cruise here, with between 30 and 48 passengers on board, and these rely on motor power rather than sails (although sails are occasionally raised, too). These are well equipped and staffed with a hospitality crew. There will also be between one and three local tour leaders who live on the ship and come on all shore activities. They have good knowledge of the history, religion and culture of the areas you're cruising through and will be able to recommend activities and great places to eat when you have meals onshore. Things like beach towels, WiFi and laundry (at an extra charge), and use of kayaks, snorkels, stand up paddleboards and fishing equipment are typically offered.
You can also join a small yachting crew, with just eight passengers in total and an experienced skipper. Typically, the smaller the vessel, the more participatory the holiday and you'll be expected to muck in, from helping to sail, to cleaning and cooking. This builds team spirit, creates a sense of active adventure, and is a very different experience from what's offered on larger clipper ships. Yachts use sail power more than motor power, and this also means itineraries don't tend to be fixed, but subject to wind and weather conditions – you'll need to be flexible.
What are the cabins like?
Cabins are always comfortable, but on a yacht, expect space to be tight and life to be lived on deck. The cabins are mainly just for sleeping in. On a larger ship, which takes up to 170 passengers, you can expect to have an ensuite bathroom, air con, a small fridge, TV, internal phone and safe. There's usually a choice of cabin, too, categorised according to size and view, with a range of prices.
Can I travel solo?
Absolutely. Joining a small ship cruise is a great way to meet new people and you have a ready made group to travel with. You'll be given a twin cabin to share with another solo traveller of the same gender. It may be possible to request a cabin to yourself, but there is often quite a hefty solo supplement.
What's the deal with meals?
Thai food is rightfully famous around the world, so you wouldn't want to come all this way to eat spag bol. Two or more meals a day tend to be served on board, and you can usually expect these to be fresh Thai dishes, cooked with ingredients bought locally by the crew. There is always the chance to eat onshore, which is fun and ensures you're putting some tourist dollar into the hands of local café and restaurant owners. There may also be a beach barbecue and a special farewell dinner on the final night.
Will I get seasick?
Most ships will roll and pitch in choppy conditions, but they are generally equipped with stabilisers to minimise movement, so you won't be getting thrown around, just rocked gently from time to time. Cruises typically run in December, January and February – peak season in Thailand – when the weather is hot and the seas tend to be calm, plus you're cruising along coastal waters where rough seas are rarer. If you're worried, bring seasickness tablets or find out if they are supplied onboard.
Can I travel with my children?
Boats of any size aren't the safest means of transport for children, with their exposed sides, steep stairs and ladders down to the sea, so most small ship cruising holidays carry a minimum age of 15. Some are marketed at a specific age range – 25 to 40 year olds, for instance.
Are the boats accessible?
A small ship cruise in Thailand isn't ideal for anyone with mobility issues, as there are generally no lifts onboard, and the stairs have handrails but can be quite steep. You may have to use a Zodiac RIB to reach shore sometimes, and these can be awkward to climb in and out of. Occasionally there are beach landings, which involve wading through shallow water a short distance to reach the shore.
How is this kind of holiday responsible?
Small cruise ships having nothing in common with the gigantic cruise liners that carry thousands of passengers. As the name suggests, they're small, which means passenger numbers of eight people, right up to 170, but no more. This reduces the environmental impact that stopping off at islands can have and limits the amount of waste produced. Obviously there's a huge difference between 170 and just eight people going ashore, so decide what you feel comfortable with. The smaller the passenger numbers, the less impact on the islands and local communities visited.
There is a range of vessels offering cruises in Thailand, so choose carefully and do your homework. As a rule of thumb, yachts and very small ships that take eight or 12 passengers tread the lightest and often have the best and most stringent responsible operating rules. A yacht typically will carry drinking water so that passengers can refill their own water bottles; will source all food locally; will ban the use of plastic straws, cups and cutlery onboard; and will recommend passengers bring biodegradable shampoo and soap. They may even organise the odd spontaneous beach clean-up.
Vessels that use sails also have an environmental advantage. Sailing versus motor cruising means substantially lower fuel consumption and emissions. Using around 60 percent wind energy to travel saves 6,960 litres of fuel a day.
Any small cruise ship, whether a yacht or a clipper, should have a transparent policy on waste. This would typically include reducing the amount of waste created, never dumping dirty or 'grey' water into the oceans, treating any water that is released so that it's non-polluting, recycling as much as possible and disposing of any remaining waste responsibly on land.
Our top trip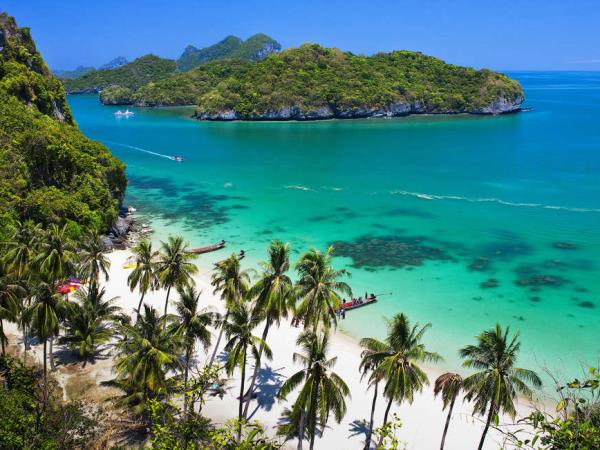 Cruise between Thailand's idyllic islands
From
£1089

to

£1360
14 days
ex flights
Small group travel:
2023: 19 Dec
2024: 21 Jan, 4 Feb, 25 Feb, 10 Nov, 17 Dec
If you'd like to chat about Thailand cruising or need help finding a holiday to suit you we're very happy to help.

Best time to go small ship cruising in Thailand

Calm seas and bright sunshine come as standard on a Thai small ship cruise when you sail from November to April.

Small ship cruises in Thailand run from November to April, with November, December, January and February the best time to go, when the weather is dry but not too hot and seas are calm. Things start to heat up over March and April – temperatures can hit the mid 30°Cs – but as you're so close to the water on a cruise, it's easy to cool off. The heat turns to wet weather during May, June, July and August, with September and October usually experiencing the worst deluges. Cruises don't run at all during this May to October period.
Thailand cruising Weather Chart
More Thailand cruising articles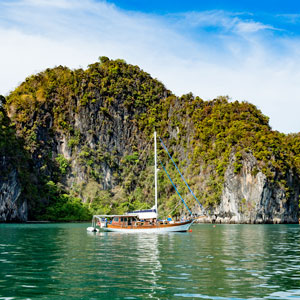 Find the islands and villages that often feature on Thailand small ship cruises, and find out about their unique delights.