Where to go on a Thailand small ship cruise
The Andaman Sea on the west coast of Thailand is the established destination for small ship cruising in Thailand, with hundreds of beautiful islands – some uninhabited, some with established resorts on them – and interesting mainland villages to explore. Most cruises depart from Phuket, which you can reach by road or flight (Phuket's airport is the second busiest in Thailand after Bangkok's). Then cruise north towards the Similan and Surin Islands, or south to Butang Archipelago close to the border with Malaysia, stopping at the Ko Rok Islands on the way and even pushing on into Malaysian waters to visit Langkawi, too.
1. Baan Talay Nok village
While cruising the Andaman sea is idyllic, it's important to remember that this region was devastated by the 2004 tsunami. A day at Baan Talay Nok village, which has now been rebuilt, is a chance to hear stories of survival from local people, and share a meal with them, too. You can also try soap making and have a go at preparing a local dish of grilled coconut.
2. Butang Archipelago
Protected by the Ko Tarutao National Park, this 61-island archipelago lies about as far south as you can go on the west coast of Thailand, before hitting Malaysia. It's way off the tourist trail and home to pristine beaches and deserted coves. Koh Lipe and Koh Adang are the largest islands; the reefs around the latter are excellent for snorkelling.
3. Khao Lak
Some small ship cruises visit the mainland coast, often mooring at Khao Lak, a scattering of villages sitting amongst long sandy beaches. Although geared to tourism, Khao Lak is markedly more quiet and secluded than Phuket down the coast, with uncrowded beaches, restaurants selling excellent seafood and a laidback nightlife. Local regulations forbid the construction of any building taller than a palm tree.
4. Phang Nga Bay
Phang Nga Bay is a vision of sheer sided karsts and cliffs rising out of turquoise waters, and a small ship can access one of the hidden lagoons (hongs) here and drop anchor near deserted beaches. The islands of Koh Panak and Koh Kudu Yai are beautiful, while Railay Beach (on the mainland) can only be accessed by boat, thanks to the huge limestone cliffs behind it.
5. Similan Islands
These islands in western Thailand are a national park and earned UNESCO World Heritage status in 1982. They pack an idyllic punch, combining rainforest, white sand beaches and clear seas. Hike the interiors, dive and snorkel over reefs or explore by kayak or stand up paddle board. Koh Miang, aka Island 4 is the centre; with Islands 5 and 6 it forms a popular anchoring bay for small ships.
6. Surin Islands
The Surin Islands are known for their spectacular marine life, including whale sharks and turtles, and are home to the Moken people, or sea gypsies, who still mostly live a semi nomadic, hunter gatherer life, despite Thai and Myanmar attempts to assimilate them into the wider culture. On Koh Surin Tai you can meet the Moken and tour their community at Bon Yai Bay with a local guide.
Our Thailand cruising Holidays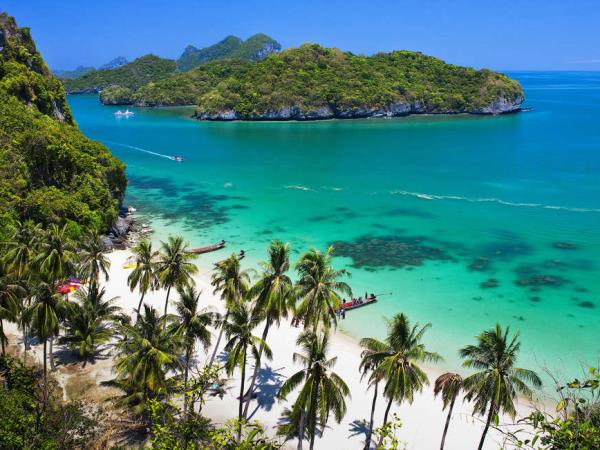 Cruise between Thailand's idyllic islands
From
£1209

to

£1365
14 days
ex flights
If you'd like to chat about Thailand cruising or need help finding a holiday to suit you we're very happy to help.

Thailand small ship cruising advice
Filippos Venetopoulos from our supplier Intrepid shares his insights into small ship cruises in Thailand:
Boat dynamic tips
"There is great mix of passengers who are like minded. We split the passengers into two smaller groups each with a separate local leader to deliver a better experience whilst also ensuring we do not overload the towns or villages we visit. The environment is very relaxed with guests changing tables at dinner (no fixed seating) and interacting as much or as little as they want!"
Packing tips
"Pack light and no fancy clothes! Make sure you have some warm clothes in case it gets fresh at night. Always remember to take your sunscreen and maybe also a mosquito repellent."
Why choose a small ship cruise?
Why choose a small ship cruise
"Cruising in the Thai islands gives you the flexibility to meet the diversified islands and local people. You unpack once in your boutique floating hotel of 25 rooms maximum. You get to swim off our swimming platform and kayak and stand up paddle in unique areas. Why not also try our beach barbecue that the staff set up? We are looking for someone keen to explore rather than stick to one place. We deliver the destination and all its beautiful islands and coast in a responsible but also comfortable way."
Advice on eating
"Locally sourced ingredients are being prepared by our chef on board. You will explore the magnificent flavours or the South East Asian region, with a focus on Thailand. On each stop we will also prepare a local dish tied to the place you are exploring. Combining your travel exploration with a taste exploration!"
More about Thailand cruising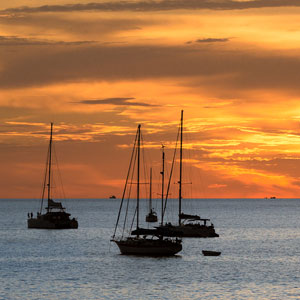 This Thailand small ship cruising guide reveals the routes, islands and crystal-clear waters waiting to be discovered off the country's west coast.