Amsterdam to Bruges cycling tours
With the number of bicycles said to total 18 million, and a population of just 17 million, the Netherlands has been crowned the bike capital of the world. It's a country that is committed to making the bicycle the king of the road, ticking boxes for both beginners and seasoned cyclists. Belgium is no newcomer to cycling either; in Flanders it's the leading sport. A network of well-maintained paths criss-cross level countryside, through towns where cheering on cycling heroes is part of the cultural identity. If you like your ride to be leisurely and your motivation made of chocolate, then a cycle tour from Amsterdam to Bruges is your golden ticket.

Most tourists to this part of the world are concentrated within the cities, which may be their first and only destination, while surrounding areas are overlooked. Travelling by bicycle opens the door to areas that see little footfall, transporting riders to unspoiled and picturesque places that profit from the additional income.
What does cycling from Amsterdam to Bruges entail?
Cycling tours from Amsterdam to Bruges are a week-long cruise by bike and barge, travelling on easy terrain at a sociable speed. You'll be travelling by pedal power much of the time and, most days, you'll be cycling an average of 45km, with additional ground covered on the barge. Travelling without relying on a vehicle means you're not limited to where you can go by roads, leaving you free to discover the rural Dutch and Flemish countryside.
Staying on the barge overnight, you'll have panoramic views both inside and on deck to watch the sun rise and set over the watery landscape. The barge accommodates small groups of between 20 and 36 guests, with shared cabins and a spacious living area, all recently renovated for a comfortable night's sleep. Small group cycling tours are beneficial to both the towns you visit, where larger numbers are overwhelming, and make it easier for the group to travel together at a relaxed speed.

June, July and August can be mild in both countries and meandering river trails are made for lazy summer rides, but April and May are when the meadows and riverbanks are in bloom. If you're keen to see the Kuekenhof flower garden at its best, you'll need to book a spring departure, but if you're eager to help ease the pressure of overtourism during tulip season, then cool September makes for quieter bike rides. Slow travel allows more time to relax and recharge, so why not start your holiday at your own front door and take the train from the UK to Amsterdam, direct with Eurostar, or choose a sail rail package to begin your trip.
Our top trip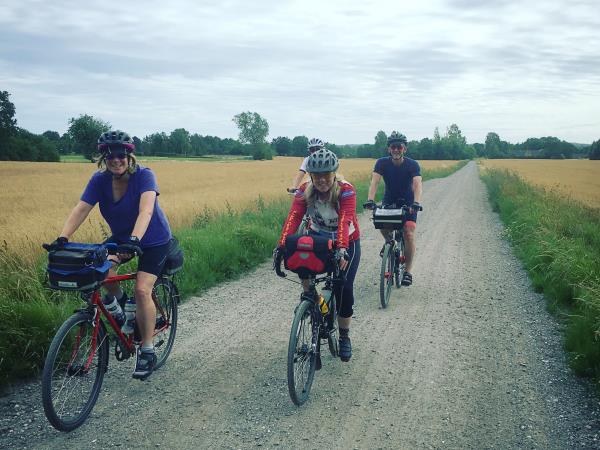 11 day cycling holiday from the Netherlands to Denmark.
From
£2045
13 days
ex flights
Small group travel:
2024: 26 Jun
If you'd like to chat about Netherlands or need help finding a holiday to suit you we're very happy to help.

Gouda
You might think it daft to build a church on a swamp, but the people of Gouda built it all the same. Soggy foundations meant swapping the regal grandeur of a lofty church tower for an equally impressive nave. As a result, Gouda's church of St Jans is the longest in the Netherlands, measuring 123m, and it more than makes up for its stature with its beautifully detailed stained glass windows. Once you've admired its 72 colourful panels, depicting biblical scenes, boats and battles, fuel up on the city's famous Gouda cheese, ready for the ride ahead.
Antwerp
Antwerp doesn't have any hidden gems; its jewels are all in plain sight. Its lively streets glitter with the work of a thriving diamond industry, displayed in jeweller's shop windows and antique store cabinets. Its Diamond District covers one square mile of diamond cutting workshops, diamond dealers and diamond brokers alone. However, if your budget doesn't quite stretch to precious stones, Antwerp's other treasures include the works of artist Peter Paul Rubens, which you can see on display at his studio home.
Lowlands and canals
With a name that literally means 'low countries', you might expect the Netherlands to be fairly flat. In fact, only half of its land is more than one metre above sea level. Much of its landscape is formed by rivers, canals and clustered islands, such as the impressive waterways of Zeeland, the 'land of the sea'. Morning rides through dewy Dutch meadowlands filled with daisies and windmills are best paired with beautiful afternoon barge trips. By switching from cycling to sailing and back, you'll be free to navigate the narrow channels and open waters between the Netherlands and Belgium, for a unique experience of this unusual scenery.
Ghent
Ghent has a beauty to rival Bruges but, unlike the Flemish Venice, this is a city that feels lived-in – possibly a result of its sizeable student population. In 10th century Europe it was the second largest city, and Ghent's historic centre is dominated by its castle, surrounded by a moat and tales of grisly torture and brutal devices. If the thought of that takes meat off the menu, you'll be delighted to hear that Ghent is the self-appointed vegetarian capital of Europe, actively promoting meat-free Thursdays across the city and offering more veggie restaurants for its size than London.
More Netherlands articles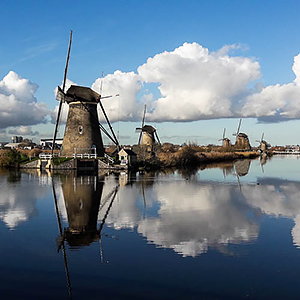 Beyond the cosmopolitan capital lies the quiet countryside, traditional towns and a charming coastline.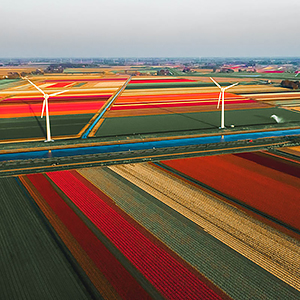 Visit when the weather is mild and days are long – you'll be spending plenty of time outside.
The city has reached breaking point as it struggles with the ever-growing number of tourists.