TRANS SIBERIAN TRAVEL GUIDE
---
2 MINUTE SUMMARY
Laden down with books and noodles you'll wander through the cavernous concourse of Yaroslavsky train station like Harry Potter searching for platform nine and three quarters, and as you spy the train bound for Vladivostok you'll feel a slight tingle of trepidation as you start the first earnest steps towards your Trans Siberian holiday. This is an experience to keep until you're as old and gnarly as that provodnik you met in Irkutsk, with the jump on/jump off nature of an organised tour unveiling the best of both worlds as constantly moving Siberian scenes blend with sightseeing tours and overnight homestays. Students returning home from uni, construction workers moving between projects and families visiting elderly Siberian relatives; you really never know who you'll bump into.
This is not an endurance experience where you're trapped on a train for two weeks, more a means of discovering a series of remote regions as you cross from Europe into Northeast Asia.
Find out how in our Trans Siberian travel guide.
The Trans Siberian Express is...
as much about
who you'll meet
as what you'll see.
The Trans Siberian Express isn't...
just an excuse to drink
vodka for a week.

Hello.
If you'd like to chat about the Trans Siberian Express or need help finding a holiday to suit you we're very happy to help. Rosy & team.
01273 823 700
WHAT WE RATE & WHAT WE DON'T
---
OUR BEST & WORST OF TRANS SIBERIAN HOLIDAYS
Underrated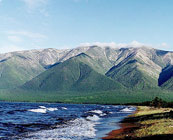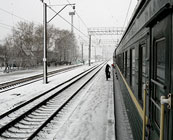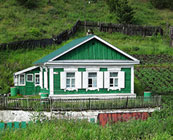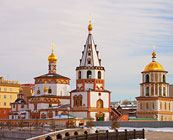 Lake Baikal
Even in the winter Lake Baikal is a fantastic stop off point with Russian saunas offering the perfect way to warm up after ice walking from Listvyanka to Bolshie Koty. Outside of winter and Lake Baikal totally comes into its own with public ferries over to Olkhon Island offering Buryat family homestays, walking trails and boat rides alongside quieter beaches and bays on the eastern shores.
Winter travel
Clambering aboard a train bound for Siberia in the winter can sound, at best, akin to a sentence as opposed to a holiday but don't be put off by a little bit of snow. Ok, a lot of snow. Thermal layers and a solid pair of slippers complement carriage heaters so you can enjoy ice-covered lakes, frozen forests and warming bowls of borscht whilst keeping toasty in some remarkable conditions.
Homestays
The chance to swap bunks for beds and packets of Smash for home-cooking is really worth thinking about as homestays in Listvyanka and Olkhon Island, on Lake Baikal, are an experience you won't want to miss. Meet the Buryat people – descendents of Mongolians who settled here centuries ago, many of whom still practice Buddhism and live in traditional yurts – and find out more about life on the lake.
Siberia
Three quarters of Russia falls into Siberia but only a quarter of the country's population, with the Ural Mountains on the eastern outskirts of Yekaterinburg signalling the start of a region that stretches to the Pacific. Far from being bleak and foreboding, many of Siberia's qualities stem from its remote nature with cities such as Novosibirsk and Irkutsk, plus Lake Baikal, offering train hopping adventurers no end of fun and games.
Rated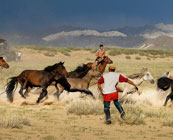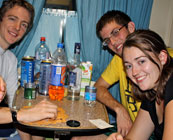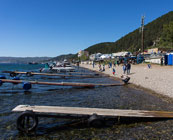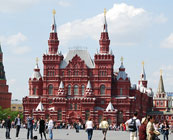 Mongolia
Ulaanbaatar alone is well-worth a week on a train and as the Mongolian capital holds both Tibetan Buddhist influences in the Gandan Monastery as well as memorials to Genghis, including the Chinggis Brewery, passengers can rest assured of a warm welcome. Top tip: A few miles outside of Ulaanbaatar you'll find horse riding, arrow shooting and star-filled nights in ger camps in Terelj National Park.
Language lessons
You don't have to be a teacher to pass on the nuances of the English language and often the simplest of sayings will go a long way over the course of a ten day train journey. Make notes, share food, play cards and, above all, smile. A language swap with fellow passengers is a great way to pass the time, make new friends and find out more about the journey from west to east.
Listvyanka
Located on the banks of Lake Baikal and sporting several traditional guesthouses and Buryat family homestay options, Listvyanka is one of those locations you won't have heard of but you'll never forget. Boat trips on the lake, smoky Russian saunas and early morning dips all add up to loads of things to do in Listvyanka with hearty home cooking just what you need after a week's worth of Pot Noodles.
Walking tours
Guided walking tours of Moscow, Kazan, Yekaterinburg, Khabarovsk or Irkutsk invite train passengers into the cultural heritage of Russia as well as peeling back the curtains that have long hidden the people currently presided over by Putin. Find secret cafés, untangle Cyrillic script and listen to local tales as you visit the iconic sites and lesser-known monuments on a guided walking tour, off the tracks.
Overrated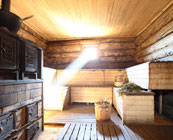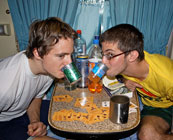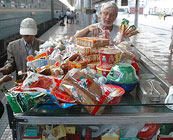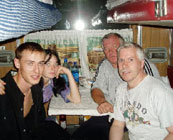 Showers
As the only shower hose is to be found on the Trans Mongolian, in a small shared washroom between the deluxe first-class cabins, it's probably not worth packing your loofah. However, fear not, you'll find plenty of chances to freshen up off the train with fully-equipped guesthouses and Russian banya saunas offering respite from wet wipes, hand gel and early morning queues for the bathroom.
Non stopping
Take it from this writer; staying on-board the Trans Siberian Express is an experience that you're only going to want to do once in a lifetime. Cabin fever, boredom and one too many games of chess can all start to weigh heavy; so, do your mind, and body, a favour and take time to step foot on what you're whizzing past as this might not be a journey that you'll want to do ever again.
Pot noodles
At the end of each carriage you'll find a samovar that pours out piping hot water, perfect for porridge, tea and oodles and oodles of noodles. Yes, they're affordable, lightweight and tasty, sort of, but noodles for lunch, dinner and supper is not the best way forward. Mix things up and don't be afraid to visit the dining car or buy from babushkas to supplement supplies bought in the cities.
Personal space
Conditions can get cramped with up to six passengers per carriage so bear this in mind if you're keen on personal space and 'me time'. Also, people use the loo and sometimes on a jerky jumpy railway they can miss and 'forget' to clear it up. Just saying! Be prepared to be positive, grin and bear it, and refrain from sounding off just because someone's turned the light on at 4 o'clock in the morning.
FOOD, SHOPPING & PEOPLE
---
DISCOVER THE TRANS SIBERIAN EXPRESS LIKE A LOCAL
Eating & drinking
---
Stations often have vendors selling porozhki (pies), boiled eggs, beer, water, dried fish, drinks and crisps. Be brave and buy like a local. Some veggie dishes may be cooked with meat and some may even contain meat.
Mongolian mutton stew hits the right spot. For breakfast, expect instant coffee, fresh bread and urum (clotted cream from yak milk).
The dining car won't always be well stocked but expect pancakes, eggs and ham for breakfast, and for main meals: schnitzel, borscht, potatoes and salad accompanied by bread, beer and vodka. You'll find the Chinese dining car to be a step up, with hanging lanterns and a selection of rice, noodle and egg dishes.



When travelling through Russia all train timetables relate to Moscow time no matter which of the seven time zones you're passing through.
PEOPLE & LANGUAGE
---
Getting to know fellow passengers is a real eye-opener. I still remember my cabin companions a decade since travelling and although they tricked my friend into eating horse meat and didn't understand my rendition of Hey Jude, they still hold an extra special place in my memories. Many students returning home to Siberia will readily practise their English. However, older people and construction workers may need a little more coaxing. Try the following phrases to can break the ice:

What's your name? = Kak tebja zovut? (Russian) Ni guìxìng dàmíng? (Mandarin)

I'm from ... = Ja iz... (Russian) Wo shì cóng...lái de (Mandarin)

Thank you = Spasibo (Russian) xièxie (Mandarin)
GIFTS & SHOPPING
---
Honey-cream and caramel is extremely tasty and often produced by grandmothers along the Trans Siberian Railway. These sorts of cottage industries help give the older generation sustainable work outside of the big cities.
Matryoshka dolls and hand-painted lacquered boxes make for great souvenirs and visiting a village craft workshop is one way of ensuring your getting authentic instead of mass-produced.
Platform vendors usually have a calculator to help you work out what you owe in roubles. Using a calculator is also a good way to barter with traders once you get the hang of the currency.


As Russian and Mongolian tracks are a different gauge to Chinese, passengers are required to get out at the border as the train is lifted up to change the bogies.
HOW MUCH DOES IT COST?
---
A main meal in the dining car: £5 - £8
Pancakes, salad or soup in the dining car: £2 - £3
Ham, eggs and vegetables in the dining car: £3
Boiled eggs, piroshki (stuffed bun) or salted fish from local vendor:
30 – 50p
Large bottle of local beer from vendor: 50 - 70p
ONE HUNDRED YEARS OF THE TRANS SIBERIAN – HISTORY
---
At nearly 10,000km the Trans Siberian train track from Moscow to Vladivostok has been the longest railway in the world since 1916. Construction was primarily encouraged by Nicholas II, who would become the last tsar of Russia, after he returned from a globe-trotting trip in the early 1890s. During his travels Nicholas visited India, Thailand and Japan before returning to St Petersburg with several triumphal arches erected in his wake.
Read more ▼