Responsible tourism on the Trans Siberian
---
Travel right on the Trans Siberian Express
Dispel your preconceptions about gloomy Russians, marauding Mongolians and Communist Chinese as you embark on a journey of cultural enlightenment on board the Trans Siberian Express. Not only will this trip take you from Europe to Asia, it will help you bridge social divides as you share space and time with passengers of different nationalities in a sort of 'Big Brother' arrangement but without the hidden cameras. Keep things light in terms of packing and conversation, and try to break the ice with card games or chess rather than loud music and intense vodka sessions – at least until everyone's warmed up. The Trans Siberian could be the long distance answer to responsible travel; however, be well aware that this is a long journey and if you're looking to get the best experience possible you'll need to be mindful of fellow passengers and make sure you keep on the right side of the provodnik or provodnitsa.
People & Culture
---
Passengers, politics & Buryats
The Trans Siberian Express gives travellers the chance to experience one of the world's greatest train journeys alongside a whole host of fascinating fellow passengers who might be making their way to or from work, heading to family reunions or, perhaps, travelling to a secret assignation across borders. No matter whether you're travelling solely through Siberia or onwards to Mongolia and Beijing, you'll find numerous opportunities to meet fascinating characters and engage in cultural exchanges as you share supplies, swap languages and play games to help break up the journey.
This sort of experience is unique in many respects, not least of all because of the amount of time you'll be given to get to know people rather than simply sharing space in sometimes confined conditions. Often you'll find attitudes change with the couplings (and restaurant car) once you cross the border into China, as people realise you're accompanying them to Beijing rather than alighting in Russia. It's also worth bearing in mind that not everyone on board will have encountered a westerner before and may also hold completely different points of view and global ideologies, especially where politics is concerned. Same sex couples and liberal attitudes might be viewed with suspicion but, of course, this isn't to say that everyone you meet will appear like a character from a Dostoyevsky novel.
Nine times out of ten, passengers and
provodniks
will be friendly and good fun and just as keen to make friends and find out more about you as you may be about them. It's up to you how you approach a strange situation with new people so just air on the side of caution before launching into a sing song.
What you can do
Take a phrase book and stationery to get the most out of language exchanges. Writing things down and drawing pictures is a great way to break the ice if you're having difficulty communicating solely through speech. Avoid too much alcohol, anti-social political posturing, being overtly noisy and encroaching on cabin mates' space and belongings. Just take it easy and go with the flow. Just like the train.
Time spent off the train can be equally beneficial where cultural exchanges are concerned with visits to the folklore museum on Lake Baikal's Olkhon Island enough to unearth the fascinating history of the indigenous Buryat people and their relationship with nature and the Earth. Of course, there's no better way to find out more about Buryat culture and traditional lifestyles other than to stay with a local family or at a family-run guesthouse which is why it really pays to get off the train for a night or two if only for a home-cooked meal or the chance of a shower.
Ulan-Ude, which only opened its doors to foreigners in the early 1990s, also offers an excellent opportunity to find out more about Buryat culture and Russian Buddhism with the open-air Ethnography Museum and traditional lunchtime meals both adding to your understanding of an often overlooked Siberian perspective.
Finally, Mongolia's Gorkhi Terelj National Park also offers insight into traditional lifestyles with ger camps promising authentic outdoor experiences as well as chances to get to know your Mongolian hosts and find out more about life on the steppe. And of course, undertaking an organised trip with a bilingual tour leader will often open up a world of possibilities both on and off the train – particularly when it comes to untangling Cyrillic script.
WILDLIFE & ENVIRONMENT
---
Waste management, pollution & poaching
Russia isn't best known as a global leader when it comes to protecting the environment and topics such as sustainable development are still far from being well-known in households in the majority of locations you'll encounter on and off the Trans Siberian.
Lake Baikal is a popular stop-over on the Trans Siberian Railway and although everything may appear alright on the surface, threats from industrial and agricultural pollution need to be taken seriously by Siberian authorities in order to protect the unique flora and fauna that rely on the lake for life. A prime example being the diminishing omul fish population. There is currently a ban on fishing for omul fish in Lake Baikal. This is due to overfishing and the ban is in place to give the lake's omul population a chance to recover.
Poaching is also a problem with hunters targeting nerpas (Baikal Seals) for their pelts which are thought to fetch anything up to £12,000 on the open market. Fishing gear and pesticides are also thought to be responsible for killing seals and although Lake Baikal is said to be at capacity for the current seal population, poaching of animals goes directly against the theological and religious ideals of indigenous Buryat people who base their culture around the sanctity of nature.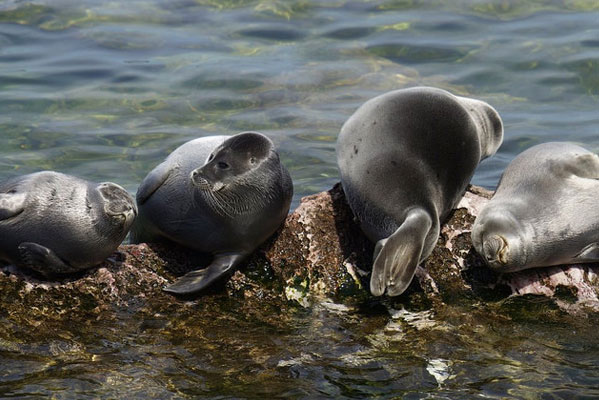 Untreated sewage, discarded rubbish, wild fires and the growing numbers of tourist campsites are also adding to pollution problems with invasive and rotting plants clogging up the lake's natural flow and contaminating water that was once considered clean enough to drink. The infrastructures of Olkhon Island and the lakeside village of Listvyanka are both cited as being poorly equipped for the increasing numbers of tourists, with numerous properties and hotels having little or no resources when it comes to sustainably managing waste.
Furthermore, Mongolia has also laid out plans to dam parts of the Selenga and Orkhon Rivers – whichh both feed into Lake Baikal – as they attempt to develop hydroelectric power plants. This, coupled with rising temperatures and the Irkutsk hydroelectric power station on the Angara River, has caused further concerns to be raised around the levels of Lake Baikal and what this means for an area that contains 20 percent of the world's unfrozen freshwater reserves.
Source:
WWF Global
,
The Siberian Times
and
The Huffington Post (US)
What you can do
Virtually all Trans Siberian Express tours stop over at Lake Baikal – so stay at guest houses or homestay that values the environment. Responsible Travel will only recommend tour operators who understand and commit to ethical and environmental practices so please get in touch with us to find out more. Take away your rubbish and don't light illegal fires anywhere around Lake Baikal. Learn about the philosophies of the Buryat people and try to put them into practice as you visit locations off the Trans Siberian. Also, if you are offered omul fish whilst in the area please don't buy it as it will have been caught illegally.
Responsible tourism tips
---
Travel better on the Trans Siberian
Be mindful that fellow passengers may not be as materially wealthy as you are so don't leave expensive possessions on display or keep going on about how much things are worth.
Lessen your waste as much as possible by bringing your own cups, cutlery and sealable bags instead of having to use plastic throwaway alternatives.
Be aware that not everyone that you meet on the train will share your opinions. Keep an open mind and a closed mouth before you limit yourself to only books for company.
Practice your patience when it comes to waiting for the bathroom or listening to a phone call home that seems like it's lasting longer than the audio version of War & Peace.
Shop at local vendors or open markets when stocking up on supplies. Don't forget to haggle but bear in mind that some of the sellers you'll meet en-route do rely on passengers to make a profit.
Learn a bit of Russian before and during your journey and try to keep calm when explaining something that no one else appears to have the foggiest idea what you're talking about.