Trans Siberian Express map & itineraries
---
MAKE THE MOST OF YOUR TIME
Saint Petersburg, Moscow, Lake Baikal, Ulaanbaatar, Vladivostok and Beijing, when you consider these legendary locations are often mere bookends to the real experience of travelling from Europe to Asia, or vice versa, you know that youíve got a really exciting adventure on your hands.
The Trans Siberian route from Moscow to Vladivostok is the longest and runs every other day; the weekly Trans Manchurian takes passengers from Moscow to Beijing via Harbin and requires tracks to be changed when crossing from Russia to China;
finally, the Trans Mongolian also runs once a week and travels
from Moscow to Beijing via Mongolia and
the Gobi Desert.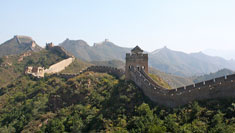 Beijing
Beijing will send your senses into overdrive with contemporary and classic Chinese sights all set to drop jaws and broaden horizons. Tiananmen Square, the Temple of Heaven and the Forbidden City will leave you in no uncertain terms as to the might of Mao but walk in the pagoda-filled parks or amongst the hutongs or on the nearby Great Wall of China to really take things to the next level.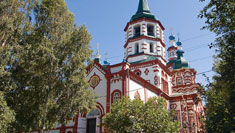 Irkutsk
Just 65kms from Lake Baikal, Irkutsk conjures up cosy coffee houses, opulent-looking orthodox churches and Siberian dairy delicacies at the Central Market with lots of chances to stock up on supplies or fast food on the ubiquitous Karl Marx Street. A sightseeing tour should include the Church of Exaltation of the Cross, Decembrists Museum and the Angara River embankment.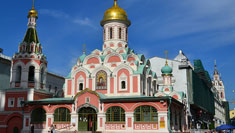 Kazan
Situated where the Volga and Kazanka rivers converge, Kazan is about 12.5hrs east of Moscow by train and renowned for its UNESCO-listed kremlin as well as the magnificent Raif Monastery. Several beautiful churches can be found on a guided walking tour of Kazan with the pedestrianised Baumana Street flanked by pastel-coloured facades to welcome shoppers onto the multi-coloured Alley of Tatar Stars.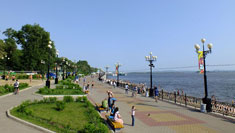 Khabarovsk
Just 30kms from the border with China, Khabarovsk is an extremely attractive city based along the banks of the River Amur. During the summer youíll find several pop-up cafes and tented bars along the river promenade, and in Dynamo Park, whereas winter months make way for ice sculptures, hot chocolates in the Vyborg Market and chances to keep warm in the museums aligning Shevchenko Street.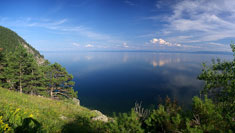 Lake Baikal
Lake Baikal is one of Siberia's natural highlights and staying in a guesthouse or with a family in Listvyanka or on Olkhon Island helps you get even closer to the shoreline. Enjoy boat rides and trekking in the summer or ice skating in the winter. Check out the east coast beaches which attract fewer tourists and can be reached from Irkutsk or Ulan-Ude. Avoid illegally caught omul fish.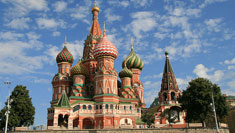 Moscow
Although the capital of Russia is a somewhat daunting prospect in the depths of winter itís still an experience not to be turned down lightly. Gorky Park, Saint Basilís Cathedral and Lenin's Mausoleum all make for intriguing treats and ensuring you have at least a day or more to explore before boarding the Trans Siberian Express is definitely a great way to start as you mean to go on.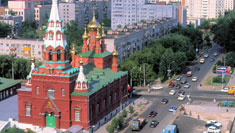 Perm
One of the first cities youíll find after Moscow is Perm which sits on the banks of the River Kama and boasts one of Russiaís finest theatres for opera & ballet as well as a couple of excellent art galleries and plenty of restaurants and bars overlooking the water. Soviet architecture, summer festivals and the inspirational setting for Doctor Zhivago Ė what more could you ask for 19hrs east of the capital?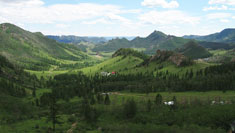 Terelj National Park
Sections of Terelj National Park have been set aside for ger camps and although the experience is slightly more permanent than nomadic it's still great fun just 60km from Ulaanbaatar. Aside from nights under the stars and around the fire, wannabe Mongolian warriors will have the option of horseback riding, archery, trekking or just enjoying time spent amongst the rolling Mongolian steppe.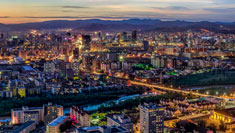 Ulaanbaatar
Mongolia's capital is often the penultimate stop for travellers on the Trans Mongolian train bound for Beijing which is why it's well worth disembarking for sightseeing and stocking up on supplies prior to the 30-hour journey into China. Monuments to socialism, Buddhism and, of course, Genghis, will all be pointed out on a guided tour, although people watching in Chinggis Square is often equally as enlightening.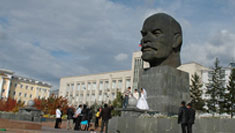 Ulan Ude
100km south of Lake Baikal, Ulan-Ude is the capital of the indigenous people of Siberia, the Buryat, and, as such, provides unique insight into the region's cultural heritage which is intrinsically linked to nature and Buddhism. A walking tour will also unearth a huge head of Lenin, a massive open-air architectural museum and a Siberian baroque cathedral; all just three and a half days from Moscow.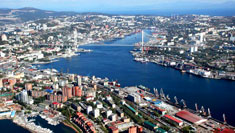 Vladivostok
The birthplace of Yul Brynner, no less, is packed with parks, ports and sheltered bays where local people flock during the summer against the backdrop of Mount Kholodilnik. As the final stop on the Trans Siberian Express route, Vladivostok is well-worth a glimpse with the view from Eagleís Nest Hill offering the best chance of seeing the, often polluted, city from above.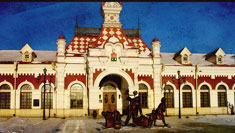 Yekaterinburg
The Ural Mountains and wooded hillsides surrounding Yekaterinburg are tempting for those who have the time although itís usually a historic tour of the city centre thatís better suited for train passengers. The Cathedral on Blood, Nevyansk Icon Museum and the beautiful facades of both the current and old railway stations take the plaudits with views from the top of the business centre, not to be missed.



Hello.
If you'd like to chat about the Trans Siberian Express or need help finding a holiday to suit you we're very happy to help. Rosy & team.
01273 823 700
SAMPLE TRANS SIBERIAN EXPRESS ITINERARIES
---
Winter in Russia itinerary (12 days): Moscow ► Irkutsk ► Listvyanka (Lake Baikal)

Russian summer itinerary (18 days): Moscow ► Kazan ► Yekaterinburg ► Irkutsk ► Listvyanka ► Olkhon Island (Lake Baikal) ► Khabarovsk ► Vladivostok

Trans Mongolian Ė East to West (21 days): Beijing ► Ulaanbaatar ► Gorkhi Terelj National Park ► Irkutsk ► Listvyanka ► Yekaterinburg ► Moscow ► Saint Petersburg
TRAVEL TIMES ON THE TRANS SIBERIAN
---
The following give you a rough idea of travel times between the main stations on the Trans Siberian. Don't forget, although the train passes through seven time zones, all train timetables are set to Moscow time.

Moscow to Perm: 24hrs

Perm to Novosibirsk: 30hrs

Novosibirsk to Irkutsk: 27hrs

Irkutsk to Ulaanbaatar: 27hrs

Irkutsk to Ulan-Ude: 8hrs

Ulan-Ude to Ulaanbaatar: 20hrs

Ulaanbaatar to Beijing: 28hrs