Unusual combinations travel advice
There's just something about combining a couple of activities, that you might not naturally put together, that works really well. Walking and cooking, for instance. What better way to work up an appetite other than a stroll in the Italian Alps or through the flower filled meadows of Provence?
In fact, walking works really well with lots of other activities too. Walking and learning Spanish in the Picos de Europa region of northern Spain, for example, or walking and yoga sessions in the Austrian Alps or on the Spanish coast. You can even combine walking holidays in France with looking after a donkey for a week – certainly a carrot to keep kids happy outdoors.
Cycling also combines well with other activities. Cycling and sailing holidays in the Cyclades, for instance, or along the Adriatic coastline of Montenegro or even biking and barging from Amsterdam to Bruges. Cycling and archaeology holidays work extremely well too. You can cycle from Jerash to Petra in Jordan or around the archaeological sites of the Peloponnese.
If you're looking for a choice of activities to complement cycling and walking holidays then read on as we've asked our experts and responsible travellers what combos they think work really well.
Tips from our holiday specialists
Walking & cooking in Italy
Marla Gulley is a trained pastry chef and co-owner at cooking & walking in Italy specialists, Bella Baita: "When most people think about Italy, it is food that springs to mind. Also, people who love to walk usually love to eat, especially in the Italian Alps. People so often will say to us that they need to do some sort of activity the next day after eating all the lovely food when they visit with us. It seemed only natural to put walking and cooking together in one holiday. Indulgent eating is often the reward for an active physical holiday and learning a new cooking technique or Italian speciality adds an element of challenge that many people are looking for in a holiday these days."
Walking & cooking in Provence
Benoit Couvreur, co-founder of tailor made French Riviera specialists, The Frogs' House, shares his top tips for walking & culture holidays in France: "Make sure you choose an appropriate area, according to your taste and what you are looking for: high mountains, gentle hills, coastline; strenuous and challenging or relaxing. France is so diverse and you need to ask yourself if you want a guide or would you prefer to be self-guided. Choose the right moment of the year. If you are interested in flowers - better chose May or June. You want to make sure to have great weather – choose July or August. You want to be alone in the nature with beautiful colours – go for October."
Walking & donkey holidays
Caroline Peeters from our tailor made family holiday company, Safrantours, explains how this unusual combination gets kids walking in France: "The benefits of walking with a donkey are especially for the children. They love the contact with the donkey and it motivates them to do a walking tour. Kids from four years old, weighing a maximum of 35kg, can even ride on the donkey from time to time. Families walking in the Ardèche also love the forests and the fabulous views over the Rhône Valley and the distant Alps."
Biking & barging in Belgium and the Netherlands
Els van Veelen, works for our biking and barging tour experts World Expeditions: Our boat and barge-based holidays are very popular as they give travellers the opportunity to cover more distance and 'see more' of Europe. They reach spots others can't by employing smaller vessels that navigate shallow bays and narrow waterways, while using bikes makes exploring easier and allows you to delve deeper into a destination. A boat-based cycling holiday combines the best of both worlds: you will travel by water, unpack only once, spend the night on a comfortable boat and the next morning you wake up somewhere different. Riding your bicycle, there's a new place waiting to be discovered but it is up to you to decide how far you want to go or if you prefer to slow down and take it easy.
Our top trip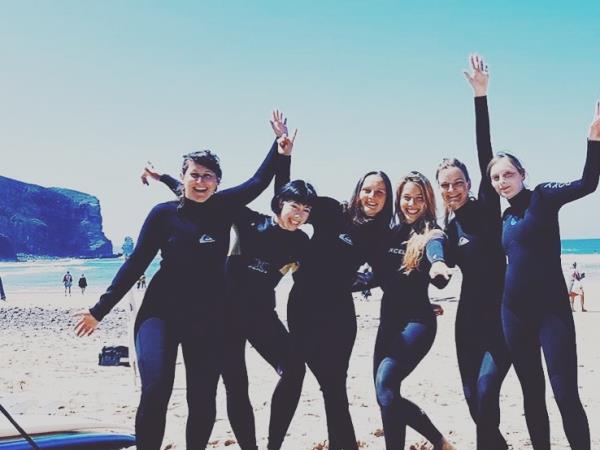 Nourish yourself with yoga, surf and deliciously healthy food
From
€895

to

€1425
7 days
ex flights
Small group travel:
2024: 6 Apr, 4 May, 5 Oct, 16 Nov
If you'd like to chat about Unusual combinations or need help finding a holiday to suit you we're very happy to help.

At Responsible Travel, we think the best people to advise our travellers are often...other travellers. They always return from our tours with packing tips, weather reports, ideas about what to do – and opinions about what not to.

We have selected some of the most useful unusual combinations holiday tips that our guests have provided over the years to help you make the very most of your holiday – and the space inside your suitcase.

We loved waking up to cow bells every morning and the combination of seaside walks along the Camino de Santiago and mountain trails in the Picos de Europa.

- Wendy Stewart on a walking & Spanish language course in the Picos de Europa, Spain
"Don't pack too much, all essential gear is provided. Take a camera rather an iPhone which didn't cope at all with the cold weather. The Finns are very keen on living healthy green lives and it was an efficiently run lodge complex. It is a long way from anywhere and the guides were locals. I would recommend it to anyone keen to get away from it all and be outdoors. More snow than you will ever have seen and you won't get cold - four layers of clothes, four pairs of socks, gloves and hats, and you'll be toasty warm." - Alison Rayner on a winter activities & Northern Lights holiday in Finland

"My fondest memories were cycling down Mount Nebo to the Dead Sea, marvelling at Petra, waking up early in Wadi Rum and watching the sunrise over the silent desert. And experiencing it all with a lovely group of people and some superb guides. Be prepared to be completely bowled over by a truly astonishing country. And take a travel towel for the desert. Cycling benefited local businesses and made us aware of the local community. Our lovely cycling guide Abdul Aziz encouraged us all and made cycling a great adventure." - Susie Deuchars on a cycling & archaeology holiday in Jordan

"The best part, for me, was cycling through the idyllic cities of Belgium and the Netherlands and experiencing the culture of the local people. The holiday benefited local people by the interactions at local shops and we were able to talk to them and tell them where we were from." - Chantel Kotzé on a bike & barge holiday in Belgium and the Netherlands

Their cooking classes and the daily meals support local farmers by using produce from local farmers markets. The wine at the table is local Piedmont wine. It felt like staying with friends who were intimate with their local area.

- Rod Elliott on a cooking & walking holiday in the Italian Alps
"We spent a week learning Spanish in charming Panes with a compatible group of fellow students and friendly local people. We loved waking up to cow bells every morning and the combination of seaside walks along the Camino de Santiago and mountain trails in the Picos de Europa. Beginners, like myself, would benefit from some previous exposure to Spanish as the classes involve learning a great deal of new material. The teachers at the school introduced us to the town and its residents and contributed to our appreciating of its history." - Wendy Stewart on a walking & Spanish language course in the Picos de Europa, Spain

"The yoga sessions with Nicole and Dionne allowed us to learn a great deal. The mountain hiking was also great, particularly the views across valleys, plains and out to the sea. I discovered kindred spirits at the retreat and we shared much laughter every day. Arrive with an open mind, a good sense of humour and not too many casual clothes. We sat down to delicious suppers in our yoga kits. Local suppliers of the hiking and cycling experiences were benefited and did a good job for us. And we were made very much aware of local environmental issues during our hikes." - Shaun Stewart on a yoga & walking holiday in Spain

"Fabrizio and Marla are involved in promoting sustainable mountain tourism and preserving local culture and cuisine. Their cooking classes and the daily meals support local farmers by using produce from local farmers markets. The wine at the table is local Piedmont wine. It felt like staying with friends who were intimate with their local area. With only five bedrooms be prepared to engage socially to develop a relaxed, friendly and fun atmosphere whether it's when walking, cooking or at the meal table." - Rod Elliott on a cooking & walking holiday in the Italian Alps

"Some of the meals and meal prep, and sitting around the fire together. These were really good moments. Also the amazing setting, on this really nice, peaceful island. Definitely consider how your are getting to the meeting point and have this planned out with plenty of contingency. The hardest part of this trip for me was the travel either side of the actual trip itself. And pack some flip flops, or canoeing shoes, being barefoot around the water was not ideal." - Nick Tillyer on a sea kayaking & food foraging holiday in Sweden
More Unusual combinations articles