Known throughout Australia as the nation's buzzing artistic and cultural heart - Melbourne exudes sophisticated style, laid-back charm and boasts a thriving creative scene. With its warm and welcoming atmosphere, Melbourne is an excellent starting point to your holiday - the city is alive with arts and culture, incredible diversity, wining and dining to suit all tastes and budgets, a huge range of sporting events and festivals, world-class shopping and many quirky hotspots. You'll never be short of new exciting experiences in Melbourne, with discoveries to be made around every corner.
Its extensive, easy-to-navigate transport system makes it simple to get around, with no hassle and all the main sights within a short distance from one another. Melbourne is also the gateway to the unique and captivating state of Victoria, ideally explored from the city via the Great Ocean Road, just one of many trails that lead out from the city to Victoria's breath-taking beaches, national parks, winelands, capes and exotic wildernesses. Melbourne is built around Port Phillip Bay, its CBD laid out on a rectangular grid-like system on the northern banks of the Yarra River which feeds into the sea.
The planned street grid makes it very easy to get around whilst the laneways in the downtown city centre are a bustling warren of tiny lanes and arcades in which visitors and locals alike love to loose themselves - where pop-up shops, independent galleries, cafes, bars and funky clothing shops and art spaces abound. Here you'll get a taste of Melbourne's ability to surprise and discover the unexpected. The city is made up of precincts, all distinct in style yet equally charming, from St Kilda, the trendy and retro seafront area with its cool cosmopolitan vibe and independent edge, to the luxury shops and exclusive cocktail bars of Collins Street in the CBD.
Greater Melbourne encompasses many diverse neighbourhoods, celebrating the many nationalities that make up Melbourne - from the Greek and Vietnamese communities of Richmond where family-run, authentic restaurants serve up delicious food, to funky Little Italy in Carlton and hip Brunswick where Lebanese and Mediterranean cafes line the roads. Get right out of town and head to the wild - within a few kilometres you'll find yourself immersed in glorious natural surroundings. Visit the winelands of the Yarra Valley, the quaint seaside towns of the Mornington Peninsula or the wildlife haven of Phillip Island. The spectacular, rugged coastal drive; The Great Ocean Road is also close by, with endless stretches of beach linking to the fabulous Grampians National Park, a favourite of rock-climbers, hikers and adventure types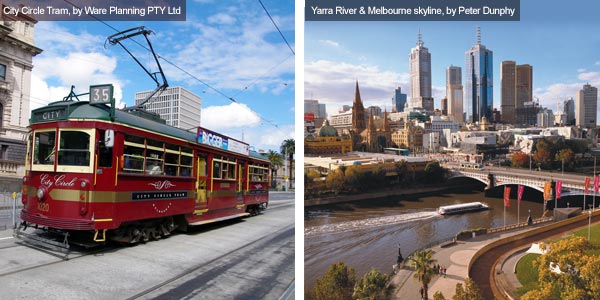 Getting Around:
Melbourne has both an extensive tram network and regular buses and trains across town and the suburbs. The city is currently switching to a smartcard ticketing system called Myki, but until then you can use Metcards on both trams, buses and trains.
The City Circle tram is free to use and even has a running commentary on all the city's most famous spots. The train network connects with bus and tram stations and is an ideal way to get out to the suburbs and outlying districts, with all trains beginning and ending their journeys at Flinders Station.
Melbourne offers a great taxi service and ferries also operate from Southbank to outlying Williamstown, making a pleasant journey along the Yarra River with excellent views of the city.