Mornington Peninsula
The
Mornington Peninsula
is all too often overlooked by those heading for Victoria's better-known sights. But miss this idyllic, Mediterranean-esque region to the southeast of Melbourne and you'll be missing top wineries, gorgeous gardens, delicious food and, of course, some magnificent coastline.
One of the best reasons to visit the peninsula is its plethora of vineyards and boutique wineries, at which you can taste the spoils at the cellar door as well as purchase bottles to drink at home later.
Start your exploration of all things grape at the family-owned Montalto Vineyard and Olive Grove where the 30 acres of vines are the source of some of Victoria's best chardonnay and pinot noir. Sample these cool climate classics at the cellar door or in the acclaimed restaurant, before taking a stroll through the orchard, around the rose garden or through the fern gullied wetlands. Don't miss sampling the olive oil here too, which is only available to purchase from the estate.
One of the region's smallest wineries, Whinstone Estate is also well worth a visit for its informal and family friendly atmosphere. Here you can sample the excellent chardonnay, as well as pinot noir and pinot gris and even the unusual melon grape which makes a cracking muscadet. The cellar door here may be modest but the views are first-rate and there are extensive gardens in which to wander.
Round out your wine tour with a visit to Red Hill Estate which offers fantastic sparkling wines and a jaw-dropping view down to the water from the vineyard, and the Port Phillip Estate which is home to Kooyong and Port Phillip Estate wines, which include a particularly fine pinot gris.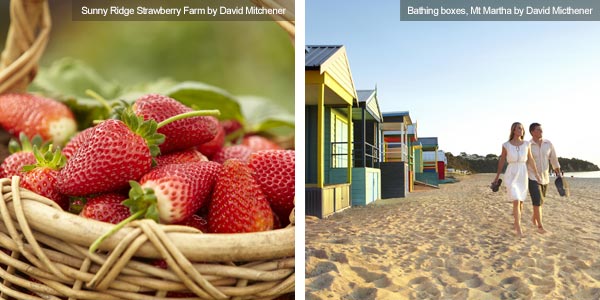 The Mornington Peninsula is also home to an abundance of fantastic fresh produce. One of the best places to sample this is at the Sunny Ridge Strawberry Farm, a family-owned property which is the largest producer of strawberries in Australia. From November to April visitors can pick their own strawberries in the fields and over Christmas there are also raspberries and blueberries for sale. The café serves up a range of strawberry-based treats, such as fruity ice cream and there is a full range of fruit wines and liqueurs made from Sunny Ridge strawberries to try.
Those who like cherries can choose between two pick your own farms on the peninsula. The largest is Ripe N Ready Cherry Farm at Red Hill, where over 70 varieties of cherry can be picked, while Red Hill Cherry Farm is the region's oldest, with pick your own and pre-packaged cherries to buy, as well as delicious cherry port.
If all that fruit is getting just a little too virtuous, head to Mornington Peninsula Chocolates and sample the handmade delights made from Belgian, French and Swiss chocolate. Visitors can also watch the professionals at work through the viewing window and ask questions about everything from how chocolate is made to why it can be good for your health.
To start working off all that wine and produce you could pay a visit to Ashcombe Maze and Lavender Gardens to tackle Australia's oldest hedge maze. The maze is made up of more than 1,000 cypress trees and is over three metres high, presenting a real challenge as well as a very pleasant place for a walk. Here you'll also find a circular rose maze planted with 1,200 rose bushes representing over 200 varieties and the lavender display gardens which feature more than 40 different types of lavender and provide real insight into the history of this fragrant flower.
Alternatively, head to Point Nepean National Park where you'll find more than 10 kilometres of coastal tracks which are suitable for both walking and cycling. There are outstanding views from here out over the Bass Strait, Port Phillip Bay and the Rip as well as several historic attractions. Visit the Quarantine Station for a self-guided walk through 19th-century history and take a look at the World War II fortifications on Cheviot Hill. From here you can also see Cheviot Beach – now infamous as the place from which Prime Minister Harold Holt took his final, fatal, swim in December 1967.
For swimming of a safer nature, why not head out on a half-day tour with Moonraker Dolphin Swims? Leaving from Sorrento Pier, these cruises include snorkeling tuition and then a chance to put your new-found skills into practice in a range of locations: at Chinaman's Hat with Australian fur seals, at Popes Eye where you'll see gannets and a range of colourful fish, and out in Port Phillip Bay in search of bottlenose dolphins. Swimming with these beautiful creatures is truly magical and an experience you'll never forget.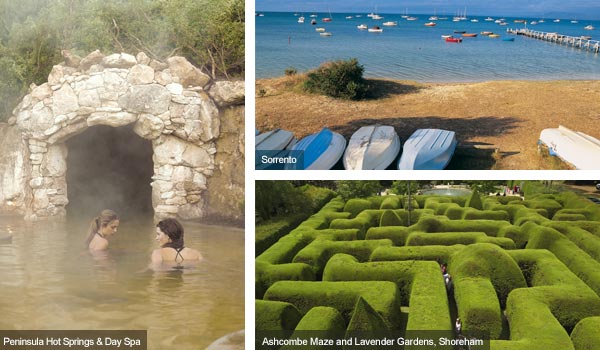 More wildlife can be seen at Moonlit Sanctuary Wildlife Conservation Park, which is fully accredited with the Eco Tourism Association and houses endangered creatures in large natural enclosures. Here you can cuddle up to koalas, feed kangaroos and encounter free-to-roam wallabies during the daytime and by night take a lantern-lit tour around the sanctuary to view species not normally seen by visitors including owls, gliders, quolls, pademelons and bettongs. This is an experience that is almost impossible to find anywhere else.
However you choose to spend your time on the Mornington Peninsula, end your visit at Peninsula Hot Springs and Day Spa. This is the only natural thermal mineral springs bathing facility in Australia and is an unrivalled place to relax and unwind. In the Bath House guests can enjoy the cave pool, reflexology walk, hydrotherapy pool, thermal stream gully, sauna, moon viewing pool and massaging thermal showers, and there are facilities here which are suitable for all ages, including a family bathing pool. The Spa Dreaming Centre places its emphasis more on tranquility and offers private pools and a full range of spa treatments.
Your visit to the Mornington Peninsula complete, why not continue your exploration of Victoria's magnificent coastline with a trip along the
Great Ocean Road
? Departing on the hour every hour from the upmarket seaside town of Sorrento, the Queenscliff Sorrento Ferry Service links the Mornington Peninsula with the Bellarine, making the beautiful journey across the mouth of Port Phillip Bay in just 40 minutes. The drive-on, drive-off car ferry docks at Queenscliff, just a 45-minute drive from Torquay and the start of the world-famous Great Ocean Road.