FAMILY HOLIDAYS IN VIETNAM MAP & HIGHLIGHTS
---
MAKE THE MOST OF YOUR TIME
The majority of our two week family holidays in Vietnam start in Hanoi, in the north, and feature a day or so in Halong Bay before working their way south, along the coast, to the centrally-located cities of Hue, Danang and Hoi An. Overnight sleeper trains, including the Reunification Express, are an exciting and efficient travel option from Hanoi to Danang, with the possibility of internal flights to Nha Trang and onwards from Nha Trang to Ho Chi Minh City making short shrift of distances for families looking to experience Vietnam from top to tail.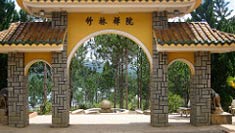 Dalat
Dalat has a cooler climate to tropical regions with pine forested valleys and large lakes, such as Tuyen Lam, often shrouded in mist. An abundance of flower, fruit and vegetable gardens can be found throughout with cable cars to Truc Lam temple and motorbike rides to the Summer Palace, 'Crazy House', and Lam Ty Ni pagoda, recommended for families looking for a totally cool perspective.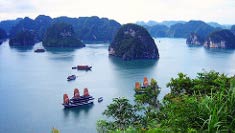 Halong Bay
An overnight cruise on a traditional junk sailing boat is a great way to get closer to the limestone monoliths that have been plonked across Halong Bay, with island hopping and kayaking off small, secluded beaches, the perfect prelude to visiting Vong Vieng fishing village and enjoying an evening meal in the mouth of a cave. Great spot for messing about on the water and exploring secret coves.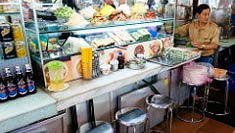 Ho Chi Minh City
The roar of scooters and the mix of modern and ancient architecture make Ho Chi Minh City an electrifying adventure with reflections over Saigon River and visits to Ben Thanh market, Reunification Hall and Notre Dame Cathedral, garnering a glimpse of Vietnam, past and present. Cu Chi tunnel tours or onward travel to the Mekong Delta are easily accessible from Ho Chi Minh.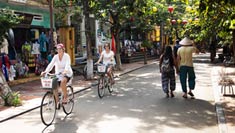 Hoi An
Hoi An is one of Vietnam's most atmospheric towns with a combination of lanterns reflected in the river and a hodge podge of bespoke tailors, artisan workshops and Chinese shop houses adding to the laid back and peaceful pace of life. Bicycles are the best way to get around the car free streets of the old town, with Cua Dai beach just 5kms away if you fancy pedalling a little further afield.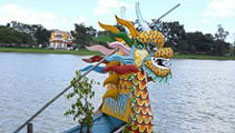 Hue
It's great arriving in Hue on an overnight train from Hanoi with the imperial capital always best enjoyed over a French baguette and early morning coffee. Dragon boat rides on the Perfume River, fairytales around the Thien Mu pagoda, and the ancient tombs of the Nguyen Dynasty all add up to a whole lot of Hue fringed by quintessential scenes of paddy fields and jungle palms.
Nha Trang
As Vietnam's coastline snakes for over 3,000km it would be rude not to spend at least a day at the beach and there's nowhere that comes more highly recommended than Nha Trang. Island hopping, from Mun to Mot, snorkelling in ice clear shallows, visiting the giant Buddha statue at Long Son or the nearby mud baths, or simply soaking up the seaside scenes on fine sand; ask yourself, why not?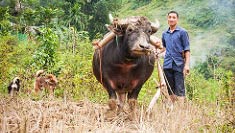 Pu Luong Nature Reserve
Set over adjacent mountain ridges where slopes have been turned over to steeped rice terraces, Pu Luong Nature Reserve allows for amazing views of the lesser-visited agricultural hillsides north of Hanoi as well as opportunities to meet villagers living off the land. Although small explorers might not appreciate undulations, families looking to hike and paddle should definitely delve a little deeper.


THINGS TO DO ON FAMILY HOLIDAYS IN VIETNAM
---
WHAT TO DO ON FAMILY HOLIDAYS IN VIETNAM & WHAT NOT TO
Things to do on family holidays in Vietnam…
---
Although you might not feel ready to cycle through the streets of downtown Hanoi and Ho Chi Minh – you're probably better off on the back of a cycle – quieter locations like Hue, Hoi An, the Mekong Delta and Pu Luong Nature Reserve are much more suitable for children (7+) looking to explore on two wheels. Alternatively, swap pedals for paddles as you clamber aboard a kayak and glide around the limestone rocks and seek out hidden coves and mysterious caves in Halong Bay.
One too many monuments might be met with cries of derision from young philistines which is why it's imperative to balance fun and cultural insight for families visiting Vietnam. Thankfully, several activities tick both boxes with spring roll making workshops in Hoi An, water puppet shows in Hanoi, mud baths in Nha Trang and cycle rickshaw tours in Hanoi all offering a cultural slice of life without the need to drag kids kicking and screaming.
Vietnam's past is well documented and KS3 & KS4 history students will find the locations where the Vietnam War took place incredibly thought-provoking, especially when combined with a visit to the War Remnants museum. The Cu Chi tunnel system in Ho Chi Minh is one such place that can bring history text books to life with an English-speaking guide offering further insight into the ingenuity and resilience of the Viet Cong as well as expounding on the effects of communism and war in general.
Things not to do on family holidays in Vietnam…
---
You'll find Vietnam's 'go with the flow' philosophy exemplified by those living along the Mekong Delta with floating markets, riverside villages and all manner of cottage industries to be found just a short distance from Ho Chi Minh City. Don't miss out on the Mekong, as from river cruises and family homestays to visiting the city of Vinh Long or heading over the border into Cambodia, the Mekong might exit Southeast Asia at Vietnam but it touches each and every soul on its way through.
Although it may seem prudent for families to avoid Hanoi and Ho Chi Minh City there's still much to be said for spending at least one or two days in both cities. Cyclo tours are certainly the best way to get around, and from Hanoi's Old Quarter and Hoan Kiem Lake to Ho Chi Minh's Ben Thanh market, Reunification Palace and Notre Dame Cathedral, these cities are as authentic and exciting as anywhere else in Southeast Asia.
From overnight trains to domestic flights, travelling in Vietnam is really straightforward and you can easily get from north to south on a two-week holiday. Although it can be tempting to stay by the beach, don't come all this way just to miss out on Vietnam's variety of landscapes and stark contrasts between rural and urban areas. Build in some beach time by all means, just don't forget that some of the most memorable locations can also be the least expected.

Hello.
If you'd like to chat about Vietnam families or need help finding a holiday to suit you we're very happy to help.
Rosy & team.
01273 823 700
FAMILY HOLIDAYS IN VIETNAM TRAVEL ADVICE
---
TIPS FROM OUR FRIENDS IN VIETNAM
CULTURAL TRAVEL ADVICE
---
Liddy Pleasants, Managing Director of our supplier, Stubborn Mule Travel, explains how to get kids into culture: "Try a homestay if possible; there are plenty of opportunities, particularly in the northern hills around Hanoi and the Mekong Delta in the south. This provides a wonderful opportunity for children to get an insight into, and participate in, daily life. You will often find that the kids are already playing football with local children before the parents have had time to finish a cup of welcome tea!"
TACKLING POVERTY
---

Liddy Pleasants, from our supplier Stubborn Mule Travel:
"The poverty in Vietnam is not as pronounced as in many countries in the region but it's still there. Many parents ask whether there is anything they can take with them to donate to local causes but this generally doesn't work well as it's tricky to know what's genuinely useful. As an alternative we always suggest finding a worthwhile charity and donating to this instead."
Dyan McKie, family adventure specialist from our supplier, Intrepid Travel: "We visit Koto restaurant in Hanoi, which helps street kids get into the hospitality industry, and Children Hope in Action in Hoi An, an NGO that provides a range of services for disadvantaged children in the wider Quang Nam province."
Families & food
---
Daniel Pawlyn, from our tour partners Intrepid Travel, offers some foodie tips: "My kids are not adventurous at all but they loved most of the Vietnamese food. Unlike many other Asian countries, Vietnamese food is more aromatic than spicy, with chilli as an optional extra. My kids, aged seven and nine at the time, enjoyed pho, the aromatic noodle soup that is everywhere in Vietnam, and the crispy spring rolls. Many of the more popular destinations have restaurants with Western menus, so they also ate pizza and pasta, and the hotel breakfast certainly had Western options."
Age recommendations
---
Liddy Pleasants, Managing Director of our supplier, Stubborn Mule Travel, recommends locations for five to ten year olds: "Hoi An is just perfect. There are masses of activities that are ideal for younger children – lantern making, cookery classes, fishing for purple crabs, bike rides (with children's bikes) and so on. There are also a wide range of restaurants most of which have sensational Vietnamese food but also some western dishes, so if you have a fussy child they can find something suitable to eat whilst the rest of the family can eat traditional Vietnamese food."
And for older children: "For teens a trip up into the hill tribe areas west of Hanoi is great as there's fantastic mountain biking, hiking, homestays and kayaking – to keep even the most active teen busy. The Cu Chi tunnels are also fabulous for this age group, a real eye opener into the horrors of the Vietnam War and very thought provoking."
Personally recommended
---
Daniel Pawlyn, from our supplier Intrepid Travel: "My children loved Halong Bay where they stayed overnight on a junk, visited remote islands, kayaked around cliffs and explored caves. In Hanoi, just crossing the road was an adventure. Overnight trains were also a first for my kids. They would watch the world roll by before folding down their bunks and getting ready for bed…. on a train! Too exciting for words. Shopping at night in Hoi An was also an experience my kids loved thanks, in part, to the beautiful coloured lanterns that characterise the city. Finally, we also built in time for beaches and swimming pools. Travelling doesn't mean slumming it or avoiding the usual holiday joys, so swimming in the sea and hotel pools, in a tropical country, is all part of the fun and a relaxing way to wind down."
FAMILY HOLIDAYS IN VIETNAM TRAVEL ADVICE
---
TIPS FROM OUR TRAVELLERS
At Responsible Travel, we think the best people to advise our travellers are often... other travellers. They always return from our tours with packing tips, weather reports, ideas about what to do - and opinions about what not to.

We have selected some of the most useful family holidays in Vietnam travel tips that our guests have provided over the years to help you make the very most of your holiday – and the space inside your suitcase.
"We felt that we got a really good insight into the country thanks to our guide, Nam, who was a star. Don´t over pack. You can get stuff washed along the way for next to nothing. Be prepared to get stuck in and let the kids off the leash to make friends amongst the group. Go with the flow and try everything. Finally, I booked a few days in a resort to chill out after the trip. So glad we did!" – Alison Baker

"I enjoyed the overnight train journey, what an adventure, and arriving in Hue railway station was an experience. We did three cycle rides all of which were wonderful and a lovely way to see the countryside." – Elizabeth Morgan

"We rode motorcycles into the mountains to visit a nursery and eat at a female monastery; we cycled through farmland, learning the watering and planting techniques; we kayaked in Halong Bay and stayed overnight on a local boat; we experienced the rather precarious reunification express; we manoeuvred down the Mekong Delta and stayed with a local family; we learned to master crossing a street in Hanoi and Saigon; we immersed ourselves in the dance and music and the water puppet show, the pagodas and Emperor dynasties. Our cups were filled to the brim each day with Vietnam life so diverse and complex, colourful and different from our own lives, and shared with such generosity of spirit." – Victoria Macdonald

"Be prepared for simple accommodation and reasonably hard walking. Although not very long walks, about 15km in a day, it can get quite hot and hilly. Wish I was fitter." – Angela Reid