This experience was absolutely life changing.
(more)
Mary Lee
We saw a number of bears taking a dip in the water and I enjoyed seeing the pleasure on their faces as they enjoyed the therapeutic effects of the water
(more)
Suzanne Jones
Excellent. Exceeded my expectations, all very well organised, very good accommodation with lots of help from local rep. Brasov had plenty to offer and the bears were amazing!
(more)
Deborah Robson
The most memorable part of the holiday was being around the bears all day and particularly when the tourists had gone we had the place to ourselves.
(more)
Rhiannon Lewis
Excellent. A great, unique program that can only be experienced in Romania at this sanctuary. And a fulfilling and mutually reciprocal volunteer experience: we got as much satisfaction and enjoyment out of the experience of helping the bears and the sanctuary as they hopefully benefited from our work. It's very fun!
(more)
Heather Jain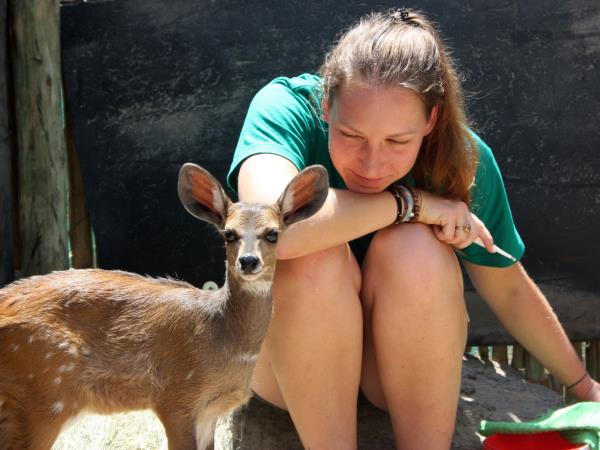 From
€590
excluding flights
It was AMAZING!
(more)
tracy ciotti
My whole time at the reserve was so incredible with thrills everyday from hurtling along dirt tracks to see elephants, watching porcupines and honey badgers battle right next to camp to the first time you lead a class by yourself.
(more)
Deirdre McClean
Working with all of the animals and children, and meeting wonderful people were most memorable - the whole experience was memorable and exciting. The trip well and truly exceeded my expectations. I would happily recommend it to anyone.
(more)
Thérèse Hutchins