The Easter Bank Holiday in 2019 was a warm one in Wales. The sun was out and the clouds had parted to reveal blue skies. No better excuse to attempt to summit Mount Snowdon (1,085m), you might think. But, unfortunately, you wouldn't be alone.
Crowds at the summit of Snowdon
snaked all the way back down the 11km Pyg Track to the overflowing Pen y Pass car park.
A lack of facilities, including toilets and rubbish bins, meant that not only were the walking tracks to Snowdon's summit overcrowded and becoming eroded, but they were also covered in litter – teams of volunteer wardens collect over 400 bin bags full of litter every year. Not only does this pose a very real threat to wildlife, and looks unsightly, but new scientific research also states that
plastic pollution on Snowdon
is becoming an extremely scary environmental wake up call.
This national landmark is a massive draw for tourism. It's estimated that almost £70 million every year is brought into the Snowdonia area alone. This is great news for the local economy, but at what cost to the surrounding environment?
Claire Copeman is co-owner of our North Wales activity holiday company, Adventure Tours UK. She thinks that one way to combat the crowds is to start to think outside of the box when it comes to visiting at peak seasons: "As a local, I wouldn't visit Snowdonia during August. Go at any other time of the year and you're going to get a much more authentic experience. You'll be like us, like one of the locals. May, June and September, especially, are great months to visit. It's just more rewarding and puts less pressure on the environment and the smaller villages. North Wales is still just as beautiful outside of summer. You just need to break the habit and think outside the box."

Traditional villages, too, like Capel Curig, Llanberis and Betws-y-Coed, are literally overrun with tourists in the summer. This is certainly good news for the local shopkeepers and the internationally-owned, outdoor gear stockists, but it can also be a real pain for those not in the tourist industry, especially those having to negotiate congested narrow roads on the way to or from work.

Tourism in Snowdonia has become a double-edged sword, as Sophie goes on to explain: "The vast majority of Welsh people are very welcoming to visitors. Having local people welcome you is something that we've come to realise is an incredibly important part of our trips. There are so many locally owned businesses here and tourism has become a huge part of the Welsh economy. We also want to help all of the small businesses in the area. They don't need the help at the weekends or during the summer, but outside of peak season they could really do with support."

As well as opting to visit Snowdonia outside of summer, it's also important that travellers start to think outside of the box when it comes to things to do. Yes, summiting Snowdon is an amazing achievement but if you're only in the area for a weekend, along with half of London, would your time be better spent doing something else? Better yet, could you extend your holiday from a weekend to a whole week? That way you could tackle the mountain early in the morning, before the crowds, and then get on with exploring all of the other areas that the tourists rarely get to discover.
Alternatives to summiting Snowdon
There are hundreds of ancient walking trails in Snowdonia National Park that can lead you up and over high mountain ridges and around some of the area's crystal clear glacial lakes. They start from behind village pubs or church graveyards in Capel Curig, Llanberis and Betws-y-Coed, but you'd never know they were there unless you knew where to look.

Some involve a slight or steep scramble to the top of a mountain peak. This is where you have to use your hands as well as your feet for walking. Scrambling varies in technical difficulty, Grade 1 being the easiest, Grade 3S (serious) the toughest. Other walking trails are far more easy-going and lead over gentle grassy hills and through woodlands or alongside fast flowing rivers.

The Glyderau and the Moelwynion mountain ranges are great alternatives to the Snowdon range and although some of the walking trails are fairly well known they still get a fraction of Snowdon's visitors, especially outside of summer.
The 12km walk from Capel Curig to the peak of Moel Siabod (872m), for instance, is just as much a challenge as Snowdon. The trail winds through tranquil riverside woodland before leading up to an easy going Grade 1 scramble to Siabod's rocky summit. On a clear day you can see nearly all of the tallest peaks in Wales from the top. There's also an easier, less technical, ascent – the views are the same no matter which route you choose.

You can also walk to the top of Pen yr Ole Wen (978m) from the shallow, stream-fed, Llyn Ogwen, a winding ribbon lake that's reputed to be the resting place of King Arthur's sword, Excalibur. Pen yr Ole Wen is as tall as the highest peak in England, although it only ranks as seventh tallest in Wales. There's also a 4.6km circular walk around Llyn Ogwen where you're surrounded by mountains.

Several walking trails will take you up and over abandoned slate quarries where you can see right out to Cardigan Bay; others offer the chance to scramble your way up to the top of Mount Tryfan (914m), for instance, or up to the peak of Glyder Fach (994m) from Bristly Ridge. Glyder Fach is the second highest mountain in the Glyderau range and the sixth highest in the whole of Wales.

The 4.8km Cwm Idwal walk takes you into Wales' oldest national nature reserve, as you find yourself in the centre of a carved glacial amphitheatre before a steep, rocky scramble takes you up to Twll Du aka: the Devil's Kitchen. It's just a beautiful walk but don't underestimate it, no matter what time of year you're setting off. Proper walking gear and hiking with a guide are always recommended.

Claire Copeman from our Snowdonia specialists, Adventure Tours UK, shares some of her favourite walking routes: "Personally, I love a quick lap of Llyn Idwal. It's a gorgeous spot and feels thoroughly wild and remote, yet you can do a circular walk in just 1.5 to 2 hours. Another gorgeous long walk I did just last week was the full length of the Carneddau range. Starting at Pen yr Ole Wen, it's a long old hike up to the first peak and then a steady hike across this vast plateau. A particularly rewarding route down is to follow the river to the famous Aber Falls."
Mountain biking in Snowdonia
It's as though Snowdonia's lumps and bumps were built for mountain biking, however, respecting the countryside and other trail users should be an essential element of each and every experience. Mountain bike parks – such as the 150km of purpose built single track routes at Coed y Brenin – are a great way to get started. Tracks vary in gradients and challenges. Think of ski run ratings in terms of difficulty, i.e. green and blue tracks for beginners, red and blacks for intermediates and advanced.

If you want to go wild mountain biking in Snowdonia – without damaging the environment or other people's enjoyment, and without trespassing on private land – go with a guide. Claire Copeman and her husband Jim, from our Snowdonia specialists Adventure Tours UK, are both very active in the mountain bike community and know loads of local guides. In fact, wild mountain biking is one of the reasons Claire came to Wales in the first place: "I used to think that I'd love to ride wild on my trips to North Wales, but just didn't know where to start. What if I got lost or had an accident or couldn't navigate the land? All of those thoughts come into your head when you're thinking of wild mountain bike riding. Our trips give people a chance to do something that they wouldn't necessarily feel comfortable or safe doing on their own. Our groups are always guided, so you can get into all of those wild open spaces without feeling like you're going to get lost or into trouble."

However, wild mountain biking trips, as Claire explains, aren't for the uninitiated: "Our mountain biking group holidays aren't for beginners. They're for proper mountain bikers who are relatively experienced. North Wales is not the place to start wild mountain biking. Although the MTB centres are excellent for anyone who's new to the sport and wants to give it a go. I'd say you need to be an experienced red grade trail mountain biker to enjoy the trips that we run in the wild spaces of North Wales."
Our top Wales Holiday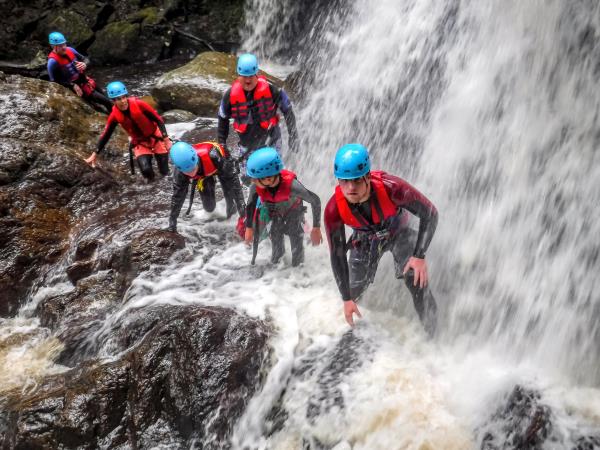 A week of adrenaline adventure activities in North Wales
From
£1425
8 days
ex flights
Small group travel:

If you'd like to chat about Wales or need help finding a holiday to suit you we're very happy to help.

Other activities to try in Snowdonia
The national white water centre is located in Snowdonia National Park on the River Tryweryn. It's reliant on the Llyn Celyn reservoir releasing water from its dam which happens, on average, around 200 times a year. Kayaking, rafting and river bugging (an individual inflatable that requires you to lie on your belly and use your arms to paddle and steer) can all be arranged on an activity holiday.

There are also lots of lovely lakes dotted throughout the park which are perfect for pack rafting (an inflatable raft that can be deflated, packed and carried), SUP (stand up paddle boarding) and wild swimming.

Also, as you'll see from some of the mountain tops, you're never far from the sea in Snowdonia. So combining land-based activities with boat rides to spot wildlife and sea birds on Anglesey is easy. Or simply head further inland, venturing beyond the national park, to go river bugging on the River Dee or canoeing over the Pontcyscllte Aqueduct.
Zipworld is for anyone who's ever fancied flying through the air like Superman. Built in what was once the largest slate quarry on the planet, Penrhyn, this is the fastest zip line in the world, where you'll reach top speeds over 160kph whilst suspended 500m above the bright blue quarry lake.

If you'd prefer to get underground rather than over ground, then the caverns and halls at Corris Mine Explorers or Llechwedd Slate Caverns could well be for you. Both get you kitted up in special safety equipment before exploring the huge abandoned slate chambers, where you'll find all sorts of relics from this important era of Snowdonia's history.
Where to stay in Snowdonia
Next time you're planning on visiting Snowdonia, why not consider staying somewhere a little out of the ordinary. Join a small group on a guided activity holiday, where you can go canyoning, coasteering and pack rafting whilst staying at a locally-owned hotel in Llangollen, complete with a rooftop hot tub. Alternatively, why not stay in a
small self catering cottage
high above Lake Pardarn or an
award-winning B&B guesthouse
with access to the Moelwyn Mountains from your backdoor.
That's the thing about North Wales, no matter where you stay, you're never far from an adventure – as Claire Copeman confirms: "We joke that you're literally an hour in any direction from everything in North Wales. The gentle rolling hills of east Wales, the beautiful beaches along the west coast, the showstopping mountains of Snowdonia – it's all on your doorstep, like one huge outdoor adventure playground."