Coral Coast itinerary, Western Australia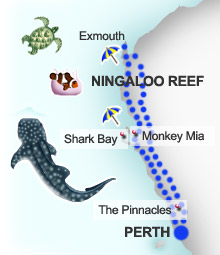 If you have 11 days to explore Western Australia, take in the best of the coast from Perth to Exmouth.
Itinerary highlights include:
Pinnacles in Nambung National Park
Colonies of rare Australian sea lions & seabirds
Historic towns of Dongara and Greenough Hamlet
Windsurfing mecca Geraldton
Shark Bay World Heritage Area
Wild bottlenose dolphins
Ningaloo Reef
Swim with whale sharks and manta rays
White sand beaches at Turquoise Bay
Gascoyne food trail
Natures Window lookout point
Humpback whales at Kalbarri

Day 1: Perth - Cervantes (approx 245 km)


Depart Perth and travel north along the Indian Ocean Drive to discover the mysterious Pinnacles in Nambung National Park. Visit the new Desert Discovery Centre for a fantastic insight into the natural processes that formed these amazing limestone structures as well as information on the park's biodiversity. From here you can also discover Jurien Bay Marine Park, home to large colonies of rare Australian sea lions, seabirds, western rock lobsters and a huge variety of fish. Overnight: Cervantes Edge Resort.

Day 2: Cervantes - Geraldton (approx 258 km)

Continue north along the Brand Highway through the historic towns of Dongara and Greenough Hamlet - a national trust town and onto Geraldton. A windsurfing mecca, here you can taste some of the freshest and renowned seafood in the state. Access the Abrolhos Islands 55km off the coast by boat or plane, their surrounding coral reef communities form one of Western Australia's most unique marine areas. At sunset, take in the breathtaking views from the HMAS Sydney II memorial before heading out for a bit to eat and drink at one of Geraldton's many restaurants, cafes and pubs. Overnight: Broadwater Mariner Resort Geraldton.

Day 3: Geraldton - Shark Bay/Monkey Mia (approx 430 km)

Travel north to the Shark Bay World Heritage Area. Testimony to the wonders of the natural world it has unique formations and natural habitats where threatened species survive. Follow the new interpretive signage along the World Heritage Drive to learn about the area. Visit the cliff top lookout at Eagle Bluff, one of the best places in Shark Bay to view marine life, the Stromatolites of Hamelin Pool, learn about the biology of these ancient organisms and see Shell Beach. Shell beach is 120km long and up to 10m deep made up of millions of tiny cockle shells giving way to crystal clear water. At Denham stop into the Shark Bay World Heritage Discovery Centre to learn about the region and its world heritage status. At sunset relax and unwind aboard a sunset catamaran cruise before ending your day wining and dining on the shores of Monkey Mia. Overnight: Monkey Mia Dolphin Resort or Denham accommodation.

Day 4: Monkey Mia

Spend some time at the water's edge this morning and meet the wild bottlenose dolphins that have put this beautiful seaside spot on the map. You may even be lucky enough to be picked to assist local rangers in feeding these friendly locals. Get an indigenous perspective of the area by taking a walking tour departing from the Monkey Mia Visitor Centre several times a day. Or for those who like a little seclusion visit Dirk Hartog Island a peaceful retreat of beautiful scenery known to have some of the region's best fishing spots. Overnight: Monkey Mia Dolphin Resort or Denham.

Day 5: Monkey Mia - Coral Bay (approx 564km)

Coral Bay is the southern gateway to the world renowned Ningaloo Reef and is a nature lover's paradise. Calm, protected waters and hundreds of colourful fish and coral species, the reef hugs the coastline and is perfect for snorkelling. Spend the evening watching the sunset and dining at one of Coral Bay's restaurants. Overnight: Ningaloo Reef Resort.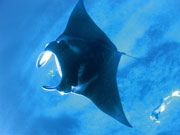 Day 6: Coral Bay

Wake up to the bluest ocean you've ever seen and decide from the many options of how you're going to explore the reef today. Hire a sea kayak or join a wildlife charter to swim with manta rays (year round) or the almighty whale shark, the world largest and harmless fish (between March and July annually). For those wishing to stay on dry land join an exhilarating quad bike tour. Overnight: Bay View Coral Bay.

Day 7 & 8: Coral Bay - Exmouth (approx 150 km)

As you head further north you'll arrive at laid back Exmouth, the northern gateway to the magnificent Ningaloo reef. From here you can also swim with whale sharks between the months of March and July. There is also some outstanding diving and fishing to be done. Overnight: Novotel Ningaloo Resort. Head out to The Cape Range National Park and one of its magnificent white sand beaches like Turquoise Bay for a drift snorkel. Just inland spectacular deep canyons, limestone ranges and gorges are on offer. Continue down to Sal Salis and Mandu Mandu beach where you will find it all to yourself. Take a kayak out to the blue lagoon and spot a turtle or two. Overnight: Sal Salis Ningaloo Reef - wild bush luxury, spend a night in one of five safari style tents just metres from the reef. Completely solar powered, the camp has minimal impact on its surroundings allowing you to focus on the marine and land inhabitants.

Day 9: Exmouth - Carnarvon (approx 370 km)

Return south and as you head towards Carnarvon and be sure to stop at the Blowholes 70km north of Carnarvon township. For those wanting to get off the beaten track discover the beach hideaways at Quobba Station, Red Bluff and Gnarloo (limited 2WD access). At Carnarvon take in the Gascoyne Food trail and sample some of the regions best produce at the Gascoyne growers market, local plantations and quaint local cafe's and restaurants. Overnight - Carnarvon or at nearby station or farm stays.

Day 10: Carnarvon - Kalbarri (approx 445 km)

Continue your journey south to the popular, coastal town of Kalbarri, located at the mouth of the Murchison River and adjacent to the Kalbarri National Park. Explore the spectacular National Park by hiking, canoeing, abseiling or quad biking or just enjoying the spectacular views from key lookout points including the iconic Natures Window. If visiting the region between late June and November, you can see over 800 species of Western Australian wildflowers. Overnight - Kalbarri Edge Resort.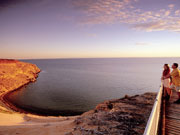 Day 11: Kalbarri - Perth (approx 590 km)

Get up early and head to the Kalbarri foreshore to feed the friendly local pelicans at breakfast time. The seasonal migration of humpback whales brings them close to the Kalbarri shoreline between to June to November. Look for them at one of the coastal cliffs many vantage points, Natural Bridge, Eagle Gorge and Red Bluff. Last day of driving along the coast, marvel at the changing colours of Pink Lake near Port Gregory before continuing back to Perth.

Note: This itinerary is a guide only. All distances are approximate. Accommodation suggestions do not list the full available accommodation options in each town. You may find our Coral Coast distance chart helpful (opens in a new window).



Read suggested itineraries for Perth, South West and Golden Outback and Outback Adventure



For more ideas, read about marine life, nature and activities in Western Australia
Responsible Travel would like to thank the Western Australia tourist board for their sponsorship of this guide